CORPUS CHRISTI, Texas — Start the countdown-- we are just over one month away from Buc Days 2023!
The 11-day event will feature the usual carnival and Rodeo Corpus Christi with the concert series, but there will also be 30 musical acts to keep guests entertained day and night on stages within the festival grounds.
"As we continue to grow this event and evolve, we want to encourage families to come for the day and stay to enjoy multiple activities going on throughout the festival," said Johnny Philipello, Buccaneer Commission President & CEO.
All performances are included with the $5 gate admission.
To see performances from local schools and organizations, be sure to check out the KIII-TV sponsored Community Stage!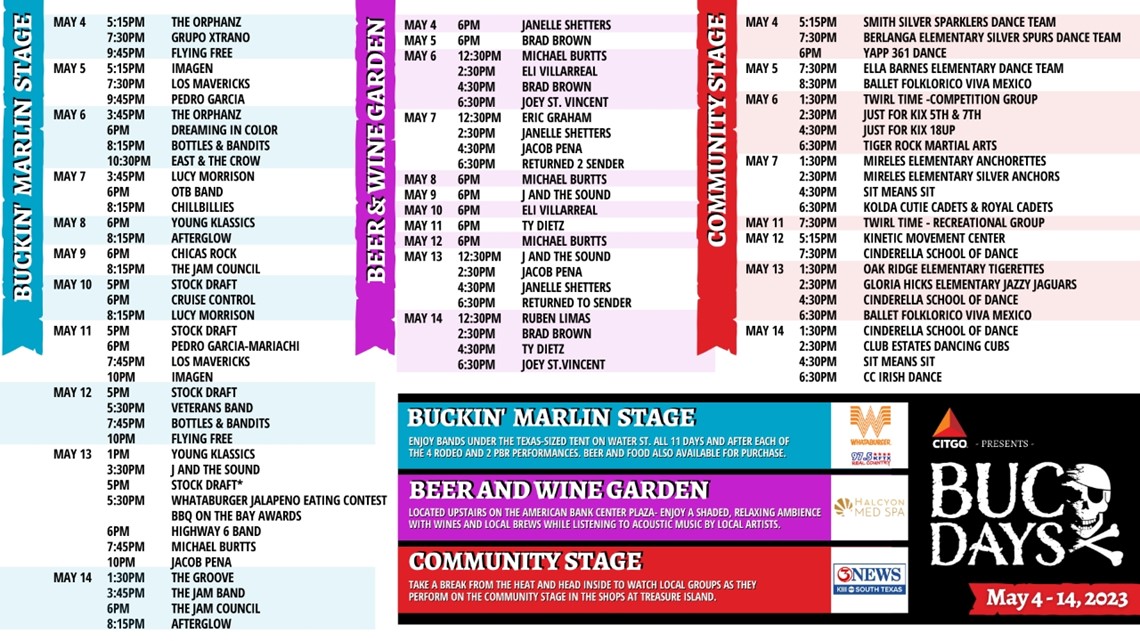 Let's take a look at the stages that will be set up:
BUCKIN' MARLIN STAGE AT BUCKAROO BOULEVARD
New to Buc Days is Buckaroo Boulevard presented by H-E-B. This area is located along Resaca Street and has lots of fun activities for the kiddos to include Jurassic RGV with Dino games, photos ops with big and baby dinosaurs, and a fossil dig. There will be a mechanical bull and pirate jump house free of charge. The boulevard will be lined with local food trucks serving savory food and refreshing drinks.
Also on Buckaroo Boulevard is the Buckin' Marlin Stage presented by Whataburger and KFTX. The stage will be covered under a 7000 sq. ft. tent and will host over 20 talented musical artists. The stage will also host the Rodeo stock draft. This is a great opportunity to interact with rodeo contestants as they select their horse or bull athlete to compete with in the rodeo that night and why they are choosing them. We will also host the Whataburger Jalapeno Eating Contest on this stage.
BEER & WINE GARDEN
There will be a second stage in the Beer & Wine Garden presented by Halcyon. This space will provide a relaxing atmosphere, staged beneath a covered patio where you can unwind and enjoy acoustical music, craft beer and wine.
COMMUNITY STAGE
For even more entertainment, venture into Treasure Island in the cool air-conditioned convention center to enjoy the Community Stage, presented by KIII-TV.
All the fun kicks off this year on May 4 with dollar night at the carnival! For a full schedule of events, click here.
More from 3News on KIIITV.com:
Do you have a news tip? Tell 3!
Email tell3@kiiitv.com so we can get in touch with you about your story should we have questions or need more information. We realize some stories are sensitive in nature. Let us know if you'd like to remain anonymous.