Your guide to Buc Days 2023
Find event information, ticket prices and more below.
3NEWS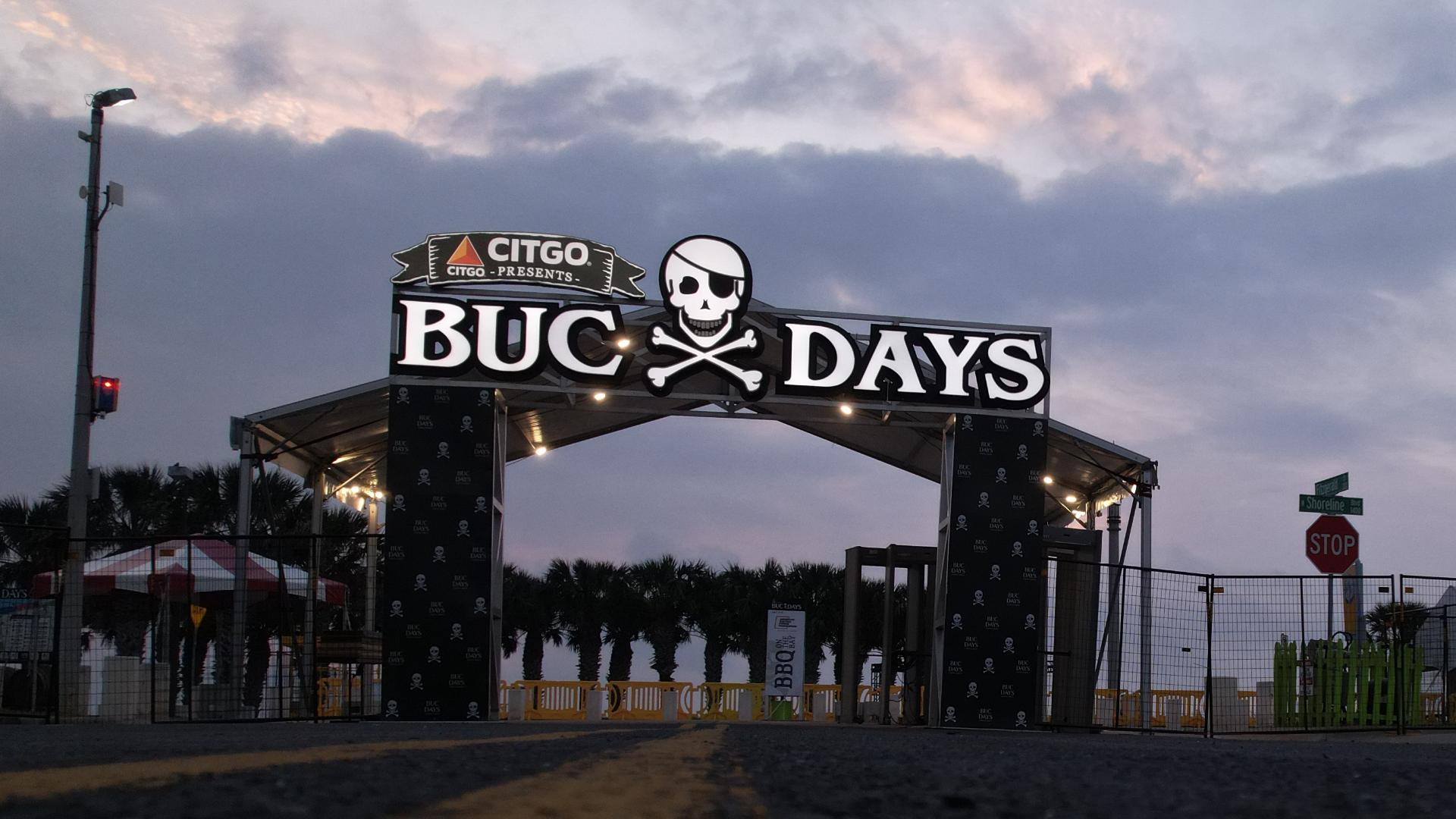 Arrrrr you ready? Buc Days 2023 kicks off May 4 and there are so many events and so much information to keep track of. We decided to put it all in one place for you so you can minimize your research time and maximize the fun.
Buc Days Stripes Carnival
:
Carnival kicks off May 4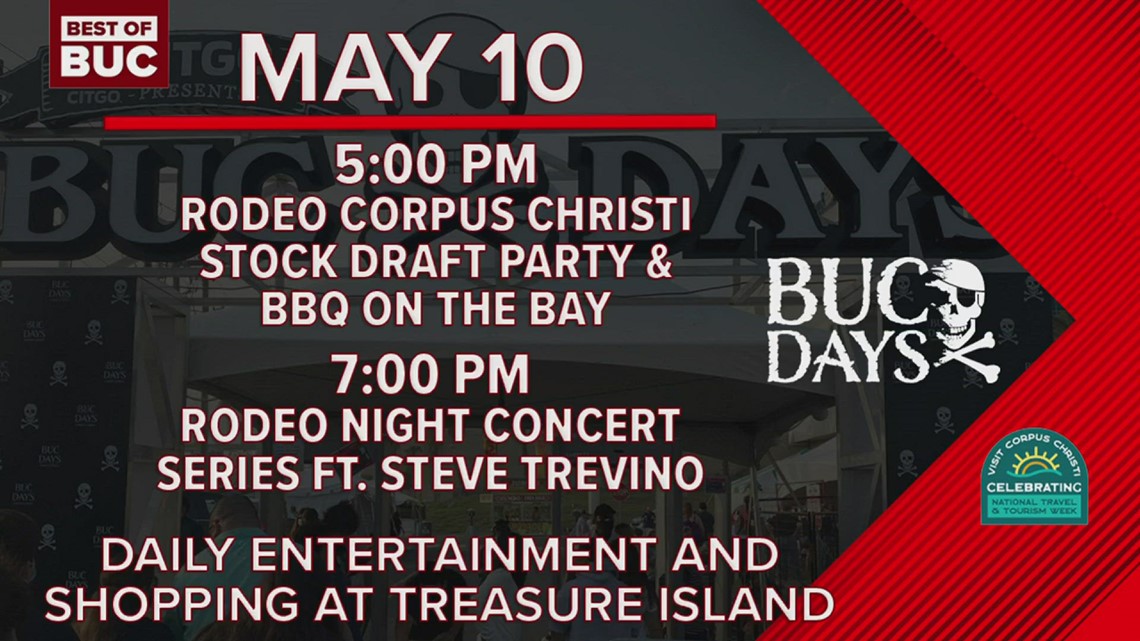 Buc Days 2023 begins on May 4 at 5 p.m. with the opening of the carnival and the popular Dollar Night! Entrance price and all rides will be just $1 each.
The Buc Days Stripes Carnival begins May 4 and ends on May 14.
You can purchase a $30 All-You-Can-Ride wristband day-of upon entry. This price is only for weekday (Monday-Friday) day-of entry. Simply purchase a Single Day Gate Entry ticket at the box office for $5 and then make your wristband purchase at the Kiosk inside the Gate.
For weekends, you can purchase an All-You-Can-Ride wristband day-of for $40 on any Saturday or Sunday. Simply purchase a Single Day Gate Entry ticket at the box office for $5 and then make your wristband purchase at the Kiosk inside the Gate.
You can also buy a presale wristband. Pay $25 and go straight to the Gate. Once on the grounds, head to the Carnival Kiosk to pick up your All-You-Can-Ride Wristband for non-stop fun. Pre-sale purchase locations will be at H-E-B Business Centers, O'Reilly Autoparts locations and online at WadeShows.com.
Your Single Day Gate Entry ticket gets you access to the Stripes Carnival, Treasure Island, Buckin' Marlin Stage, Wings Over South Texas, BBQ on the Bay, and other non-Arena attractions.
You can also watch the Dunking of the Mayor around 5:25 p.m. on May 4 from the seawall on Shoreline Blvd. at Starr St.
The Shops at Treasure Island
Over 76,000 square feet of exhibit space for shopping, petting zoos, concession areas and more.
Daily shows located in Treasure Island
Daily shows located in Treasure Island
This year, there will be a newly revamped Dairy Discovery Zone exhibit.
The interactive Dairy Discovery Zone, located in The Shops at Treasure Island, serves up both entertainment and education for all ages with touchscreens and virtual reality games. This brand-new exhibit, making its debut at Buc Days, creatively illustrates how dairy products reach the consumer, how they nourish your body and how dairy farmers are actively working to protect the environment.
Event goers will enjoy the hands-on exhibit traveling through the Journey of Milk digital game, learning facts through interactive dairy videos, "milking" the animatronic dairy cow Maybelle, experiencing a virtual reality dairy farm tour on the Oculus headset and fun dairy-themed prizes to take home! The best part is signing up for a chance to win FREE milk for a year!
Wings Over South Texas
:
May 6 and 7 at noon
A South Texas tradition is getting ready to take to the skies once again. The Wings Over South Texas Air Show will be part of this years Buc Days. It will be the second year the air show is part of the celebration.
The air show will be two-and-a-half hours long and will be taking place May 6-7 at noon. Residents can watch the air show from the Corpus Christi Bayfront.
You may hear the pilots flying around town a couple of days before for routine practice.
General admission tickets for the airshow are included with a Buc Days gate ticket, which is $5. A reserved seat ticket is $20, VIP tickets, which includes prime seating, lunch and complimentary beer, are $100 per adult and $50 per child. There are also options to reserve a corporate tent.
Rally Night Parade at Buc Days
:
May 6 at 8 p.m.
Celebrating the people and organizations that make Corpus Christi shine. During the Rally Night Parade at Buc Days, you'll see marching bands, spirited dancing, dazzling floats, and our Official Wrecker Service, Apollo Towing, clear the route for all the fun.
The parade at the 85th annual Buc Days celebration will have some changes this year to the route.
A portion of the route will be moved from Chaparral Street to Shoreline Drive, where spectators will have the opportunity to enjoy the Wings Over South Texas airshow by day and the parade by night.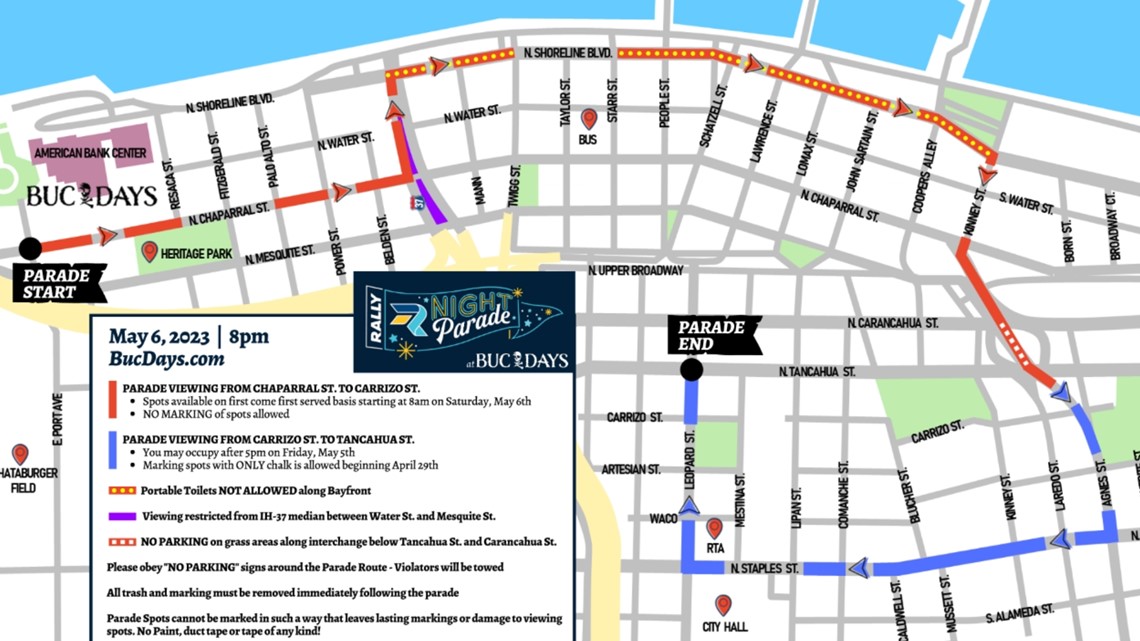 "This could certainly be the largest single day event in Corpus Christi history with both the air show and parade on the same day" said Christy Tupaj, Buccaneer Commission Development & Media Manager.
The parade, a tradition since 1938, draws an estimated 120,000 street spectators.
The parade is scheduled for Saturday, May 6 at 8 p.m.
PBR Velocity Tour Finals
:
May 5-6
Ready for high-octane bull riding action? Strap in for the PBR Pendleton Whisky Velocity Tour Finals presented by Coastal Bend Chevy Dealers. This bull riding ONLY event features some of the world's best riders going head-to-head with bulls born to buck. It's a night of adrenaline-fueled battles you won't forget.
Rodeo Corpus Christi
:
May 10-13
One of three World Champions Rodeo Alliance (WCRA) Triple Crown events of the year, Rodeo Corpus Christi allows the Buccaneer Commission to grow prize money for rodeo athletes, showcase the city of Corpus Christi and ultimately give back to student scholarships in South Texas.
The rodeo will be at 7 p.m. on May 10-13. Click here for a list of rodeo events. You can buy tickets here. Prices range from $20 to $60.
Rodeo Concert Series
:
May 10-13
Stick around after Rodeo Corpus Christi for the Concert Series!
Steve Trevino- Wednesday, May 10, 2023
Comedian Steve Treviño is "America's Favorite Husband." He can "speak wife fluently," he never calls "the guys" for help on a home project, and he knows better than to "make his own decisions," since decision-making is a privilege reserved solely for his wife, Renae.
He is one of the country's fastest-rising comics, viewed over 223 million times, selling out shows coast-to-coast, amassing over 2 million total social media followers, and headlining specials for Amazon, NETFLIX, Showtime, and more.
Michael Salgado – Thursday, May 11, 2023
Four-time Tejano Music Award Winner, among them, "Best Song of the Year" for "Ya No Voy a Aguantar"
Billboard Latin Music Award Winner
Grammy Award and Latin Grammy Award Nominee
Carly Pearce – Friday, May 12, 2023
Reigning ACM/CMA Awards Female Artist/Vocalist of the Year
Accolades o Three-time Country Music Association Award Winner o Four-Time Academy of Country Music Award Winner o One CMT Music Award o Most recently, Grammy Award Winner
Became a member of the Grand Ole Opry in 2021 (fittingly invited by Dolly Parton)
Tracy Lawrence – Saturday, May 13, 2023
Tracy Lawrence is one of country music's truest traditionalists and this year he is celebrating his 30th anniversary in the Country music industry.
His impressive catalog of timeless music has made Lawrence a mainstay in the genre selling more than THIRTEEN MILLION albums and charting EIGHTEEN No. 1 songs.
He has garnered numerous CMA and ACM awards and nominations, as well as a Grammy nomination.
He was honored by the Nashville chapter of AFP (Association of Fundraising Professionals) with "Philanthropist of The Year" for his nationally recognized annual MISSION:POSSIBLE Turkey Fry and Concert, which has raised over 500,000 for the homeless and hungry in Dallas, Louisville and Nashville, and served more than 84,000 meals.
BBQ on the Bay
:
May 10-13
This annual competition lets our local pit masters battle it out. Whether you're in it for the glory or the grub—there's something for everyone.
HOW TO EAT
A Buc Days Gate Admission ticket allows you access to the BBQ on the Bay competition area and any public tents. (Tickets do not include access to private cook-off tents.)
HOW TO WIN
Out of the many teams, recognition is given for the best BBQ, with the top prize going to the team that raises the most funds for the Buccaneer Commission Scholarship Fund.
HOW TO DONATE
Each of these teams are fundraising for the Buccaneer Commission to help provide scholarships to local students.
Musical Performances
:
More than 30 local acts will perform during Buc Days
Throughout the event, there will be 30 musical acts to keep guests entertained day and night on stages within the festival grounds.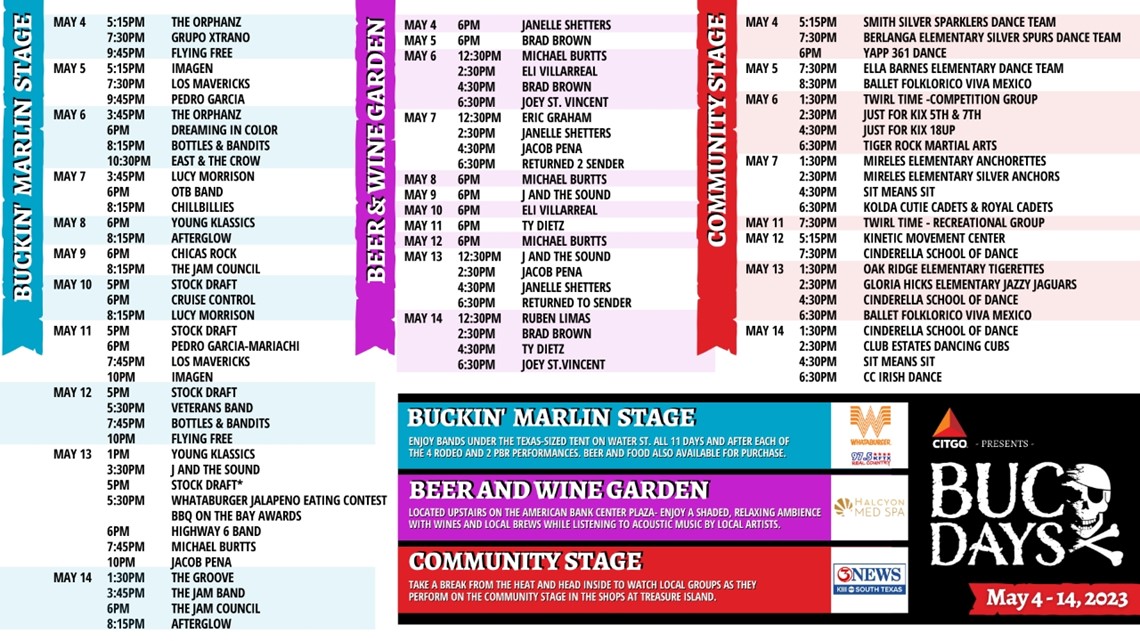 Let's take a look at the stages that will be set up:
BUCKIN' MARLIN STAGE AT BUCKAROO BOULEVARD
New to Buc Days is Buckaroo Boulevard presented by H-E-B. This area is located along Resaca Street and has lots of fun activities for the kiddos to include Jurassic RGV with Dino games, photos ops with big and baby dinosaurs, and a fossil dig. There will be a mechanical bull and pirate jump house free of charge. The boulevard will be lined with local food trucks serving savory food and refreshing drinks.
Also on Buckaroo Boulevard is the Buckin' Marlin Stage presented by Whataburger and KFTX. The stage will be covered under a 7000 sq. ft. tent and will host over 20 talented musical artists. The stage will also host the Rodeo stock draft. This is a great opportunity to interact with rodeo contestants as they select their horse or bull athlete to compete with in the rodeo that night and why they are choosing them. We will also host the Whataburger Jalapeno Eating Contest on this stage.
BEER & WINE GARDEN
There will be a second stage in the Beer & Wine Garden presented by Halcyon. This space will provide a relaxing atmosphere, staged beneath a covered patio where you can unwind and enjoy acoustical music, craft beer and wine.
COMMUNITY STAGE
For even more entertainment, venture into Treasure Island in the cool air-conditioned convention center to enjoy the Community Stage, presented by KIII-TV.
Park and Ride
:
Shuttle service information
There will be over 4,100 spots available, and this year the Port of Corpus Christi is loaning the military rail yard off Tancahua Street.
Additionally, the Harbor Playhouse parking lot will be used as a ride share spot and to drop off people from the RTA shuttle.
"We are encouraging people, if you want to get dropped off at the front gate without having to deal with parking or anything, Uber and Lyft is your easiest way to accommodate that," he said.
Additionally, when residents are trying to leave the event, those using Uber and Lyft will be directed to that parking lot to be picked up from. According to Philipello, they're expecting over 100,000 people at this year's festival.
CCRTA will also be providing complimentary shuttles from the Whataburger Field parking lot to the Buc Days festival. All pickup and drop-off points will be specially marked for accessibility.
Note: There is a $10.00 fee to park at Whataburger Field. This charge is from Buc Days, not from CCRTA.
Pickup: Whataburger Field
Drop-off: Near American Bank Center
Shuttle Hours
Thu. May 4th – Fri. May 5th: 5:00pm – 12:00am
Sat. May 6th – Sun. May 7th: 12:00pm – 12:00am
Wed. May 10th – Fri. May 12th: 5:00pm – 12:00am
Sat. May 13th – Sun. May 14th: 12:00pm – 12:00am
The RTA also now offers an app called GoPass to help navigate your trip.
The 'GoPass' app will give you real-time bus locations and departures. It will also help you find nearby stops.
ADA Compliance
:
Making event fun for everyone
With more than a 100,000 people expected, event organizers are already preparing the carnival grounds to make it ADA accessible.
"To make it convenient, easy access for all and obviously utilizing the American Bank Center, which is designed for this, is a big plus for us," said Johnny Philipello, Buccaneer Commission President.
Volunteers are working to transform the area around the American Bank Center into a carnival. Philipello said the carnival used to be at Water's Edge Park, but the new location helps people with disabilities take advantage of things like temporary ramps installed along the carnival midway.
"The ease of access in and out and when it rains the beauty of it is that it'd by dry if 30 minutes after the rain's over and we're not fighting the grass of a park," Philipello said.
To add more space for handicap parking, Buc Days will use the Texas State Museum of Asian Cultures and Education Center parking lot, which is near an entrance.
"We've reserved that entire lot to be handicap parking for all 11 days," Philipello said. "As well as some angled street parking on Water Street close to both of the gates."
CCRTA will provide an accessible viewing station for people with disabilities at the corner of Staples and Leopard Streets.
"They'll pick you up, drop you off at the, the building in a nice, reserved area and then, and get you back when, when it's time, time to go home," Philipello said.