TEXAS, USA —
SHAZAM: FURY OF THE GODS
It wasn't long ago that Marvel's "Antman" sequel came out.
Now, DC Comics' "Shazam" flies back into theaters with "Shazam: Fury of the Gods."
Our villains, the daughters of Atlas cross the age groups, with "West Side Story's" Rachel Zeglar, Lucy Liu and Oscar-winner Helen Mirren. (Think of her as the elder daughter, I guess.) Liu and Mirren make a grand entrance on a mission to reclaim the magic staff that Billy a.k.a. 'Shazam' broke in the last movie.
And they want to take his superpowers, too. (We meet Zeglar as a new girl at school. No surprise, she's the cutest thing in the movie.)
Four years later, Billy is now a package deal. His foster siblings all have powers, as well. Their hometown of Philadelphia is none too impressed, though. They're known as 'Philly's Fiascos.' Maybe this adventure will put them in a better light.
The struggle between the two groups also brings back the Wizard (Djimon Hounsou), and the wrath of the daughters brings in a giant tree of life, a dragon and a bunch of other creatures. Oh, and add in some unicorns!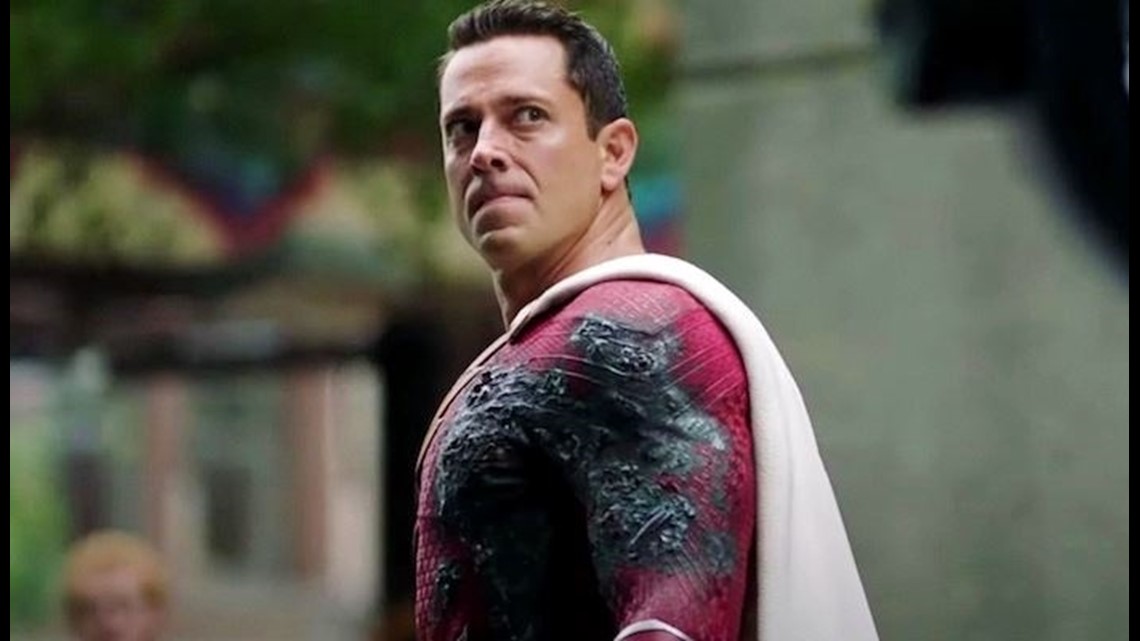 If all this sounds convoluted, it is. The original film four years ago, also directed by David F. Sandberg, was cute and clever. Levi's lead character had tons of "aw shucks, I'm not worthy" charm. The charm continues, but there's way too much going on here.
Is it a fiasco? Not quite. But it is a disappointment.
(Warner Bros. Rated PG-13. Running Time 2 hrs. 10 mins. In Theaters Only.)
MOVING ON
Jane Fonda and Lily Tomlin have been friends for nearly 50 years! That's what you call "besties!"
After the series "Grace and Frankie" and their movie "80 for Brady," they reunite in a dark comedy called "Moving On."
Their third wheel, going back to college days, has died. They both go to the funeral, but Fonda (Claire) has an ulterior motive. Their friend's widow, Malcolm McDowell, wronged her deeply earlier in life, and she seeks deadly revenge. Along the way, Claire reignites a spark with her long ago husband, played by Richard Roundtree.
Will it give her the strength to carry out her mission? Or should she forgive and forget? The movie is written and directed by Paul Weitz ("About a Boy," "Little Fockers'). This one is not in that league, but who doesn't like to see these two actresses as scene partners.
(Roadside Attractions. Rated R. Running Time 1 hr. 25 mins. In Theaters Only)
INSIDE
Willem Dafoe is about as watchable as an actor can get. So why not be the only person on the screen!
In "Inside," he plays an art thief. When a penthouse heist goes terribly wrong, he becomes trapped by himself.
Now, living in a penthouse filled with priceless modern art doesn't sound like a bad day on the job, but when a day grows into days, weeks, even months with little food and water, and a heating-A/C system that's on the blink, well it gets frustrating, to say the least.
So, he does his best to contrive ways to make contact with others and uses the fancy furniture to try to build an escape hatch.
There are so many holes in this storyline that I lost count, but it's another master class by Dafoe, and no doubt a challenge he wanted for himself. But he may have to keep working to pay the bill for damages on this place!
(Focus Features. Rated R. Running Time 1 hr. 45 mins. In Theaters Only)