A young competitor at this year's Nueces County Jr. Livestock Show in Robstown is showing unmatched strength and determination.
Jose Falcon, better known as JJ is a high school senior at Santa Gertrudis and a member of the Driscoll 4-H Club.
At just 17 years old, he may be able to teach us all about perseverance after a life changing diagnosis.
Wednesday he returned to the arena with the support of his entire livestock show family.
Falcon said it is hard to imagine being anywhere else than under the bright lights of the Richard M. Borchard Fairgrounds in Robstown.
"I had a really good friend that got me into it and from there I just loved everything about it," said Falcon.
The teen is a natural competitor.
For the better part of his 4-H career he's raised market goats but that's not all.
"I've done photography, homemaking, leather work, shop project," he said.
He even serves as an ambassador.
Outside the arena, JJ is a supportive big brother and has played various sports like baseball.
But it was back in October of 2021 when something didn't feel quite right.
"I was going to school, going to athletics, felt a little bit of pain in my knee, and from there it got worse over time," he said.
At first he was told by doctors it stemmed from a sports injury.
"I was misdiagnosed for many months," he said.
But last February he learned the root cause was bone cancer called Osteosarcoma.
The word alone was life-altering for him and his family, but they pressed forward.
He began treatment at MD Anderson in Houston where JJ went through several rounds of chemotherapy, but it wouldn't work.
The tumor had grown and doctors had no choice but to amputate his leg.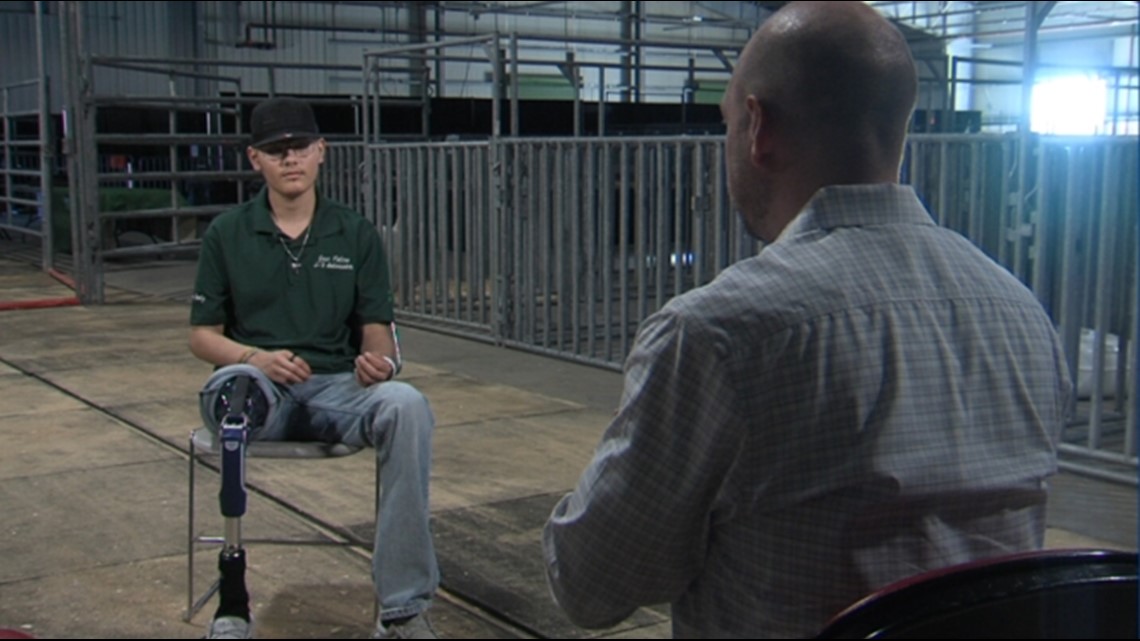 The cancer also spread to his lungs which required surgeries.
"I never wanted it to overtake my faith and hope in what I can do and how I live my life," he said.
Recently he learned the cancer is back in his lungs, but doctors could only operate on one of them.
"We definitely have some more things we can try," he said.
JJ is staying focused on the fight and is now undergoing a clinical trial at home.
His family by his side through it all.
"He's gone through way more than anyone could handle," said his mom Cathy.
She traveled with JJ to and from the hospital in Houston while dad stayed home with the JJ's siblings.
But the family would also get help from their livestock show family.
"Seeing everyone come together through our livestock family has been amazing," said Cathy Falcon.
As JJ went through treatment, his friend Reagan Fox wanted to do her part and helped secure a goat for him to show.
"Whichever way he decides, we are going to get him in that arena," said Fox.
On Wednesday, JJ got into the arena with his goat, a little nervous but focused as the judge looked over the competition.
JJ won! The determined teen winning lightweight division market goat.
"It means the world to me," he said.
Against all odds JJ wasn't about to let cancer get in the way of this moment.
JJ said he was thankful for the support of his family, friends and even a really big fan who he had in his corner.
Coastal Bend native and New York Yankees star Jose Trevino was on hand to support JJ and even gave him a signed jersey.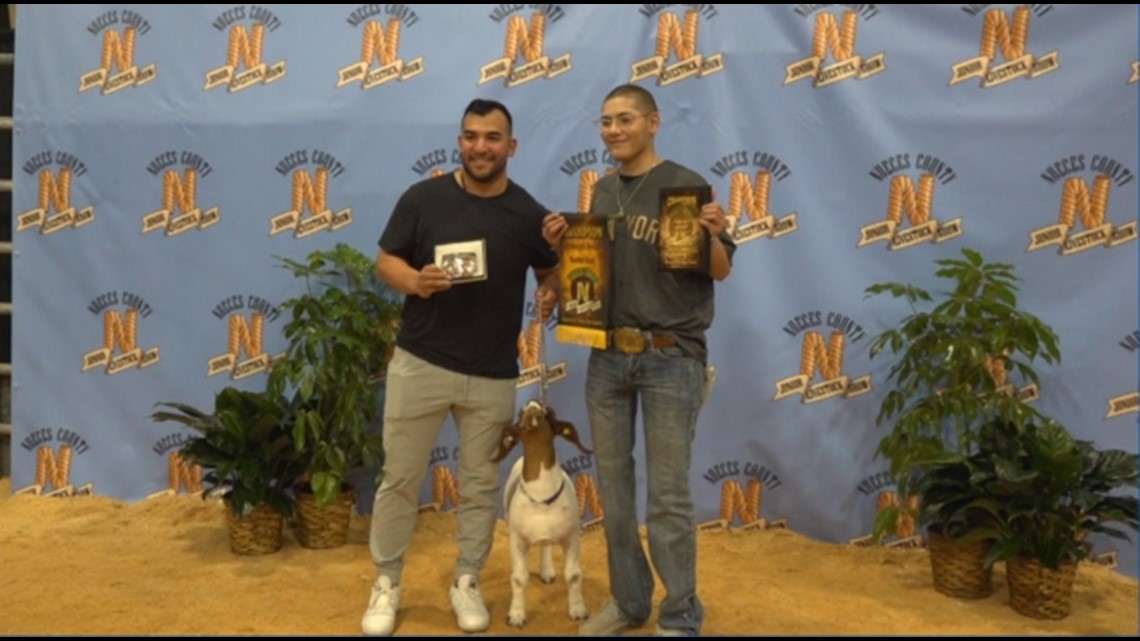 The Make a Wish Foundation is also sending JJ on a trip to Hawaii with friends. He said it is something he is looking forward to.
Meanwhile, his family is hopeful the trial drug will help.
They will follow up with doctors next month to see if it is working.
If so, they will determine if surgery can be done to remove the cancer from his left lung.
There is a way to help his family with any costs they might face through what's called an add-on to what he raises at the livestock show. Those funds will be accepted through Jan. 28, 2023.