CORPUS CHRISTI, Texas — The Emerging Professionals Internship Program (EPIP) provides high school students with real workforce training and experience through paid internships with businesses in Corpus Christi and the surrounding area.
This year-long program is designed to help high school students with an interest in high demand careers get a head start in acquiring key industry skills and experience.
Emerging Professionals attend essential skills training and a Del Mar College class over the summer to qualify for a paid internship that is 15 hours per week throughout their senior year.
"We have been able to partner with the City of Corpus, the city of Alice, the Port, so on and so forth," said Joshua Sosa, program director of EPIP. "These are opporunities that our students are having with zero to little type of work experience in being able to experience these type of work force opporunties that they probably would never be able to have without some sort of training or college degree."
Internship opportunities include:
• Paralegal & Legal Studies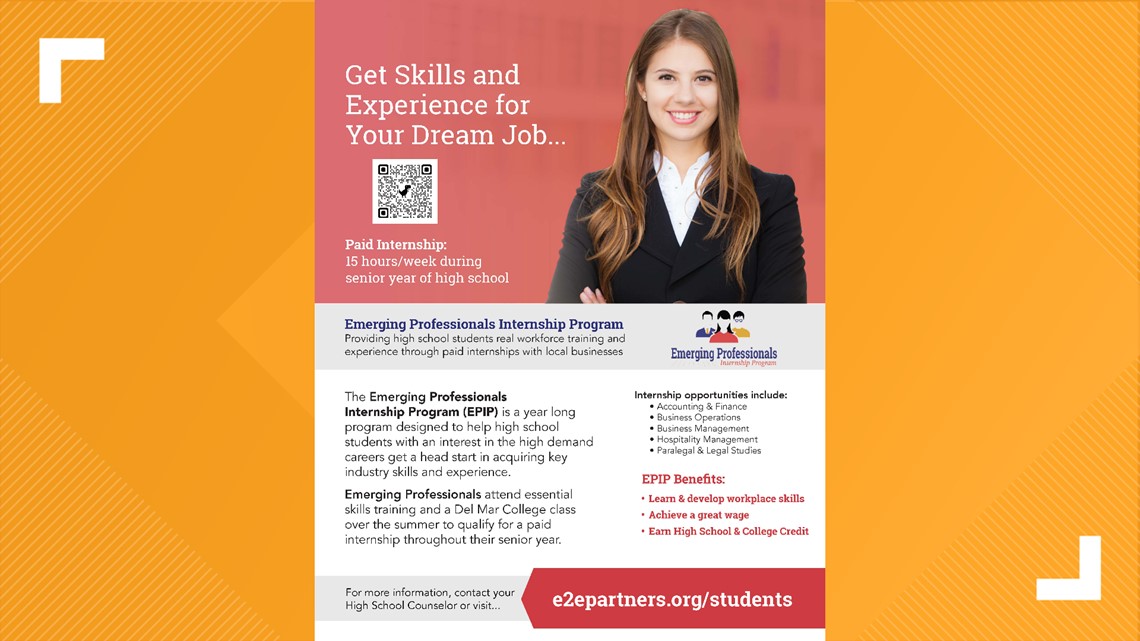 Through the EPIP program, students can benefit from learning and developing workplace skills, achieve higher paying wages, and earn High School & College credit.
For more information, students can contact their High School Counselor or visit here.
More from 3News on KIIITV.com:
Do you have a news tip? Tell 3!
Put your name and contact information below, or email tell3@kiiitv.com, so we can get in touch with you about your story should we have questions or need more information. We realize some stories are sensitive in nature. Let us know if you'd like to remain anonymous.
If you do not have a photo/video to submit, just click "OK" to skip that prompt.