CORPUS CHRISTI, Texas — The long awaited coronavirus vaccine is finally in the hands of our local first responders. Area firefighters rolled up their sleeves to receive their COVID-19 vaccinations.
The Corpus Christi Fire Department is distributing the vaccine to city and Nueces County first responders. They said they received 600 doses of the Moderna version of the vaccine.
A number of firefighters, along with Fire Chief Robert Rocha and City Manager Peter Zanoni received the vaccination.
Chief Rocha said their plan is to vaccinate as many firefighters and paramedics who want the vaccine in the next couple of days.
Firefighters in Corpus Christi receive Moderna COVID-19 vaccine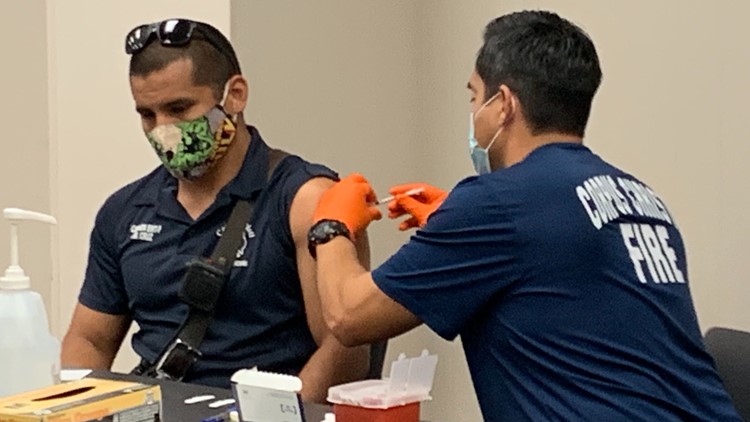 "The concentration right now is for firefighters and public safety, including our law enforcement," Rocha said. "The whole intent right now is we are starting out with those working on the ambulances and fire trucks, getting them vaccinated, and then we will move on to others in Nueces County.
The other departments CCFD will administer the vaccine to includes first responders with Port Aransas, Annaville, Flour Bluff and Bluntzer.
City Manager Peter Zanoni receives the vaccine on Dec. 28.
For the latest updates on coronavirus in the Coastal Bend, click here.
More from 3News on KIIITV.com: