LIVE OAK COUNTY, Texas — A woman and three men are now behind bars in the Live Oak County Jail after what became a massive cross-county investigation that began early this morning.
The suspects took a truck for a drive, traveling at high speeds and firing shots from their vehicle. This would later lead to a chase, a suspect search and the kidnapping of two homeowners.
According to Sergeant Nathan Brandley with the Texas Department of Public Safety, it started at around 2:30 a.m. in Atascosa County. A red truck was reportedly traveling at speeds of up to 95 to 100 miles per hour and the suspects were firing shots from the truck.
This led police to a chase across county lines into Live Oak. At one point, the suspects fired at law enforcement. Officers were able to fire back and take out the right tire of the truck.
4 suspects arrested after a cross-county investigation that began in Atascosa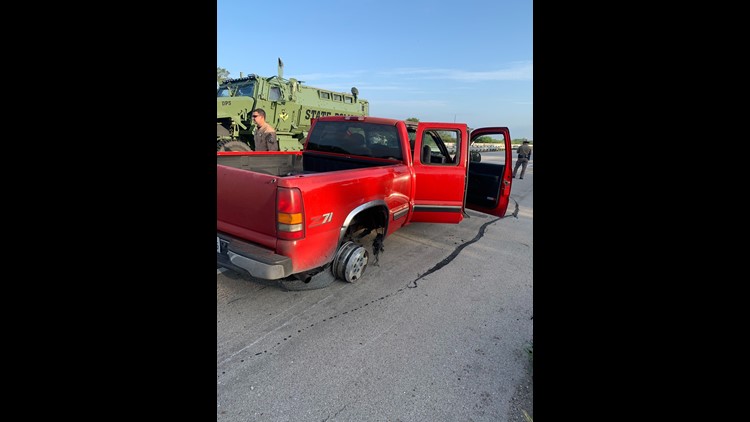 A man and woman were arrested on the scene, as two other suspects ran away, one of which was armed with a weapon.
The two suspects would then break into a farmhouse near 281. They took the homeowners, a 67-year-old man and his 59-year-old wife, at gun point and stole a white Mercedes Benz from the owners. Eventually, the victims were let go, but not before they were brought into town so that the suspects could withdraw money from their account.
"It's not something you want to wake up to so very traumatic for them to say the least, but we're very pleased that they weren't injured," Brandley said.
The couple notified law enforcement of what happened and from there another pursuit began, but in the Mathis area. DPS troopers from San Patricio County were able to hit the stolen Benz and stop it.
More shots were fired at law enforcement, but the last two suspects were finally taken into custody just before 9 a.m.
All four suspects are said to be in the Live Oak County Jail.
"We have our district crash team which came in and they were scaling the scene with the shooting," Brandley said. "All the shell cases on the ground, where the truck came to rest and then you got a second scene at the house where the homeowners were broken into and kidnapped. And then you've got the third scene which is more shell casings and where the vehicle came to a stop on I-37."
Brandley said the first two suspects arrested admitted to being high on meth and had been taking Xanax when they were speeding and firing shots from the truck in Atascosa County.
All four suspects are facing charges of attempted murder of a police officer.
22-year-old Victor Hernandez Jr.
23-year-old Salomon Esiquel Charon
21-year-old Dominic Andrew Garcia
15-year-old female minor
For the latest updates on coronavirus in the Coastal Bend, click here.
For the latest updates on Hurricane Hanna, click here.