Black-owned business is booming in Corpus Christi
During Black History Month, First Edition introduced you to several Black business owners who are making their mark on the community. Here are their stories.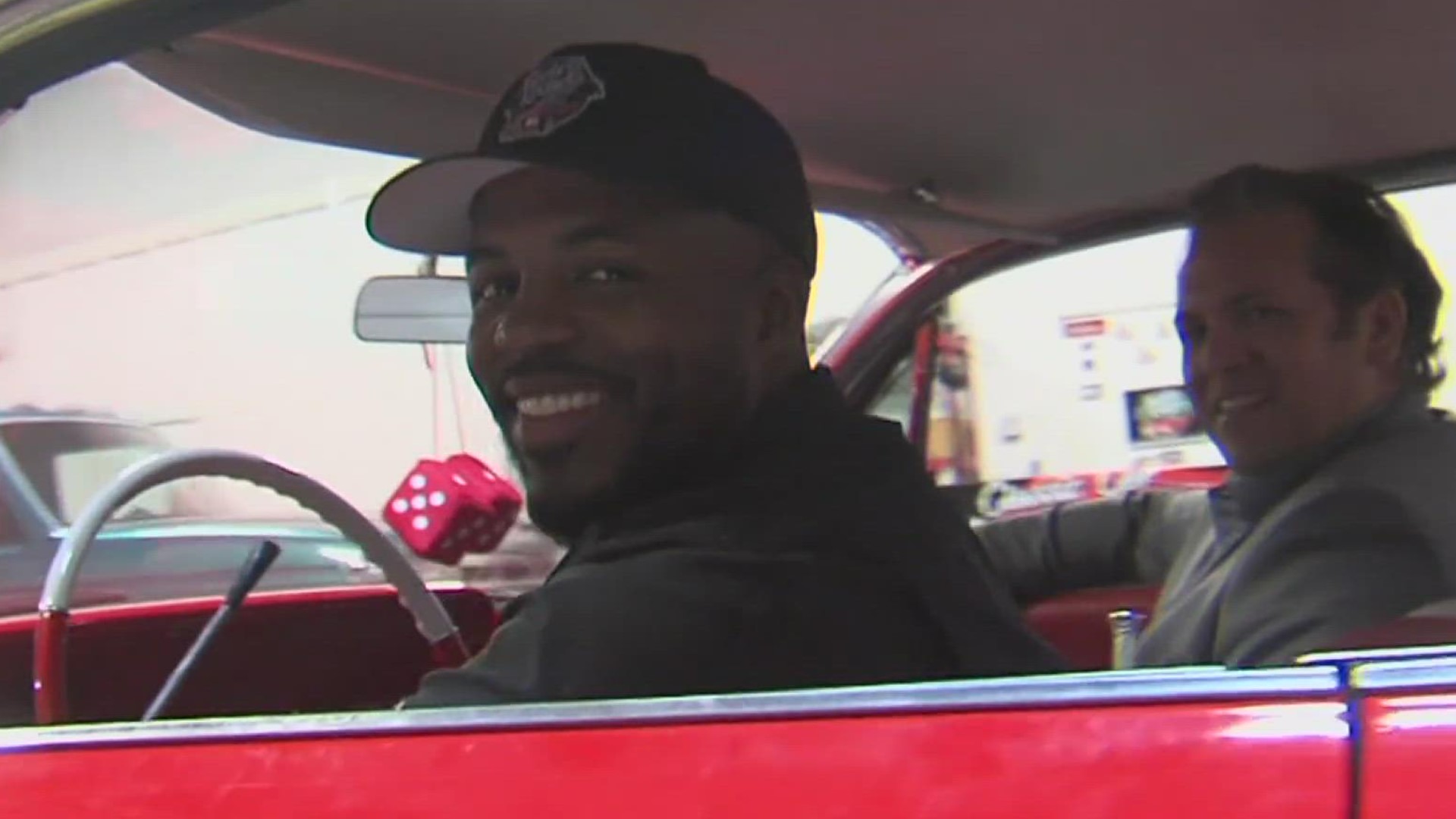 During Black History Month, First Edition introduced you to several Black business owners who are making their mark on the community. From cosmetics to classic cars, these entrepreneurs are ready to pass along the secrets of their success to the next generation.
Ty West
:
iBloomWeb
Ty West starts and ends her day with her two kissy-face furballs, Blossom and Bailey.
In fact, they're such a big part of her life that Blossom, her 6-year-old protective poodle mix, was also the inspiration behind the name for her online business 'IBloomWeb.'
"I wasn't thinking it would go this far," she said. "I kind of fell into it. I had this previous entrepreneur endeavor and I had to design a website. I had people ask about the website, and ask if I could help them with that, and I was like 'Yeah, I can do that,' and maybe I can turn this into a business."
West runs IBloomWeb out of her second-floor guest room with her constant companions.
"I have them to come home to and they are are always here to snuggle and show love," she said. "They help distract me, yes they do."
At 35, the Corpus Christi native poured her hard work and effort into IBloomWeb during the pandemic, where she eventually built it into a fully-fledged business.
"You definitely have to have faith," she said. "Hope has to be there. And every day is inspiration."
Now, she dedicates her days to making sure her 20-plus clients have a top-tier web interface to help sell and market their goods.

"I get so excited when I hear what their businesses are, and I think about them," she said. "I can see that. I can see their main header, their colors, their photos. I have my clients send me a text or email, or send me something, and I'm there and I can make the changes for them."
"There are, of course, stereotypes, and people expect you to speak a certain way and expect you to handle business a certain way," she said. "So not only being a woman, but a Black woman -- you have to break those barriers, those sterotypes and sometimes it's difficult, but it's definitely not impossible."

However, ultimately, what motivates West is her father who recently died.
"My dad was always a very hard-working person and he had his air-conditioning business he would do outside his full-time job, and that's like what I do now, working pretty much two jobs," she said. "But he always instilled working hard. If you want something you have to work for it. You can't expect it to be given to you."
Jay Winfrey
:
Vintage Nostalgic Pieces
If success is defined by expansion, Jay Winfrey and his two partners are thriving with their second retail brick and mortar.
"It's really important," he said. "There's a lot of culture downtown here. People, tourists. So they never know what to expect."
We visited with the 26-year-old the day before his soft open along Peoples Street at Mesquite. If you're looking to buy or trade vintage 80s and 90s clothing and knick-knacks, you have come to the right place.
"The trend's come back and the trend now is everybody loves vintage. Vintage has been going great."
Winfrey's small business journey started out with online sales a few years ago, then turned into trunk pop-ups and grew into one store. This Flour Bluff graduate, with one year of Del Mar College under his belt, broke out and decided to capitalize on a growing trend not seen in the Coastal Bend.
"There's always room for growth. I don't know everything at all. So, I would like to know. So far, I think I'm doing a pretty decent job but I know I could do way more," he added.
Winfrey's path has not been all roses. He's learned to gain customer trust based on the treatment he has seen in the past simply due to the color of his skin.
"At certain restaurants, like me and my family will go to and they just put us way in the back. I'm just like, 'yeah, yeah. I know, we all know, what that means."
From tough life lessons can come smiles such as this spin on the classic yellow smiley face which is their new logo for Vintage Nostalgic Pieces, V.N.P., created by an artist in San Antonio.
Winfrey's take is simple when faced with opposition based on race: "People think one thing and they're closed minded. I feel like they'd be more open minded to just to anybody and anything and all the cultures. And they'll be like 'Oh, it ain't that bad.'"
At the end of the business day, Winfrey just wants you to smile and maybe spend a little cash to support small business.
"I tell people: 'Get a great group of friends around you and y'all can do anything!'"
Timberlyn Powell
:
LynLashes
Timberlyn Powell knows lashes. She also knows that she wants to change the narrative surrounding the Black community.
"Everyone hears the saying 'the mad or angry black woman' or 'they have a bad attitude' and 'they have this or that'," Powell said. "And honestly, as a Black woman, if you want to change that narrative, you have to change it within yourself."
Powell, 24, has poured her heart and soul into the craft of opening her business LynLashes, which is off SPID in Flour Bluff.
"I started this with $200," Powell said.
Powell graduated from Miller High School and instead of going the traditional college route, she enrolled in Aveda Institute of Cosmetology and graduated an esthetician.
"I built this all myself. I put myself through school, I paid for everything, I didn't take out any loans," Powell said.
She just celebrated a year at her shop and was able to hire two new employees.
"Obviously, I am young and I want them to take me seriously," Powell said. "I definitely try to be uplifting and teach them like, 'man. I'm there for you guys, we're a team, we're a unit."
She hopes her business can be an example to others, especially when it comes to race relations in South Texas.
"I feel like we don't work together, I'm going to be completely honest," Powell said. "I pray that hopefully I can be the start of the change, that we can come together in some way. I feel Corpus has the people to be diverse but not the attitude."
Powell has a 5-year-old daughter, Summerlyn, who reminds her of her mission everyday.
"She keeps me on my toes," Powell said. "She always reminds me of my purpose for sure."
Her message to others, especially women, is one of positivity.
"Women are promoting working, women are up right now," Powell said. "Women are getting money. They're not at home, they're doing both. We're cooking and cleaning and working and taking care of our kids."
Dorian Green
:
DGreenFilmz
When it comes to Black trendsetters and entrepreneurs in the Coastal Bend, Dorian Green is making his mark. He has burst onto the hip-hop scene working with artists like Wiz Khalifa and Kash Money Vibes.
If you are looking for high energy, a vision and passion when it comes to shooting a music video... up-and-coming stars 'Peso Peso' and 'That Mexican Outta Texas' said Green is your man.
"I love filming, and I love my kids, that's what motivates me to get up out of bed every morning," Green said.
Green is a videographer and director and created DGreenFilmz ten years ago. In the last five years, he's exploded into the world of hip-hop after his work caught the attention of Houston rapper Maxo Kream.
"He's signed to RCA Records, he's done multiple albums, he's very big-- one of the biggest stars I've worked with," Green said.
The 32-year-old's good fortune started with a love of skateboarding. An unfortunate injury in his early 20s sidelined him, but gave him another passion.
"I broke my foot, so I picked up a camera and started filming my friends skating," Green said.
That led to his first music video shoot.
"And it has just been a whirlwind."
The King High School graduate did one year of criminal justice studies at Del Mar College, but quickly realized he had a chance to make a really good living filming the stars.
"I was on a tour bus with Maxo Kream for 2 and a half months, so, we really go to know each other."
Green was even hired by former San Antonio Spurs forward Danny Green to follow him around and shoot his life.
His work takes him all over the country.
"From New York, Atlanta, LA, Miami... it's go go go."
He has been to Switzerland and also gets to guest lecture at UCLA in California. With all of that travel, he has been exposed to much of the good in people, but also the bad. He chooses to continue to lead by example.
"I've always been tunnel vision. I know what I want. I know where I'm gonna go and the stuff that's happening in the world, I just kind of tune it out a little bit," Green said. "I do pay attention to it, but I'm just so set on where I wanna go and what I want to do that it just feel like nothing can stop me."
He said Black kids in the community have more opportunities than ever before and success is all about hard work and attitude.
"10-15 years ago, you could say 'oh there isn't that much opportunity'. But now, I feel like there is really not that much of an excuse," Green said. "it's just, you got to go out there hit the pavement. You got to get it. White, brown, yellow, blue, red --it doesn't matter. You just need to find something you love and do it and stick with it all the way."
Green told 3NEWS his ultimate goal is to win an MTV Video Music Award. He also wants to open a local studio where he can train others on what he does, inspire kids and give back to the Coastal Bend community. You can check out some of his work here.
Jaron Jackson
:
Finders Keepers
The secret to success... isn't so secret. Just ask Jaron Jackson, who has taken his love for classic cars and turned it into a multi-million dollar business.
"I believe in the universe putting it into your lap if it's meant for you," Jackson said. "That's kind of what happened here."
Jackson's story is a unique and prosperous one.
"I had an opportunity to purchase a vehicle and I went with it, and we sold that vehicle and we just kept rolling it on after that," Jackson said.
That vehicle was a 1975 Caprice convertible. Jackson knew he loved classic cars from a young age.
"It goes back to movies growing up and seeing our peers in nice classic cars on rims and music and stuff like that," Jackson said. "So, I always kind of admired that and wanted something like that and we got it now."
What he has created in the last two years is a multi-million dollar classic car sales shop on the south side called Finders Keepers.
"It's just catchy. 'Finders keepers, losers weepers.' You lost out on a deal, we picked up the deal. We take the money we make and put it back into the business and keep going with it."
Jackson said his process is simple. He finds the cars, cleans them up and sells three to four in any given month. And he has plans to soon expand his business.
"We will start renovating. We are just waiting for our team to build right now," Jackson said.
That team includes his fiancée, Jasmine, whose Masters in Business Administration helps run the business and a few friends from high school who help with transport and running the daily operations.
His most successful salesperson, though, might just be his one-year-old daughter Imagine.
"My daughter will take over. Now we got her in the shop so she can start seeing what's going on around her," Jackson said.
This near-overnight success story did not happen by complete chance. Jackson took lessons from working in the oil field refinery business for more than a decade and tapped into that passion for wanting to create a classic car empire.
"I watched how they handled business, how they structured their company and we can take that and move it to our company," Jackson said. "I didn't think it was going to turn into this this quick."
This 30-year-old is also passionate about giving back to the Coastal Bend community and hopes to mentor future business owners.
"I don't mind letting you know about anything I know so you can advance," Jackson said. "A lot of guys gave me knowledge that I didn't know, stuff like that, so we're growing off it. Everybody should have the opportunity to do so. So, we're going to help out as much as we can."
Tiffany Jackson
:
Fascia Stretch Therapy
Tiffany Jackson is a Fascia stretch therapist who is changing lives, one stretch at a time.
"It is very gentle, it starts with stretching not only the muscle, but it stretches the fascia as well," Jackson said.
Fascia is a layer of connective tissue below the skin, connecting your head, all the way to your toes.
"It connects the bone to the muscle, it connects muscle to muscle, it runs throughout your entire brain, so it affects everything in us," Jackson said.
Black History Matters
:
3NEWS Black History Month Forum
Also in February, we hosted a panel discussion with different generations of Black leaders in our community. Check out that discussion below.