CORPUS CHRISTI, Texas — The parade at the 85th annual Buc Days celebration will have some changes this year to the route and probably most noticeably, the name.
NavyArmy Community Credit Union, the sponsor for the parade for the last few years, recently changed their name to Rally Credit Union, so organizers for the parade updated the name to Rally Night Parade at Buc Days.
This year's parade will also follow a different route.
A portion of the route will be moved from Chaparral Street to Shoreline Drive, where spectators will have the opportunity to enjoy the Wings Over South Texas airshow by day and the parade by night.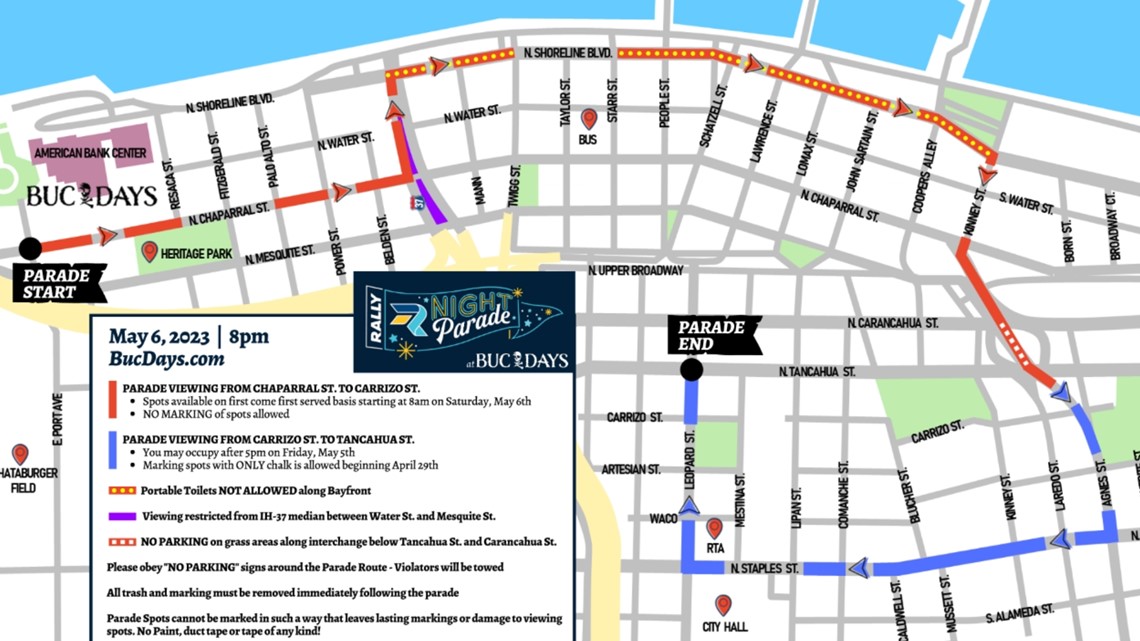 "This could certainly be the largest single day event in Corpus Christi history with both the air show and parade on the same day" said Christy Tupaj, Buccaneer Commission Development & Media Manager.
The parade, a tradition since 1938, draws an estimated 120,000 street spectators. The Wings Over South Texas Airshow is estimated to bring in more than 60,000 people to downtown Corpus Christi.
"In our ongoing effort to optimize spectator experience, we've made some changes to the parade route to integrate it with the air show on Shoreline Drive. Spectators can now view both the air show and parade without relocating," said Johnny Philipello, Buccaneer Commission President & CEO.
Philipello said that the anticipated turnout for both events played a crucial part in why they altered the route.
"Within our gates we'll expect probably 20 to 30 thousand people. Outside the gates two years ago, we measured about 60,000 people watching the air show with cell phone data. The parade has been estimated to have over 100 thousand people watching throughout the route," he said.
CCPD Lt. Michael Pena said that being preimptive can save guests from frustration.
"Look at the parade route. Decide where you're going to view the parade from and scout out some parking areas for yourself. Hopefully as close as possible to the area that you'll be viewing the parade from. Keep in mind we are going to be placing no parking signs on the roadway the day before."
Philipello said that residents will have much to do while they wait in between events.
" We'll have Wings Over South Texas as a part of that. We'll have PBR Velocity Tour finals in the arena that evening going on. Then Whataburger Field will be host to baseball that weekend as well. If you really want to enjoy the weekend, come stay all day," he said.
The parade is scheduled for Saturday, May 6 at 8 p.m.
More from 3News on KIIITV.com:
Do you have a news tip? Tell 3!
Email tell3@kiiitv.com so we can get in touch with you about your story should we have questions or need more information. We realize some stories are sensitive in nature. Let us know if you'd like to remain anonymous.