CORPUS CHRISTI, Texas — The Buccaneer Commission joined forces with the City-County Public health District by offering COVID-19 vaccines at this year's Buc Days.
Dr. Kim Onufrak with the public health district said the partnership is a way to continue to reach the public.
"We are very excited to be partnering with Buc Days," said Dr. Onufrak. "We are going to have a tent set up at the entrances. We are offering both Moderna and Pfizer."

Those who are eligible to receive a vaccine can also receive free admission. Dr. Onufrak said they hope this will allow them to target the 18–50-year-old population.

"The majority of our 65+ have been vaccinated so their hospitalizations have dropped," Dr. Onufrak said. "What we are seeing is an increase in hospitalizations for our age groups 18-50."

According to Dr. Onufrak, one of the most recent COVID-19 related deaths was a man who was 48. She stresses the public to continue coming out to get vaccinated and to take advantage of vaccination opportunities they have to offer.

"We are hoping to get that population," Dr. Onufrak said. "If you don't come to us, we will come to you. We are trying to make it as easy as possible so we can get people vaccinated and get back to normal."

According to Dr. Onufrak. they are asking the community to follow the honor system when it comes to vaccines, and if they have already received a vaccine, they have already been registered.
The Corpus Christi-Nueces County Public Health District will have tents set up outside of the Buc Days carnival entrances. Anyone who gets their vaccine at the event will get free admission for the day.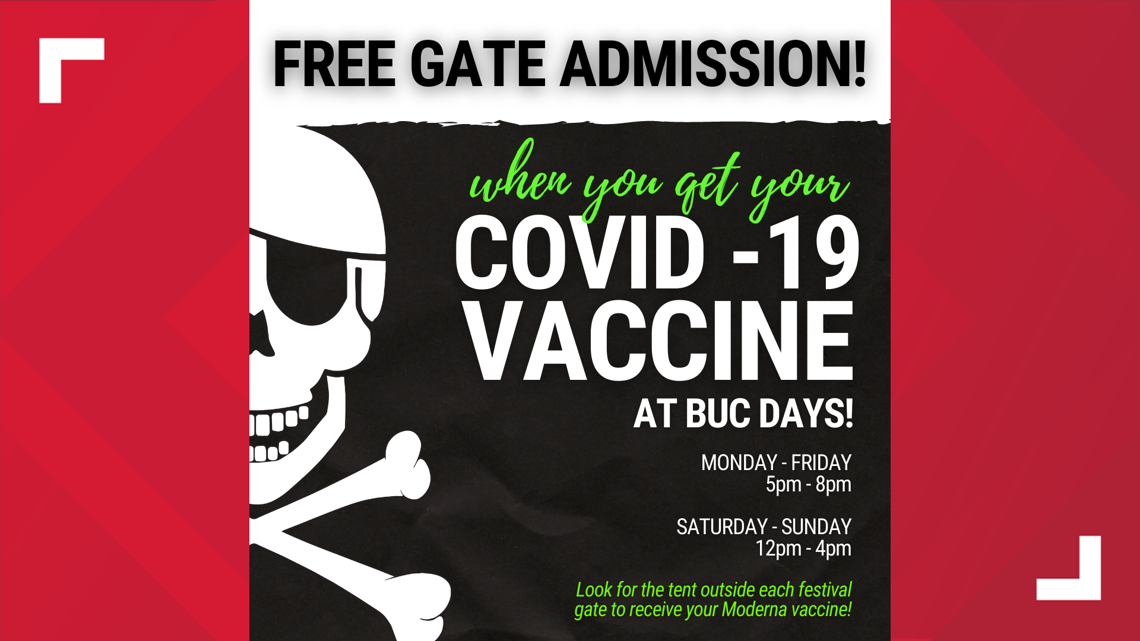 The tents will be set up Monday through Friday from 5 p.m. until 8 p.m., and weekends from Noon until 4 p.m.
The carnival runs from April 29 - May 9. Visit bucdays.com for a full schedule of events.
For the latest updates on coronavirus in the Coastal Bend, click here.
More from 3News on KIIITV.com: