CORPUS CHRISTI, Texas — The City of Corpus Christi is closely watching just how hot it gets and opening more cooling centers to help resident beat the heat.
There are several centers open Saturday, mostly public libraries. The La Retama Public Library will also be open on Sunday.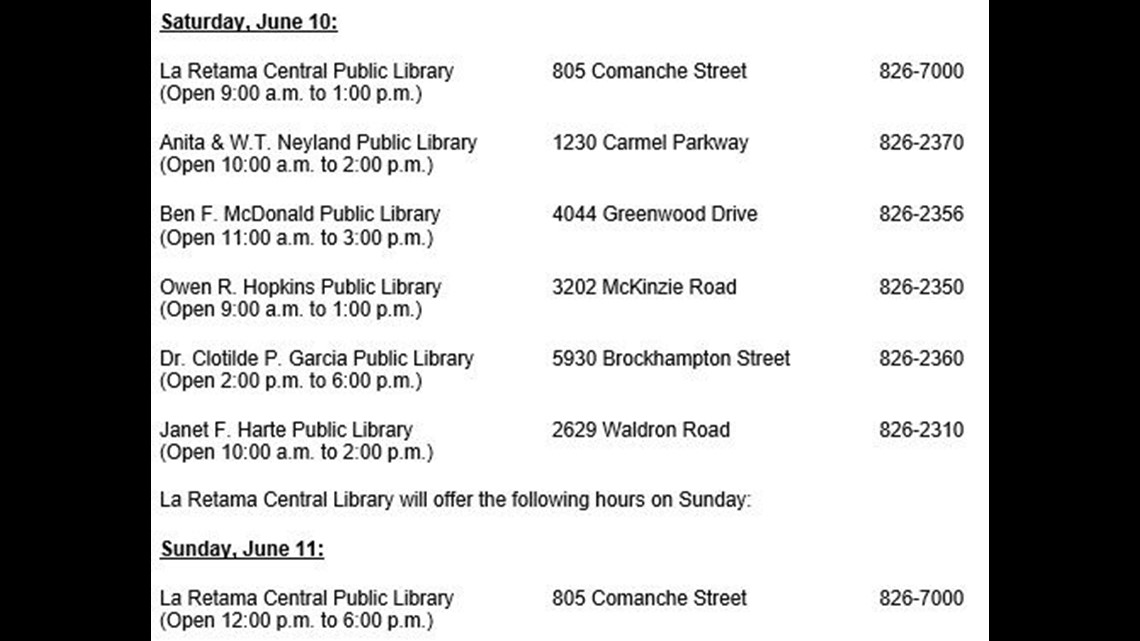 On Friday, a number of libraries and senior centers provided an escape for people as feel-like temperatures reached triple digits in the city.
The La Retama Central Public Library is a popular place for residents to cool off. Corpus Christi resident Carlos Elizondo was at the center with his two kids trying to beat the summer heat.
"The temperature rising a little quicker than expected, we haven't even gotten halfway into June and it's already getting outrageous," he said.
Elizondo said that he appreciates the resources the city provides to help residents cool off.
"Great opportunity that the City of Corpus Christi has opened up these places for us citizens to cool off and relax in times these heat waves are coming though," he said.
The La Retama Central Public Library is one of a long list of libraries and senior facilities throughout the city that were designated as cooling centers Friday for the community.
Meaning some locations had extended hours as well as free rides provided by the RTA for those who said they are going to a cooling center.
City of Corpus Christi Emergency Management Coordinator Billy Delgado is encouraging people to use caution when rising temperatures can lead to the risk of heat-related illnesses.
"Some of the situations will call for extended hours, they are facilities they are open so we utilize what we have in the city to make sure the public can come in and do what they need to do," he said.
City of Corpus Christi Library Director Laura Garcia said that residents don't have to wait until facilities are deemed cooling centers. The public spaces are open during regular business hours.
"It's really important for individuals to have a place to go, perhaps they don't have the resources at home for air conditioning or fans, it gets pretty hot," she said.
Delgado said the city will continue to monitor the forecast for the days and weeks ahead.
"We've been through this last summer and we have a good team that meets prior to an event we actually met this morning to talk about up until Thursday just to be ready," he said.
More from 3News on KIIITV.com:
Do you have a news tip? Tell 3!
Email tell3@kiiitv.com so we can get in touch with you about your story should we have questions or need more information. We realize some stories are sensitive in nature. Let us know if you'd like to remain anonymous.