CORPUS CHRISTI, Texas — The Texas mask mandate and business capacity restrictions have been lifted.
Several of Corpus Christi's attractions say they plan to keep mask requirements in place even after the statewide mask order is lifted Wednesday.
Corpus Christi officials said masks will be required in all city buildings, including the American Bank Center.
The following graphic shows which downtown businesses are requiring masks, and which businesses are encouraging masks.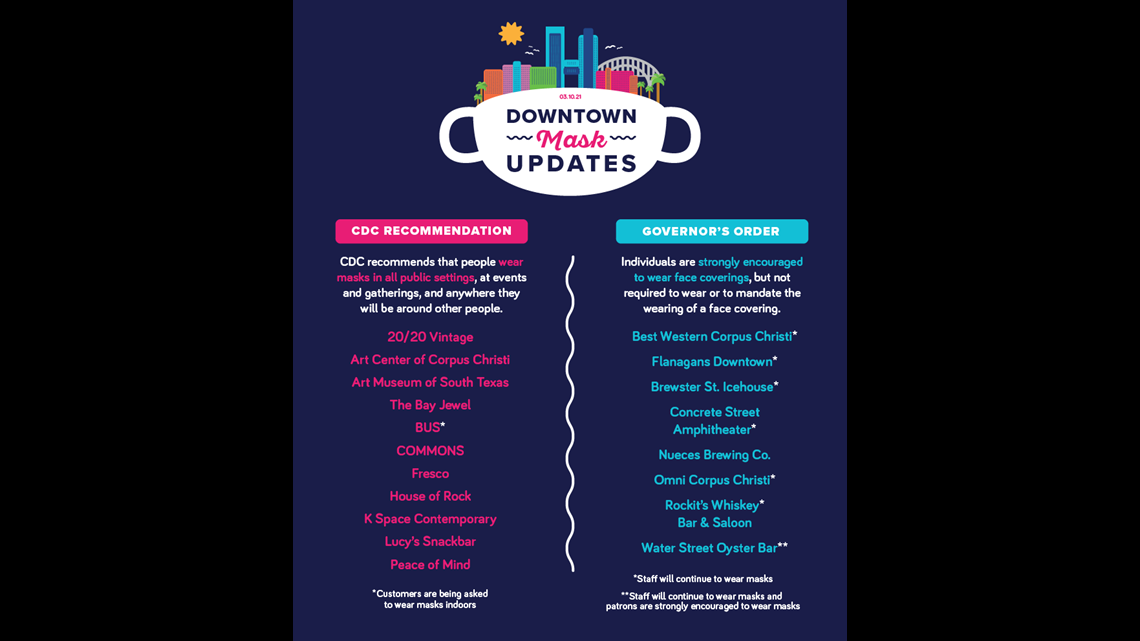 The Texas State Aquarium will require masks and will also keep its visitor capacity at 75-percent for the time being in an effort to keep employees, visitors and animals safe.
The Museum of Science and History said it, too, will be following the same protocols they implemented since summer of last year and remain at 75-percent capacity.
The USS Lexington Museum on the Bay will also continue with its mask policy that requires patrons to wear a mask while indoors aboard the ship.
Patrons traveling on public transportation, such as busses, trains and airplanes, still have to wear a mask.
For the latest updates on coronavirus in the Coastal Bend, click here.
More from 3News on KIIITV.com: