The time to vote early is almost up. The last day to vote early is Friday, Oct. 30. Here is a list of remaining dates and times where you can vote early in Nueces County. Further below, there is a list of election information by county.
Friday, Oct. 23, 8:00 a.m. - 5:00 p.m.
Saturday, Oct. 24, 7:00 a.m. – 7:00 p.m.
Sunday, Oct. 25, 12:00 p.m. - 5:00 p.m. – Special Sunday Hours at the Nueces County Courthouse ONLY
Monday, Oct. 26 - Friday, Oct. 30, 7:00 a.m. - 7:00 p.m.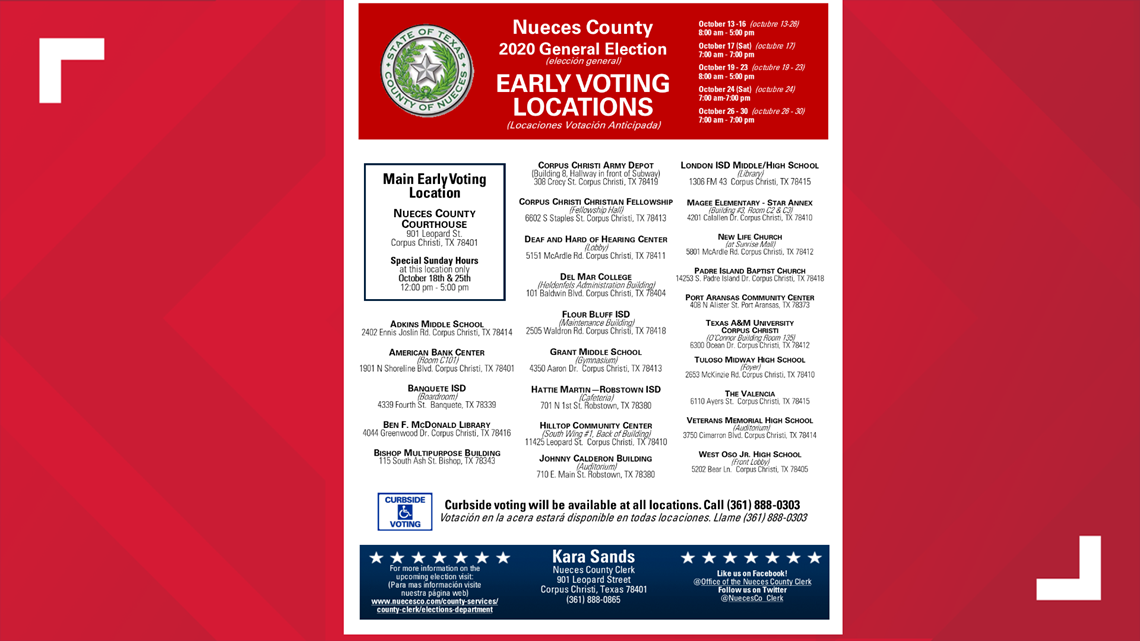 Election Day Voting Information:
Tuesday, Nov. 3, 7:00 a.m. - 7:00 p.m.
If you are planning to vote early by mail, the last day to request an application is Friday, October 23. To request an application, call the Nueces County Clerk's Office at (361) 888-0329.
Voting Information by County
October 13 was the first day of early voting for the 2020 general election. Below is a list of counties with a link to everything you need to know in order to vote.
Early voting begins today, Oct. 13, and runs through Oct. 30, check the hours on your county Election website.
Election Day will be on Nov. 3 from 7 a.m. to 7 p.m.