CORPUS CHRISTI, Texas — With Halloween coming up in just a few days, it is important to know where sex offenders are living in the city of Corpus Christi, before you send your child out to trick-or-treat.
3News did a search of neighboring sex offenders near the KIII studio, and you may be surprised at what we found. Take a look at the map pictured below: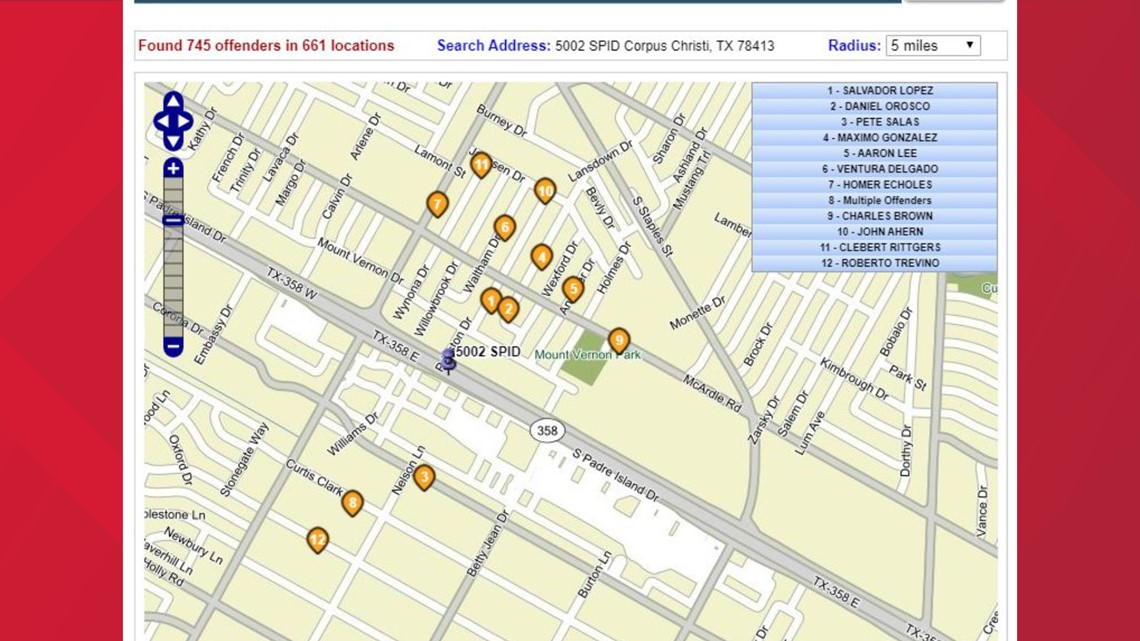 "By law, registered sex offenders are prohibited from passing out candy on Halloween. Moreover, these individuals may not appear in public dressed in a Halloween costume or other child-centered holiday characters, such as Santa and the Easter Bunny", stated the Texas Department of Safety.
The Corpus Christi Police Department warns that children are particularly vulnerable to sex offenders. Open communication between parents and children is vital to family safety.
Click the link below to search for sex offenders living near, or in the neighborhood you live in.
The American Academy of Pediatrics has listed some precautions to take before you and your family hit the streets this Halloween.
On the Trick-or-Treat Trail:
A parent or responsible adult should always accompany young children on their neighborhood rounds.

Obtain flashlights with fresh batteries for all children and their escorts.

If your older children are going alone, plan and review the route that is acceptable to you. Agree on a specific time when they should return home.

Only go to homes with a porch light on and never enter a home or car for a treat.

Because pedestrian injuries are the most common injuries to children on Halloween, remind trick-or-treaters:

Stay in a group and communicate where they will be going.

Remember reflective tape for costumes and trick-or-treat bags.

Carry a cell phone for quick communication.

Remain on well-lit streets and always use the sidewalk.

If no sidewalk is available, walk at the far edge of the roadway facing traffic.

Never cut across yards or use alleys.

Only cross the street as a group in established crosswalks (as recognized by local custom). Never cross between parked cars or out of driveways.

Don't assume the right of way. Motorists may have trouble seeing trick-or-treaters. Just because one car stops, doesn't mean others will!

Law enforcement authorities should be notified immediately of any suspicious or unlawful activity.

More from 3News on KIIITV.com: