DENVER — A crowd gathered at the Colorado Capitol for the eighth day in a row to demonstrate in support of George Floyd and against police brutality and systemic racism.
Thursday's march was led by youth advocates.
As protesters made their way around the city, music blared from speakers while many danced, sang and smiled.
As has been the case during the last few days of protests, police officers were seen blocking streets for protesters and on Thursday, following alongside on bikes.
Before leaving the capitol around 5 p.m. to demonstrate through the streets of Denver, several young people stood in front of the gathered crowd to share their perspective, personal stories and encounters with racism.
"Sometimes I don't have friends, but I'm really nice," one young man shared before being met with a chorus of cheers and a standing ovation.
Speeches also focused on the education system.
Young people continued sharing their stories after the march.
While many protesters were again marching on Broadway around 10 p.m., Denver Police responded to a shooting near Civic Center Park. At the time of the shooting, some protesters who were not participating in that march were gathered at the capitol nearby. It's not clear if the shooting was related in any way to or involved anyone participating in Thursday night's protests.
Denver has a 9 p.m. curfew in place for the rest of the week following multiple nights of riots that turned at times destructive. Protests on Monday, Tuesday and Wednesday were relatively peaceful, marked with moments of silence to honor Floyd's life, and conversations about racism, violence and discrimination.
PHOTOS: Day 8 of the George Floyd protests in Denver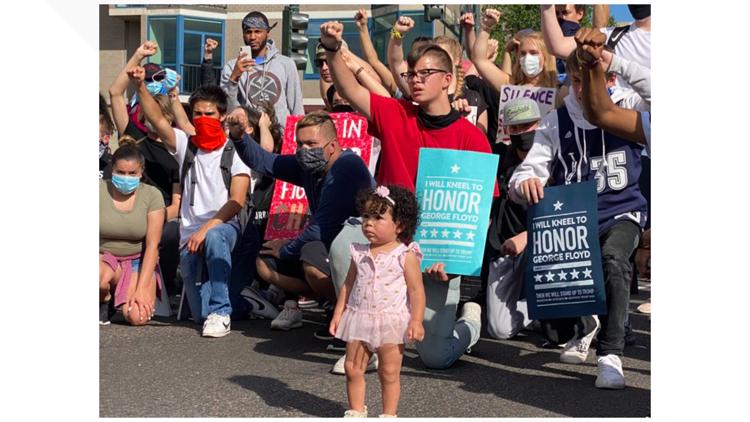 Follow along with 9NEWS reporters at Thursday's protests:
Small protests have also happened over the last few days in Fort Collins and several mountain communities.
Protests last week and over the weekend were peaceful during the day, but escalated to riots at night that included fires, vandalism, graffiti and looting, as well as confrontations with police in which tear gas, pepper balls and foam projectiles were deployed.
Prior Denver Protests Coverage