A fast-moving lava flow appears to have destroyed at least 12 more homes on Hawaii's Big Island as lava fountains blast more than 200 feet into the air, authorities said.
The flow near the Leilani Estates neighborhood about 35 miles from Hilo had already destroyed at least 82 structures, including 41 homes, since it began early this month, and at least a dozen more are believed to have been destroyed Sunday and Monday night, authorities confirmed Tuesday.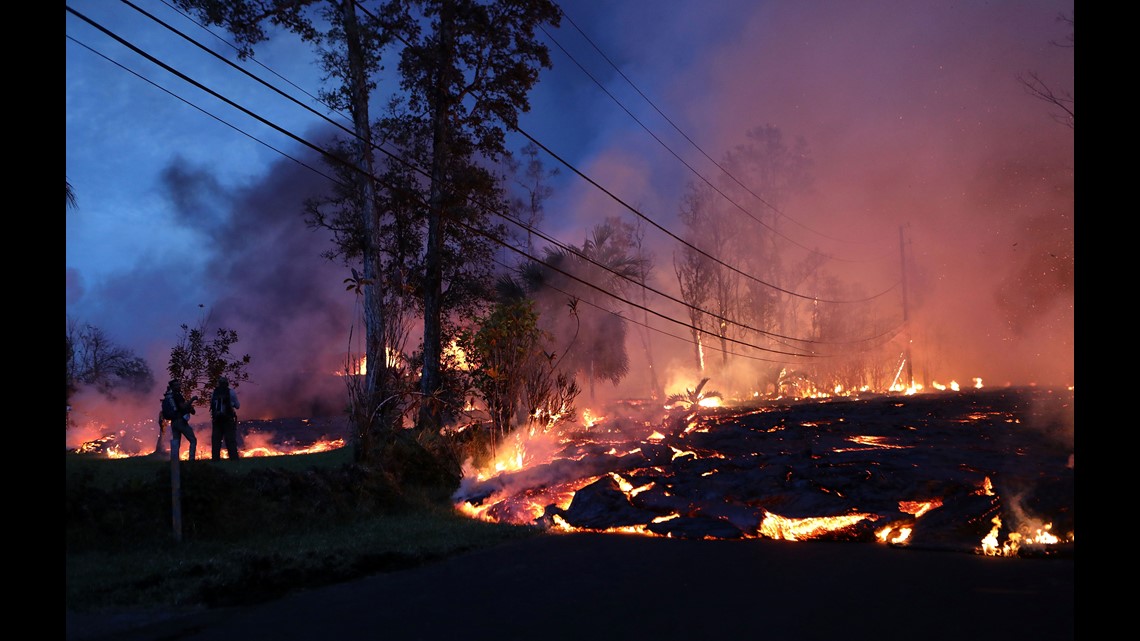 They were still awaiting official confirmation because the area is so dangerous. The flow also appeared to have cut off access to a geothermal electricity plant, which has been evacuated.
Petra Wiesenbauer is among those who lost homes late Sunday and early Monday.
Evacuated since early May, Wiesenbauer had weeks to close down her house, where she also ran the four-unit Hale Moana bed and breakfast. Saturday, as her concerns about the nearing lava rose, she moved out her daughter's baby grand piano, and then on Sunday morning took out all the linens and bedding from the bed and breakfast to donate to other evacuees.
For weeks, she grieved the pending loss of her home while moving into a rental house nearby, doing her best to provide stability for her two teenage daughters, their two cats and dog.
And then her neighbor called at midnight Sunday.
"He said his house was on fire and mine was next. They stood on my roof and watched his house burn down," Wiesenbauer said Tuesday. "A week ago I mowed the grass. There was this hope things would normalize, stabilize, and we'd be able to move back."
She finally got back to her home early Monday morning: "The house was just a pile of rubble. There was nothing left."
Wiesenbauer said perhaps as many as eight homes close to hers burned down that night, a devastating blow to the already hard-hit community. She said she considers herself lucky: Having several weeks to prepare meant their valuables were saved and the family has stable housing. Still, she's expecting struggles for months and years to come. Like many others, she's set up a GoFundMe account to assist.
"It's just trying to figure out the pieces of your life, making sure the kids are on a good track… teenagers are going through so much stuff anyway and now to have this all added? It's not so helpful," she said with a chuckle.
Leilani Estates residents Brady Metcalf and his fiancé Ana Luquin Jiminez evacuated on May 3, locally known as Day 1 of the lava flow.
As of the morning of May 29, Ana's house on Kupono Street is still standing, but Metcalf says he expects the house to be taken by lava soon. "I hope it won't get taken, but realistically, I think it will be gone in a day or two."
Metcalf has seen his friends and neighbor's homes claimed by lava.
"When the lava comes, it comes at a huge volume and obliterates everything," Metcalf said. "That used to be one of the nicer neighborhoods with paved streets, nice homes and friendly neighbors. Now the bottom half of it is gone and it looks like an ocean of lava for as far as you can see."
On Sunday night, Metcalf had just finished packing up some of his fiancée's cherished mementos, when fire officials came knocking on the door saying that he needed to leave.
When the couple first evacuated on May 3, they took little more than clothes and toiletries. Since then, as conditions permitted, they've made trips back to the property to retrieve family photographs and important documents and other personal items. The home wasn't in danger of being over run until a few days ago.
As of Tuesday, the lava also was approaching Highway 132, Pahoa Village Road, prompting that road's closure near Lava Tree State Park.
Thousands of residents remain evacuated from the area because of the unpredictable flow and noxious gases. The specific location of the homes destroyed by the lava flows Sunday and Monday wasn't immediately made public by authorities, who on Tuesday said they were awaiting a formal survey of the area.
Early Tuesday, a small explosion shook the nearby summit of Kilauea, the volcano that has been feeding the lava flow. The National Weather Service recorded an ash plume reaching nearly three miles high, and authorities warned of ash fall in the area, although they said there was no risk of a tsunami.
Pahoehoe is a type of lava flow that looks like thick syrup or ropes; other flows have been a'a', which is more of a cinder.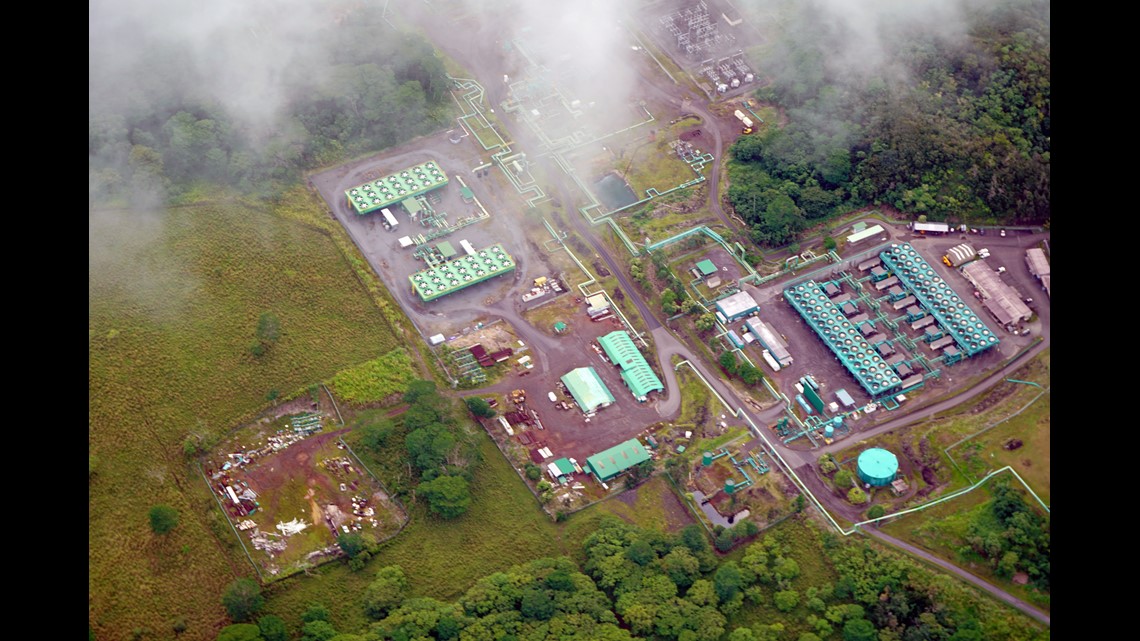 Authorities said there also continues to be no problem posed by the lava flow onto the grounds of the Puna Geothermal Venture plant, which generates electricity through a series of wells bored onto the warm ground. The lava flow on Tuesday cut off the plant's access road, but the area had been evacuated safety, officials said.
Area residents had worried a flammable liquid called pentane used to help turn turbines could explode or release dangerous gas, but the majority of it has been removed from the site and the wells are being capped.
Evacuees leave dangerous Hawaiian volcano area
Ash fall is the greatest threat to the largest number of Big Island residents, along with the volcanic gas known as "vog," and "laze," which is hydrochloric acid steam that pours into the air along with fine particles of glass when hot lava hits seawater.
Authorities have been trying to persuade residents to wear filter masks to protect them from ash fall and to avoid areas where vog and laze may be present.
A community meeting is set for Wednesday to discuss the vog and ash issues affecting the downwind Kau region of the island, between Hilo and the resort area of Kona.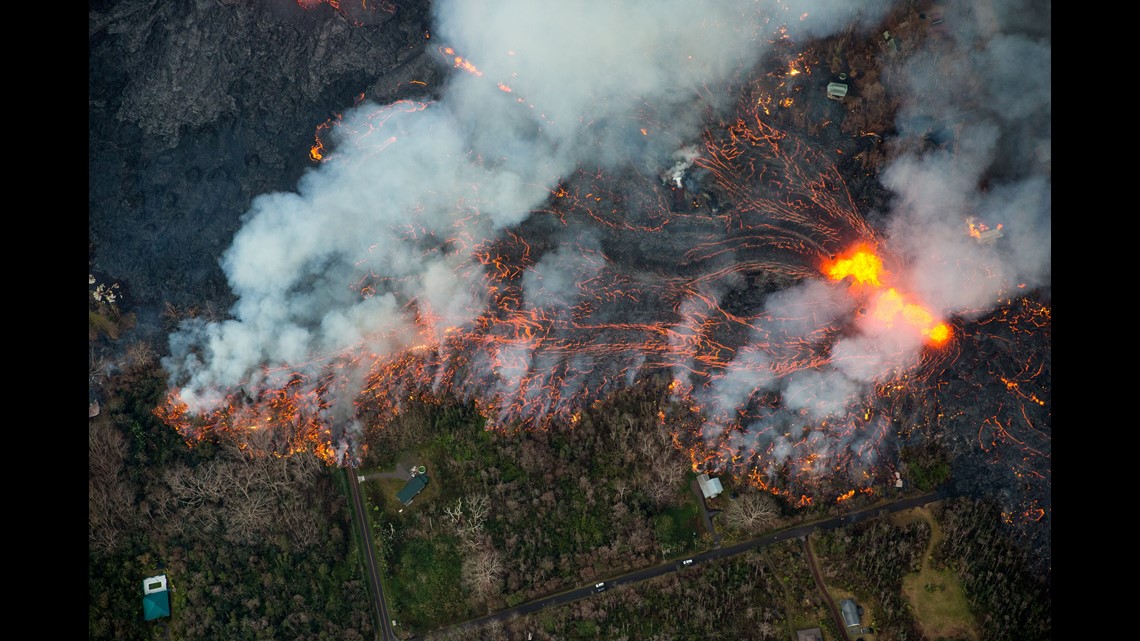 But the continued lava flows — another one broke out Tuesday morning near Kahukai Road and ran across Pohoiki Road — are raising concerns about how residents will evacuate if they cross key roads and cut off communities from grocery stores, schools and escape routes.
Three rural highways serve as evacuation routes for roughly 5,000 residents living near the erupting lava fissures. One is completely blocked and another remains open only to local residents — for now.
The biggest concern is the third exit route: Highway 130, a main connector road that runs from north to south through the region. Several large cracks have formed in the road because of magma disrupting earth as it travels downslope underground. Nine metal plates have been installed over the cracks to maintain access.
Transportation workers will reinforce the metal plates, fill in the cracks with aggregate material and use heat-resistant, steel reinforced plates if needed.
Contributing: Denise Laitinen