The index is based on interviews with 19,423 customers chosen at random between April 1, 2020, and March 29, 2021, ranking restaurants scores out of 100.
Chick-fil-A came out on top with a score of 83. It even beat out full-service restaurants LongHorn Steakhouse, Olive Garden and Texas Roadhouse which hold a three-way tie for second with 80 points.
Of all the fast-food restaurants known as "limited-service", McDonald's was ranked the worst with a score of 70.
Here's the list of the top 5 limited-service restaurants on the index:
Chick-fil-A All: 83
Domino's: 80
KFC (Yum! Brands): 79
Starbucks: 79
Five Guys: 78
The leader of the pizza business was Domino's, which improved 1% year over year. KFC was unchanged from last year, and Starbucks was up 1% this year. Newcomer Five Guys scored 78 (tied with Pizza Hut), outperforming the other burger chains in its first ACSI appearance.
Just a few points ahead of McDonald's tied for second to last place, Jack in the Box, Popeyes, Sonic and Wendy's all had 73 points. Other chains that slipped to a score of 77 included Arby's (down 3%), Chipotle Mexican Grill (down 4%), Dunkin' (down 3%), and Papa John's (down 1%). Subway took the biggest tumble losing 5% to 75.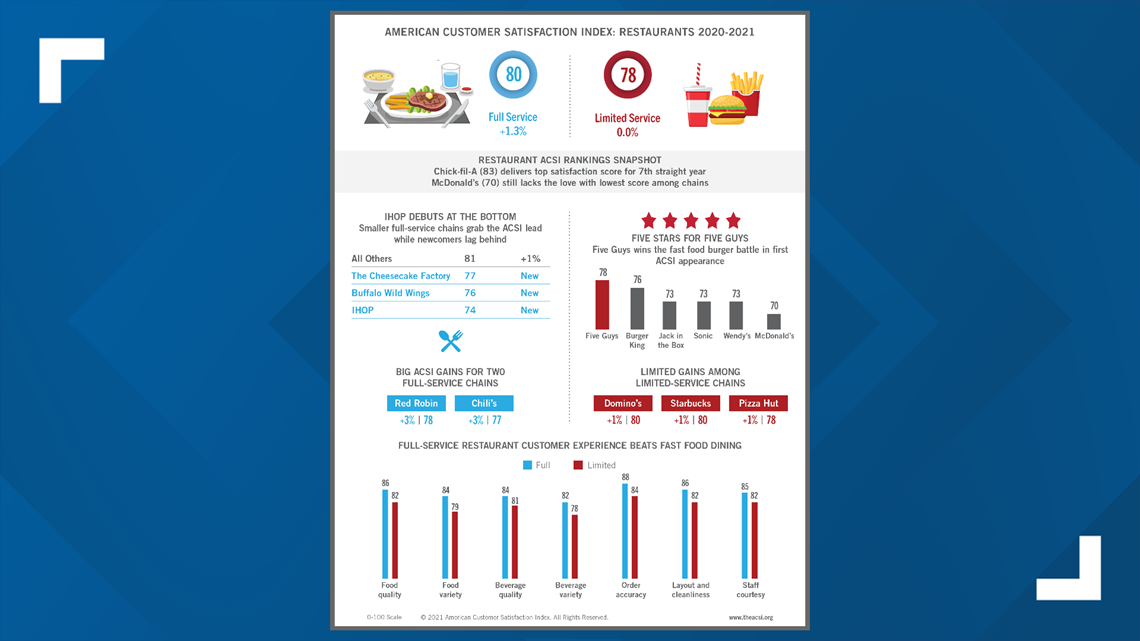 According to the study, customer satisfaction with full-service restaurants climbed 1.3% to a score of 80 while limited-service restaurants dipped .4% to 77.6.
The index highlighted how restaurants needed to rethink their business during the coronavirus pandemic to stay afloat, and mentions how some changes could be here to stay.
"People are slowly starting to enjoy sitting down at restaurants again, but don't discount the value of convenience," says David VanAmburg, Managing Director at the ACSI.
He added: "During the pandemic, folks got a taste for what it's like to have food from their favorite restaurants delivered right to their door. And now that they've gotten used to this service, there's no going back."