WASHINGTON — Clothes, pins and other accessories often do double-duty as a way to channel political statements at the State of the Union address, and some were on big display Tuesday night.
Members of the Congressional Black Caucus and several other Democrats wore an "1870" button during the State of the Union. It commemorates the first known police killing of a freed Black American man, Henry Truman.
The all-black pin was designed by Rep. Bonnie Watson Coleman, D-N.J, who shared them with colleagues along with a notecard that said "153 years later, nothing has changed."
"Today, my @TheBlackCaucus colleagues and I are standing united against police brutality," Watson tweeted before Biden's address. "In 1870, police killed an unarmed Black man. Last year, the number of police killings reached a record high. Police reform cannot wait any longer. Our communities deserve better."
Rep. Ilhan Omar, D-Minn., was one of the notable faces wearing the pin on Tuesday night.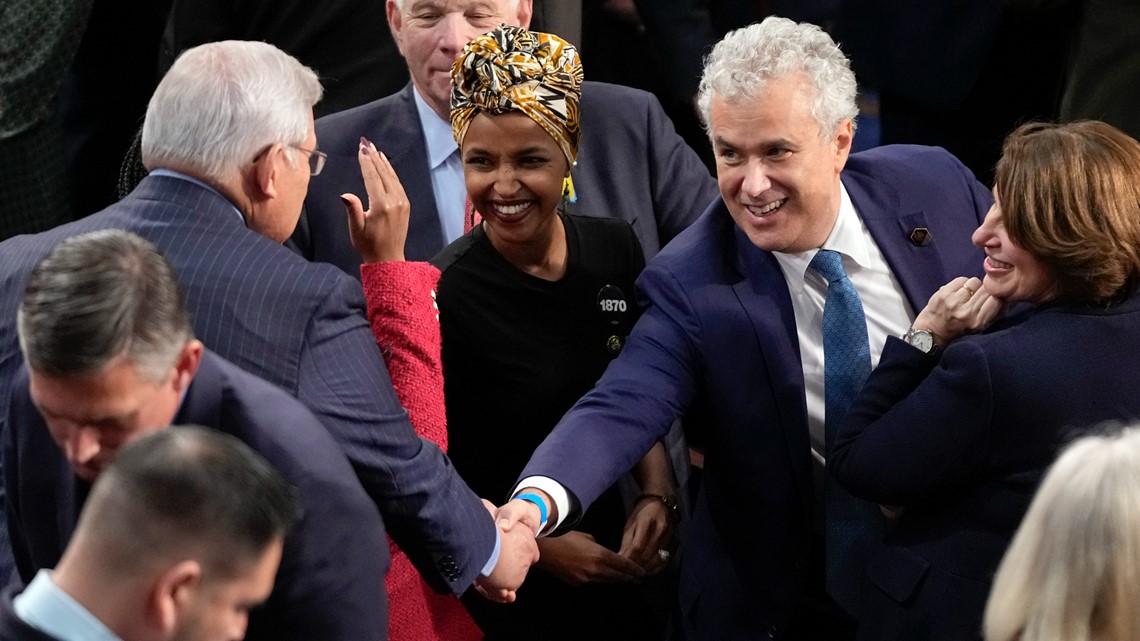 The blue-and-yellow pins and ribbons in support of Ukraine that were prominent last year at the start of the Russian invasion were worn again by some as the war enters its second deadly year.
Democrats in the House and Senate also wore pins in the shape of tiny crayons to signal support for child care funding as Biden had proposed at the start of his administration. It's an issue championed by Sen Patty Murray, D-Wash., who organized the "Crayons for Kids" crayon pins.
In terms of fashion for the State of the Union, pink appeared to be color of the evening. First lady Jill Biden wore a purple-pink dress and Vice President Kamala Harris sported a magenta pantsuit, while House Speaker Kevin McCarthy had a reddish-pink tie.