WALTERBORO, S.C. — The prosecution in the double murder trial of Alex Murdaugh has rested its case, concluding 17 days of testimony that it hopes will convince a jury that the suspect is the sole person responsible for killing his wife and son.
Lead prosecutor Creighton Waters officially ended its presentation just after 4 p.m. Friday. It came moments after the judge rejected a defense motion to give a directed verdict in favor of them, claiming that the state had failed to prove its case.
The defense then began its case.
For most of the day, the jury heard from SLED Special Agent Peter Rudofski, who testified about cell phone and car data which painted a timeline of Alex Murdaugh's movements and calls on the night of the killing, as well as those of the victims.
Murdaugh is charged with two counts of murder in shooting deaths of his wife, Maggie, and adult son, Paul, in June of 2021. Murdaugh's lawyers maintain he's innocent and there's been a rush to judgment, while prosecutors say he acted alone in killing his family.
You can find trial updates here every day. Live streaming coverage can be on wltx.com, on the WLTX+ streaming app on Amazon Fire and Roku TV, and on the News19 WLTX YouTube page.
Alex Murdaugh Trial Friday Updates
Thursday ended with SLED Senior Special Agent Ryan Kelly on the stand. Kelly was there after Judge Newman reversed his decision and allowed testimony about the September 4, 2021, roadside incident where Alex Murdaugh was shot in the head. Kelly introduced the September 13 telephone interview he conducted with Alex Murdaugh, and his defense attorneys Jim Griffin and Dick Harpootlian.
In the interview, Alex confesses to his suicide-for-hire verbal agreement he made with Curtis Edward Smith along Old Salkehatchie Road on September 4, 2021. Alex also mentions his longtime opioid addiction and his financial issues.
Friday begins with the cross-examination of Agent Ryan Kelly by Harpootlian.
Harpootlian asks Kelly if part of his investigation of the shooting was to interview Alex at the Savannah hospital. Did the medical staff tell Kelly Alex had a fractured skull and a trough wound in the back of his head? No. Kelly testifies medical tests were still ongoing when SLED arrived at the hospital.
But you've seen the records since then? Yes
Kelly is asked who subpoenaed Alex's medical records. SLED asked for the records.
Harpootlian asks Kelly to look at the record and read to the court Alex's injuries -- left subdural hematoma with blood products, a fractured skull and laceration over the bone.
So, there were injuries consistent with a bullet wound to the head? Yes
Harpootlian asks did Kelly tell anyone in Maggie's family that Alex had been shot in the head? Yes
So, you agree Alex was shot in the head? Yes
Harpootlian asks was Kelly aware Alex was in intensive care for a time and released from the hospital on Sept 7? Yes.
Photos taken by Hampton County EMS of Alex with a bandage on head is not what Kelly saw when he first observed Alex. At some point, Alex was put in a collar and his wound treated, but not in front of Kelly. A photo of Alex at the hospital shows Alex and his bloody wound.
Harpootlian said Alex went to rehab in Atlanta after leaving the hospital. Kelly said SLED could not subpoena his detox facility records because of an issue of the rehab center being an out-of-state facility.
Harpootlian asked who initiated the interview with Alex. Kelly testified he called Harpootlian on Sept. 7, and Harpootlian told Kelly Alex was in rehab and Harpootlian would make arrangements for an interview. On Sept 13, Harpootlian called Kelly to set up an interview and SLED agreed to conditions and wanted an opportunity to make sense of Alex's story about the roadside incident.
During the interview, Alex admitted he had stolen money, drug use, and that he had lied? Yes
As a result of that statement, Alex was charged with insurance fraud, financial fraud and filing a false statement? Yes
Harpootlian said Alex surrendered himself from the detox facility in Orlando, Buster drove him to South Carolina. Kelly said Alex was taken into custody at Almeda in violation of the agreement he and his defense team (Harpootlian and Griffin) had with SLED that Alex turn himself into SLED upon his return to South Carolina. SLED agents called Harpootlian and Griffin as the agents were arresting Alex and the two lawyers arrived later at Almeda.
Alex was granted bond, one condition of the bond agreement was Alex was allowed to go back to Orlando for rehab. Alex stayed there until he indicted on fraud charges.
Kelly testified, at the time, he was not investigating the murders or financial crimes, just the roadside incident.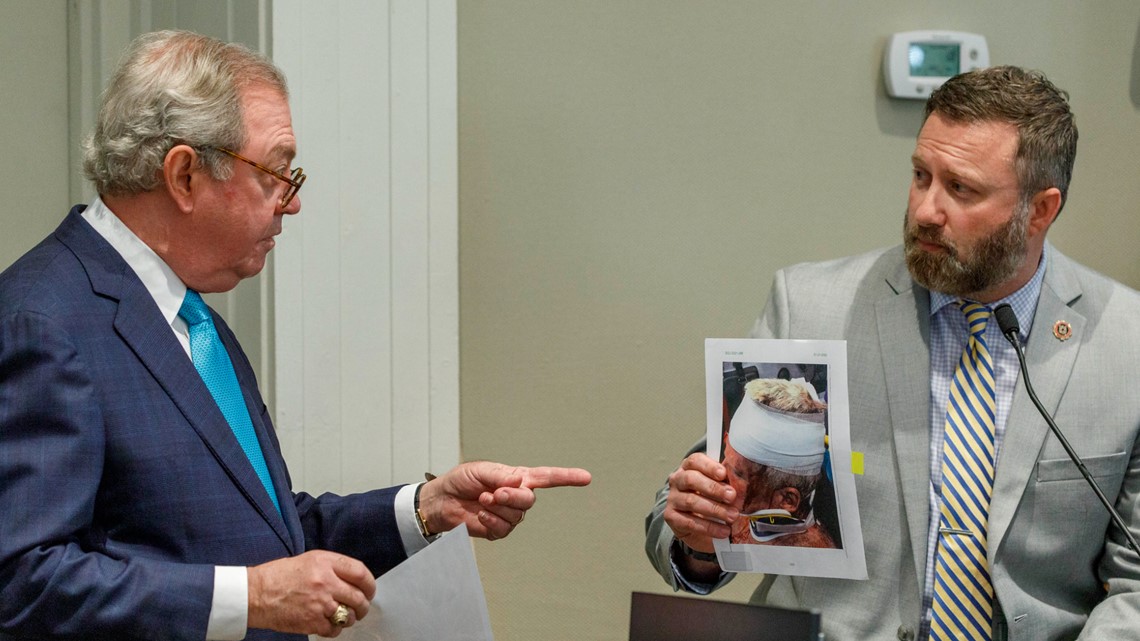 Harpootlian said Alex confirmed he had stolen money in the interview. Who was investing the finance crimes? David Williams, Kelly and Matt Wright
The information was voluntarily given on the financial issues? Kelly said it was voluntary, based on what Harpootlian told him, since it was a telephone interview and Kelly was not in the same room as Alex
When you interviewed Alex on Sept. 4, was he in custody, did he volunteer to talk to you, did he respond consistently to your questions, and respond appropriately? Yes
Alex's answers related appropriately to the subject matter of your questions? yes
Did you want to do a telephone interview or talk in Alex person? Kelly wanted to go to meet in person, when that didn't materialize, Kelly said time was of an essence and made arrangements to talk to Alex on the phone.
Was SLED actively investigating the case? Kelly said SLED was actively trying to make contact with Alex and the investigation was ongoing
When you had the phone interview, the defense team put limits on discussion? Yes. Moselle and finances were off limits.
When taken into custody, it was after the rehab stent. The first time was related to charges of side of road.
The second time Alex was arrested was when? Oct 16, 2021. How long had he been out of jail since Oct. 16? Did he make bail? No
Did Kelly tell family reason he wants to see Alex was to see him in rehab to show a picture of a truck? Yes. We wanted to meet with Alex because we knew the truck, knew the drive and wanted to see if Alex would continue to lie to SLED.
Did Harpootlian explain that Alex needed uninterrupted time in rehab/detox? yes
Kelly said on Sept. 4, Alex was on his cell phone at the hospital, he was the only witness of the crime, and SLED got a statement from his at the hospital
Did you ask a doctor about Alex's competency to speak in hospital? No
Were you aware Alex tested po for opioids? Kelly said at time we didn't ask medical pros about his condition as they would not tell SELD. By court order, after the fact we learned of his addiction.
SLED Special Agent Peter Rudofski
Rudofski became involved with the Moselle investigation in November 2021, focusing on phone data and constructing a timeline using all phone data.
Rudofski identifies a rough draft of his timeline from January 2023, supplied to the defense. Rudofski's been working on the draft for about a year. Since the draft, more information has been added and the defense team updated.
Rudofski identifies the full timeline, the latest copy, and a condensed timeline from 6-11 p.m. June 7, 2021.
Rudofski has experience with FBI CAST program and last Friday, Feb. 10, General Motors contacted SLED and sent data from the OnStar belonging to Alex's 2021 Suburban. Rudofski has downloaded the GM information and added it to his timeline. The biggest difference between the previous data and new data is new data is longitude/latitude and speed. Both data were consistent.
Rudofski recognizes a presentation created using the OnStar data. The presentation is shown to the jury.
The first slide shows a Google Earth overview of the Moselle/Hampton/Almeda properties using data points from OnStar. The second shows the same overview in a regular map view; third slide shows all day June 7 of Moselle; fourth is the PMPED law firm in Hampton; and the fifth is the Almeda property.
Specific data points show beginning, middle and end of the routes of vehicles taken on June 7.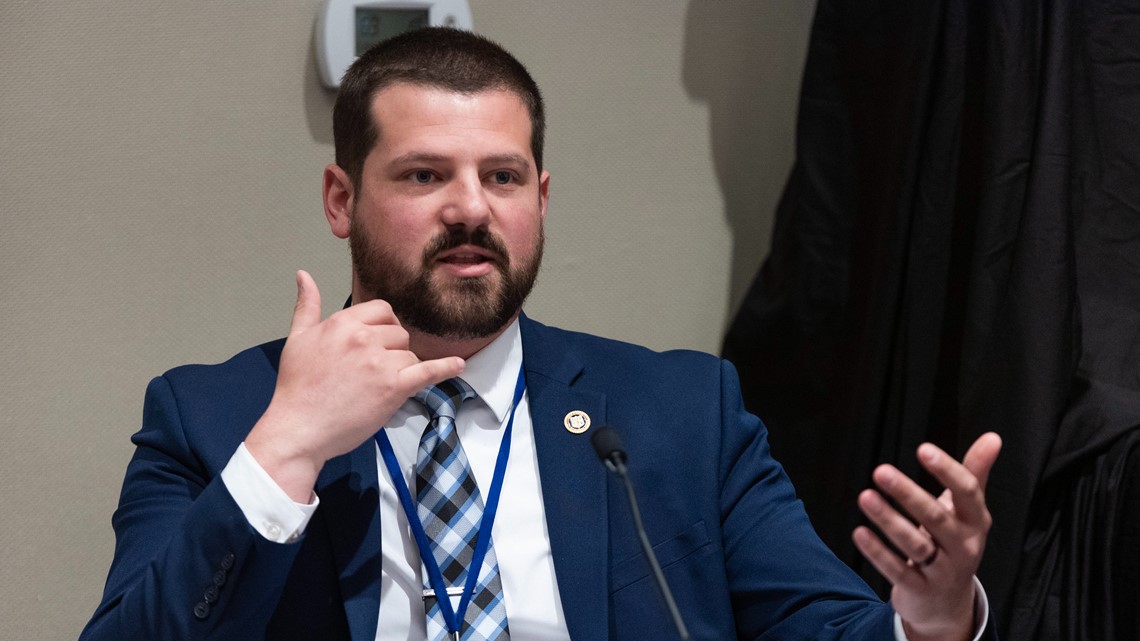 Alex is recorded leaving for work from Moselle at 12:06:47 p.m., making a right onto Moselle Road at 12:07:40 p.m. from main gate; 12:07:42 shows speed of 12 mph; 12:08:30pm at 55 mph; 12:16, 60 mph; 12:21:06 pm, at law firm in Hampton; 12:24:46, parked at law firm; max speed was 65.8 mph
Alex leaves work at 6:24:18 at 8mph; 6:26:54 at 42mph; arrives at Moselle at 6:42 pm; max speed 54 mph
Alex leaves for Almeda at 9:07:06 pm, out of main gate at 9:08:18, 37mph; 9:08:42, 42 mph; the location of where Maggie's phone was found is marked as across the street from the route Alex is traveling; 9:08:42, 45 mph; passing the location where Maggie's phone was found, the Suburban begins to accelerate 9:09:46, 48mph; 9:09:18, 49 mph; 9:09:24 52 mph; 9:09:52, 59moh; 9:13, 68 mph; 9:14:36 69mph; 9:16:48 Alex is traveling at 70 mph coming into Varnville; at Almeda 9:22:06; map shows vehicle makes left turn into Almeda. The overhead map shows the house and driveway and some outbuildings. The white area above the house is a parking spot. The Suburban comes into the grass near the tree line and outbuildings at 9:22:39. Max speed in trip to Almeda was 74.4mph
Datapoints in the grassy area behind the house. It is dark when Alex arrives at Almeda.
9:43:18 Alex recorded leaving Almeda. The Suburban spent 20 minutes at Almeda, the vehicle pauses for a time in the driveway at Almeda before exiting property. 9:45:22, turns onto Yemassee Highway; 9:46:01 to Moselle, no speed available; 9:51:30, 74mph; 9:54:24, 70mph; 9:59:18 on Moselle Road, 57mph; 10pm arrives at Moselle. 10:30, halfway down driveway. Trip max speed was 80mph.
Waters states the roads in that area were paved after June 7. He asks Rudofski, who was a patrol officer about the condition of the roads prior to June 7. Rudofski says he had run code (answer emergency calls with lights and sirens) through the roads in the area before the roads were repaved. Rudofski said he would never run code fast on those roads because of deer and road conditions – lots of potholes.
10:05:06 the Suburban is going to kennels from house; 10:05:39 halfway to kennels; 10:05:57 arrives at kennels. 911 call was 10:06; Alex said he was returning to house; 10:12:18, return to house; 10:13:54, at house, max speed is 35mph; drive back to kennels 10:14:24.
The condensed timeline is then presented for the jury. The condensed record has the GM OnStar along with cell phone data from Paul, Maggie, and Alex, the FBI telemetry and CAST data, Snapchat data, Rogan Gibson, Dylan Hightower's extraction of Alex's phone, and 911 call. For the jury, data points along the timeline are color coded for each data source.
6:04:11, Paul calls Will Lovin
6:08, Paul calls Alex, call is answered, but it's one second long; does not show up on Alex's phone but on Verizon records
Rudofski testifies there are multiple instances where data shows on Verizon records that are not found on Alex's phone call log
6:09, Paul and Maggie text together
6:10, Maggie texts Paul Blanca made dinner
6:17:42, Paul is mapped at Beaufort, moving to Moselle
6:53, 7:05:33 and 7:30, Paul's phone pings at cells near Moselle
6:20:53, Maggie receives call from Marian Proctor
6:21:53, Maggie texts Marian Proctor
6:23:27, Alex texts Maggie about dinner, Maggie texts back the menu at 6:23:48
6:24:02, Suburban shows device connection – Alex's phone
6:24:18, Alex at PMPED law firm
6:25-6:30, Alex gets phone call from partner, Paul gets text from Marian Dempsey
From 6:52 to 9:04 no activity on Alex's phone
6:40, Paul calls Alex, 2-minute call, does not show up on Alex's phone but was in Verizon record
6:42, Suburban connects and arrives at Moselle 6:42:54 from PMPED
Missed call from Alex at 6:44 to Maggie
Suburban boots up at 6:52
6:53, Paul calls John Marvin
7:02, Maggie calls Alex, not on Alex's phone, on Verizon and Maggie
7:03-7:11, Alex's phone records 165 steps
7:04, Paul at residence; Maggie from 7:04-8 is attached to her Mercedes
7:05, Maggie calls Marian
7:05:55, Alex texts Marian
7:05:32, Maggie calls Paul, then Marian at 7:07:49
Map shows Maggie near Charleston, approaching Moselle at 7:07:49; at 7:50:20 she is in Walterboro area
7:09:43, Maggie calls her mom, 8 minutes
7:14:13-7:18, 208 steps by Paul; 7:15-7:20, Alex takes 200 steps
7:33- 7:35, Paul and Alex steps together
7:30- 7:40, Paul's phone pings at Moselle
7:31:13, Maggie calls Marian Proctor, 7 minutes
7:35-7:41, Paul takes 171 steps; 7:31-7:38, Paul gets Snapchats from two girls
7:39:55, Paul's phone records creation of video of Alex and leaning tree
7:41-7:48, Alex phone records steps
Paul's location data shows him to be near the kennel/cabin area 7:45-7:56; in dove field at 8:00
Step data 7:45-7:55 on Paul's phone
Map shows Maggie's phone (Verizon data) in Walterboro at 7:50:03
7:52:28 Paul's battery at 7 percent
7:55 – 8:05 Paul has 256 steps, Alex's iPhone travels 270 steps
7:56, snapchat video of Alex and tree sent to Paul's friends
7:57, Paul gets text from Bryan Murdaugh
Paul and Alex's phones 8:05-8:09 are stepping together
Map shows Paul's phone at cabin at 8:06:20, moving to main house, stop at main residence at 8:08:45 and at 8:14
8:07:20, Paul sends snapchats to friends
8:11-8:31 Maggie's phone shows "device locked"
Maps shows CB Rowe in North Augusta area at 8:13:15
8:14-8:35:07, Paul at main house at Moselle, 140 steps traveled
8:17:14, Maggie's phone ended connection to Mercedes, unplugged from vehicle, Maggie at Moselle
8:17:44, Paul at 4 percent battery life
8:17-8:18, Maggie takes 38 steps
8:19, Paul connects to wi-fi and gets snapchat message from Ansley Wilson
Series of communications between Paul and his friends 8:23 through 8:30, Paul responding frequently
8:30-8:33, Maggie takes 43 steps
8:31, a group message from John Marvin about Mr. Randolph to family members. Alex and Maggie's phone receive message. Maggie reads text at 8:49, Alex reads it around 1 p.m. on the next day.
8:31-8:49:26, Maggie's phone shows orientation changes but phone is locked
Paul's iPhone location data has him at kennels at 8:38:07 through 8:44:56. At 8:40, Paul calls Rogan Gibson, 4-minute call. 8:44:36, Paul's phone initiates Facetime call with Rogan Gibson
8:44:55, Paul's phone begins kennel video recording
8:47 and 8:48, Paul messages Megan Kimbrell
8:48:29, Paul receives message from Megan
8:48:58-8:49:01, Pauls' phone unlocked for last time
Next activity on Paul's phone is 9:58:35, a notification of a text from Rogan Gibson about his dog, never read; 10:34, Paul's phone dies.
Maggie's phone 8:49 unlocks for text message notification
8:49:31, Maggie's phone locks until recovered by law enforcement at 1:10 pm June 8
8:53, Maggie's phone locked, 59 steps taken, orientation changes through 8:55.
8:55:48, Maggie's phone has internal data recorded, not actively used
8:05:35 to 8:09, Alex's phone records 54 steps taken
Around 9:02, Alex's phone wakes up 283 minutes taken in 5 minutes
Rudofski explains next chart showing all phone data with start, end times and times elapsed, steps taken and time steps taken and total steps
Throughout the day, Alex's steps per minute rate has been "normal," no more than 31 steps per minute. Between 9:02:18 and 9:06:27, for some reason the steps per minute increases to 70.75. His phone records 283 steps in that 4-minute block.
FBI telemetry start up at 9:05
9:03:52, Maggie's backlight is on
9:05, Alex calls Maggie, her phone shows missed call, call does not show in Hightower's extraction of Alex's phone
9:06, Alex calls Randolph, does not show in Hightower's extraction of Alex's phone
9:06:12-9:06:20, Maggie's phone records orientation change, call from Alex does not show in Hightower's extraction of Alex's phone
FBI telemetry data shows Suburban shifts gear and in motion
9:06:52, Alex calls Maggie, does not show in Hightower's extraction of Alex's phone
Alex's phone connects to Suburban
9:07 to 9:31, Maggie's phone backlight is off; on map, 9:07:46, Suburban leaves Moselle to Almeda, does not stop at kennels; 9:08:42, Suburban at 45mph passes location where Maggie's phone was found; 9:08:58, Alex texts Maggie's phone about going to Almeda, Maggie's phone has text unread
Alex calls Buster, not on phone extraction call log; Alex calls Chris Wilson, not on phone extraction call log
Verizon coverage maps shows Alex between Moselle and Almeda; at the same time. CB Rowe is shown to be in North Augusta, Fairfax and Brunson.
9:18:46, Alex calls John Marvin, does not show in Hightower's extraction of Alex's phone
Verizon shows Alex stayed at Almeda roughly 20 minutes
Chris Wilson calls Alex around 9:24, not on phone extraction call log
CB Rowe calls Alex at 9:21, Alex doesn't pick up, not on phone extraction call log
9:22:39, Alex takes 149 steps, calls Libby Murdaugh — phone is a land line at Almeda, not on phone extraction call log
9:31:44 backlight activity on Maggie's phone
9:34, Maggie's phone receives text from Rogan Gibson, unread
9:34:20, missed call on Maggie's phone
9:35-9:45, Alex's phone records 60 steps taken
9:42, missed call from Rogan to Paul
9:43, Suburban leaves Almeda
9:44, Maggie's backlight off, received call from Alex's number, missing from both phone extraction call logs
9:45, Alex calls Paul's phone
9:47, Alex texts Maggie's phone
Alex's phone (Verizon records) moves toward Moselle
9:52:15, Alex messages Chris Wilson, not on phone extraction call log
9:52:49, Chris Wilson calls Alex., not on phone extraction call log
9:56:57 t0 10:06:57, Alex's phone records 256 steps taken
Rogan calls Paul at 9:58:55, texts to Paul
10:00, Alex pulls into Moselle main entrance, goes directly to house – not kennels; 10:03, Alex calls Maggie's phone; 10:04:08 to 10:46:40 no activity on Maggie's phone; 10:05, GM leaves house to go to kennels; 10:05:57, GM arrives at kennels; 911 call at 10:06, roughly 20 seconds after arrival
Alex had said he had checked on Paul and Maggie's bodies before making 911 call.
10:08:27, Rogan calls Paul
10:11:54, Alex tells 911 operator he's going to house to get a gun
10:14:30 Alex drives back to kennels; 911 call ends at 10:17; 10:16, step data ends at 594 steps; Alex calls Randy, not on phone extraction call log; 10:18, sends text to Randy
10:18-10:20 Alex's phone records steps taken
10:18:08, Paul's backlight comes on, last text from Rogan Gibson, Paul's phone pings on kennel
Verizon map during this time shows Alex phone 10-11pm; Alex makes calls to Randy, John Marvin, and Rogan Gibson, not on phone extraction call log
10:22:09, Alex reads group text about a girl
Alex tries to call Rogan, sends text message and attempts Facetime call with Rogan 10:30:31 (unanswered by Rogan)
Law enforcement arrives at Moselle at 10:25
Step activity recorded 10:28-10:34
10:29 call to Randy, not on phone extraction call log
10:34, Paul display on, call from Nolan Tuten unanswered
Rudofski recognizes a printout of a text message from Paul to Alex – May 6, about Maggie finding bags of pills in Alex's computer bag.
Rudofski recognizes a printout of searched items from Maggie's extraction report – Google search on May 26, "green gel pill p30" and "white pill one side rp," shown deleted
Rudofski recognizes a text message thread between Alex and Russell Laffitte. On June 3, Alex wants to extend line of credit on Moselle another $600K
Rudofski recognizes text message from Maggie's phone; Maggie and Marian are in photo, Maggie, Buster and Paul in photo
CROSS EXAMINATION by Phillip Barber
Starting with GM data, that shows data clearly. Skip to drive from Moselle to Almeda, how long did it take? Rudofski says about 16 minutes
Coming back, how long? Rudofski says about 18 minutes.
The top speed was faster on the return trip, but it took longer? Yes
Are you aware Owen did a test drive on that same route? Did you know it was 17 minutes? Rudofski: He and I rode togther. I don't have data in front of me and there were different variables involved.
On the way back there is an 80mph spurt, how long did that go on? Unsure.
Is it unusual for someone to give a vehicle a bit of gas on a straightaway on a rural road? Rudofski: Depends on what a little bit of gas is.
When Alex drove past the point where Maggie's phone was later recovered, he is going 37.2mph and gently accelerating to 42mph. Just past the location he is going slightly faster and continuing a gentle acceleration? Yes.
Not slowing down and speeding up? No
Returning to Moselle and Alex is approaching the kennels before calling 911 – in the direction he is driving, would the headlights on the vehicle be illuminating the bodies? Would they illuminate at least Maggie's body? Rudofski: These maps are data plots and there is no way to know for certain.
As the vehicle is moving, the headlights may be illuminating the bodies? The vehicle stops before Maggie's body
How close? Rudofski: It's in the area. Looking at the data provided, we know the direction the vehicle is moving but no data on where headlights were pointing in a specific direction.
For a car moving along the line between the data points, would headlights be pointed in the same direction? Rudofski responds, I would assume
Alex arrives at scene, vehicle goes into park, and 20 seconds later calls 911? Yes
Alex pulls up, the bodies are in the headlights, he knows something is wrong and calls 911. (Timer set for 20 seconds.) If a person getting out of the car after all this, is 20 seconds a reasonable amount of time to inspect the bodies and call 911? Rudofski replies, "You're asking a hypothetical and I'm not the person to answer that."
Maggie's phone records sideways orientation between 9:06:12-9:06:20. It would remain in that orientation until the next change? Unsure. Given only the data, Rudofski cannot say.
When given pieces to plot and things don't match do you make note? Rudofski says there are phone experts that would look at that, he only plots the points.
In previously entered evidence of Maggie's phone's orientation changes, the last one is 9:06? Yes
A photo taken at SLED shows Maggie's phone in portrait mode. Rudofski: You have to understand that photo was taken at lab, I have no idea when the phone moved.
You don't get orientation change when screen is off? You don't know if orientation data points are changes due to pavement of the phone? Rudofski: I only use the data provided
Timeline for Maggie – the group text, Maggie read the message at 8:49. There are screen on and off times here, did her screen come on at 8:49 and off at 8:53? Rudofski: I have a screen on at 8:49
She has steps at 8:49:15 and corresponding distance data? Rudofski was told by phone experts that data is not accurate or reliable so he did not focus on that.
Would you think time periods where Alex had steps there would be feet per step was consistent? Rudofski didn't do feet per step analysis, the inclusion was just another way to present the collected data.
If the time period distance was short, could that have relevance? Rudofski says he was told distance is irrelevant and step number and distance is an estimate.
Did anyone look at if Maggie and Alex were moving particularly fast or slow for them? Rudofski: Only have data on sheet.
Alex at Almeda says 60 steps over 10 minutes, that makes 6 steps per minute. Rudofski: it's a general overview of estimates steps over a distance over a time period.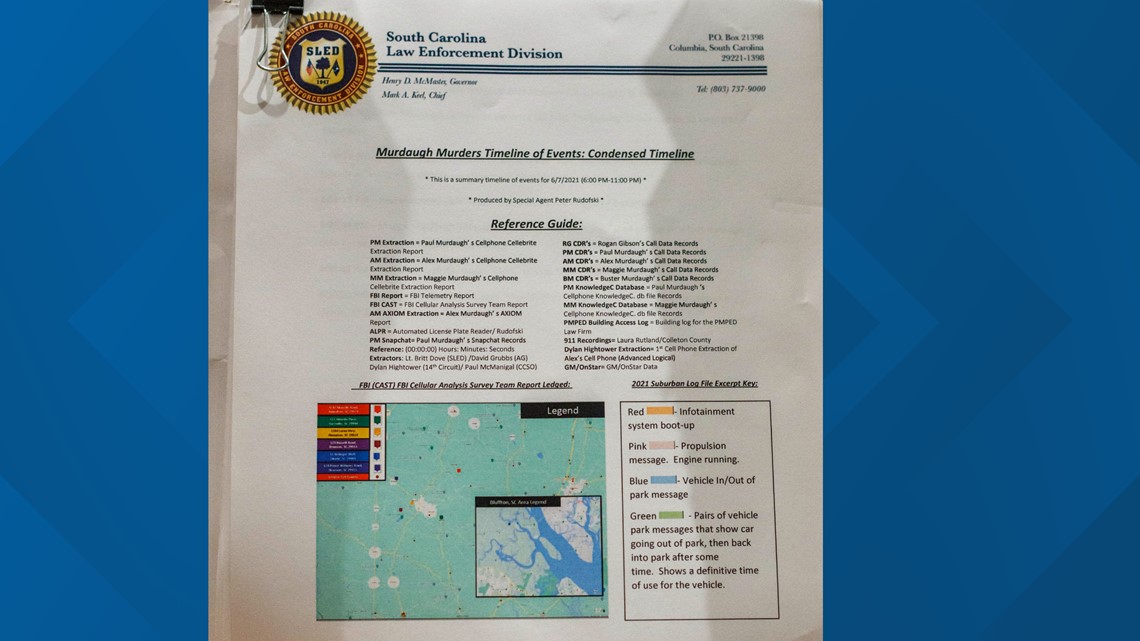 Maggie's phone is walking, Siri app is activated at 8:53:20. 8:54.42, camera is accessed, not on your timeline? No
No one checked to see how Siri was activated? No
Screen goes off 8:55:46, nothing else happens until final orientation change? That's accurate
Not seeing anything after 8:55:46, does that mean Maggie is dead at that time? Only looking at data, I cannot say if she is dead.
It wouldn't be fair to say that if no one is using the phone that person is dead at that point? Cannot answer that from data
Agent Owen said it would take 5-10 minutes to get rid of evidence at Almeda? Yes, he remembers
From 8:55:36 to 9:02, you have 5 minutes, is that enough time for Alex to do everything? Rudofski said the phone locked at 8:49. The phone is not exact in its data, tracking distance and speed.
Don't know why someone would take Maggie's phone not Paul's? Not there, wouldn't know.
Is it a fair inference that if there is someone trying to take a picture during a crime, that's the reason to take the person's camera? Rudofski said the inference is he is looking at is a face is trying to unlock the phone, not take a photo. Rudofski says he is not the technical person
Paul's unread text message from Rogan is the last activity recorded on Paul's phone. His screen comes on after the text from Rogan and after 10pm? Rudofski a display screen on at 10:20:08
Before the 911 call? Rudofski says no screen on before 911 call between 8:49-10
Because battery at 2 percent? Rudofski not a technical person. Data shows it's not lighting up
If someone saw locked screen, would they also see text notifications? Yes
Four incoming calls from Rogan between 9:42 and 10:08. At 10:08, during 911 call, before Alex leaves the scene and comes back? Yes
You don't know why screen comes on at 9:08 and 10:20? We do not.
After the 911 call, was Rogan first person Alex calls? Rudofski says Alex calls Randy first, then John Marvin, then Rogan, about 2 minutes after Paul's screen on time
Anyone looking at Paul's phone would see the missed calls and texts from Rogan? Rudofski: I would assume
Would it be terribly unusual to call a son's best friend after calling family in a situation like this, with the missed calls? Rudofski: Given the scene, as an investigator, it would be unusual. I would be in a state of shock.
Speaking of state of shock, Alex read a group text (not the family group), Googles the name of a restaurant, and calls a videographer he hasn't talked to in years. None of that makes sense, does it? Rudofski responds I don't know, I wouldn't be googling and doing other things on my phone if my wife and son had just been killed
Alex had been at scene 15-20 minutes. Rudofski: I'd be doing anything to help my family
Maggie's phone – her screen was on. Rudofski said the screen was on to log orientation
There was movement. Alex is walking in that time span period? Rudofski: Alex is walking, Maggie's phone is not logging movement.
At 9:06 Alex calls Maggie's phone while walking. Are steps recorded? Rudofski: the data is not precise
Alex stops walking and the Suburban starts up? Rudofski: That's what the data shows
Alex's phone is stepping and walking, but not stepping with him? Rudofski that's your inference of data. There is motion on Maggie's phone because
Any evidence his phone and her phone moving together? 9:06:12 and 9:20 the same person could have both phones. Its how you interpret the data
Alex didn't take any deviation from his route form Moselle to Almeda. Correct
The in and out of Park data, did you look at data from other days? Rudofski: No, I was focused on June 7
Would seeing data from other days inform you more about data? I don't know driving patterns.
If it happens every day, could you infer a pattern of driving behavior? I don't know how you could accurately compare data.
A text about possible drug use? Text from Paul, Google search by Maggie
Are you aware of a text from Alex about his drug use, "I'm sorry that I do this to all of you. I love you," on May 7? Rudofski said there is a text from Alex to Maggie. Rudofski says Maggie didn't respond to Alex's message, so Rudofski cannot say if it was a loving or supportive relationship.
The trip back to Almeda was about 80mph. While at Almeda, the vehicle pauses for a bit. Does that pause reflect a vehicle speed and reflect on the average speed on the trip? Yes
9:07-9:30 Maggie's phone off and locked
From 8:53-8:55 Maggie's phone logged 59 steps. Rudofski said the data cannot reflect who was carrying the phone.
At 10:20:08, Pauls' phone display is on, the screen on autolock. Autolock is when the phone is locked and when screen turns on and logged as locked. The phone cannot recognize a face or the button on the phone's side has been pressed. At 10:21:05 Alex calls Rogan Gibson.
Rudofski said he was asked to take all of the data and put it in one cohesive timeline
RE-CROSS
Question about peak speeds to and from Moselle -- did you look to see if Alex passed another vehicle? Rudofski don't know if he has that data.
Could he have passed someone? Total speculation
Don't know why Paul's phone came on? No
The second time Paul's phone came on, Alex was on his phone with John Marvin? Yes
Alex was walking on the phone? Yes
Defense's first witness
Coroner Richard Harvey
Harvey is the Colleton County Coroner and investigates suspicious deaths to determine cause and manner of death. Harvey does not have a medical degree.
Harvey was notified by a deputy coroner on call at 10:30 on June 7. He says he arrived at Moselle at 11:04 p.m. Harvey took photos at the scene – in the feed room, SLED had not yet processed. Footprints in feed room? Unaware of those
How do you get in and out of crime scene? Follow same path in and out to preserve scene.
You put time of death as 9 p.m. How did you arrive at that time? Initially that evening, told SLED was coming. Harvey said he went to check both bodies, checking temperature under the armpits and checking for rigor. No rigor, dead one to three hours.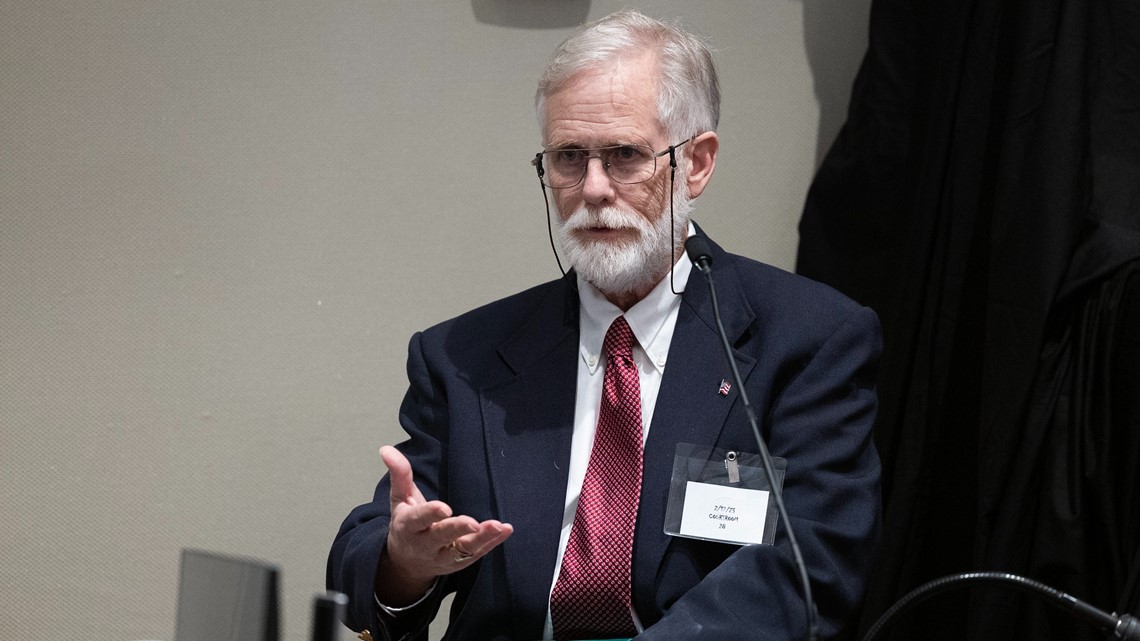 Trying to estimate you did what? Harvey said the bodies were covered wth a sheet and did not try to move the bodies. He demonstrated he took his hand and put it under the armpit to check temperature. He estimated 9 p.m.
No witness there to tell him what happened. Did not perform rectal temperatures that night.
Paul and Maggie could have been shot at 8pm or 10 pm? Yes
You didn't do a rectal temperature? no
Most accurate way to determine time of death is to take the body's temperature? Yes
You do not have a general time as to when deaths occurred because you didn't take temp? Correct
Temperature can be affected by age, weight, temperature, weather? Yes
All were factors in determining death? Yes
Temperature is key? Correct and rigor had not started
And that takes 1 to 3 hours? Yes
And you walked around the bodies, walked through the scene? Yes
Was Colleton County there? Yes
Did any one talk to you about time of death? About how you determined time of death? No
Shaylane Tindal
Tindal is public information officer for CCSO.
Tindal is aware of a Post & Courier article on June 8.
Tindal said the quote in the article was coordinated between SLED and CCSO. Tindal was part of the statement and was quoted in the article.
Harpootlian asks Tindal to read two paragraphs from the article. The quote says the public has nothing to worry about, if other information came about, that information would be released.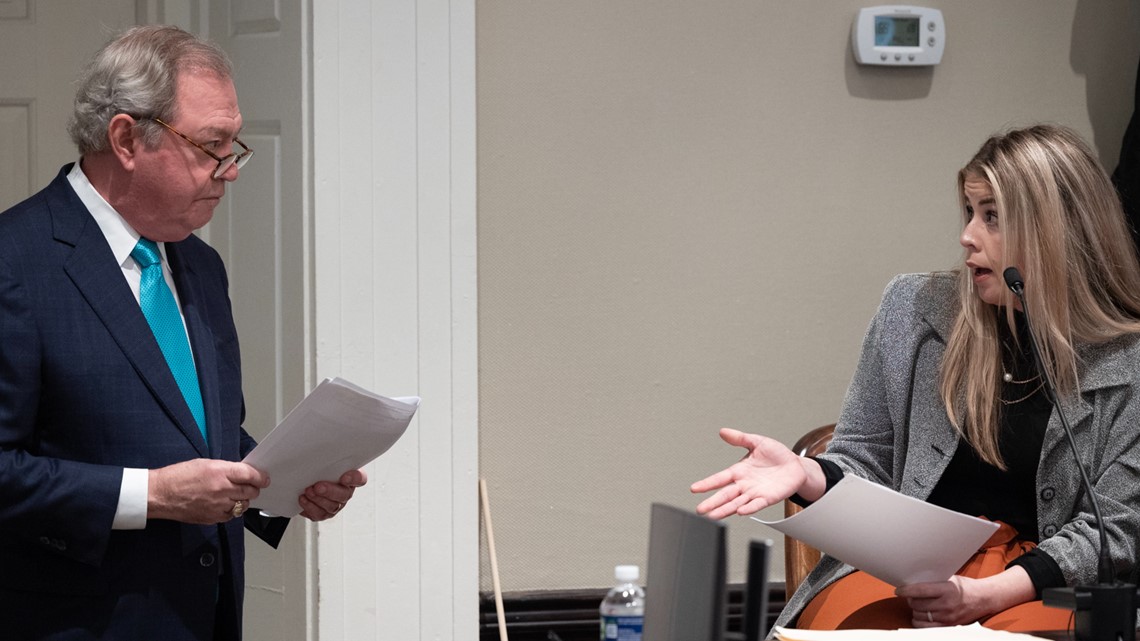 Harpootlian asks how that statement came to be. Tindal said the quote was a joint statement between CCSO and SLED. SLED PIO and Tindal talked on the phone, and SLED signed off on the statement that Tindal released to the press.
When Tindal said the updated release came out, the "nothing to worry about" language was taken out.
What was the date of the second press release was hours after the first on June 8.
The initial release was before 10 a.m., the redacted release came in the afternoon.
The trial will resume at 9:30 a.m. on Tuesday since Monday is a holiday.
You can find trial updates here every day. Live streaming coverage can be on wltx.com, on the WLTX+ streaming app on Amazon Fire and Roku TV, and on the News19 WLTX YouTube page.