BROWNSVILLE, Texas — Homeland Security administrators reported no substantial increase of migrants crossing the border Thursday night after Title 42 expired.
While numbers are still high in general, officials said there was no influx following the expiration of Title 42.
On Friday afternoon it was business as usual at the Gateway International Bridge in Brownsville. Gateway is one of three ports of entry for international traffic in Cameron County.
Normal vehicle and foot traffic passed through, with a lone Brownsville Police Department cruiser sitting in the median out front.
The sights unfolded after a heightened presence of law enforcement Thursday night on the U.S. side of the bridge; officials called it a precautionary measure.
Biden administration officials briefed reporters first thing Friday about any activity that took place overnight on the southern border.
"Overnight we saw similar patterns to what we have seen over the past several days. We continue to encounter high levels of non-citizens at the border, but we did not see a substantial increase overnight or an influx at midnight," said Blas Nunez-Neto, assistant secretary for Border and Immigration Policy at the Department of Homeland Security (DHS).
Right now, Nunez-Neto says, the agency's goal is to process migrants safely and humanely. They're doing that with additional tools to deliver consequences more quickly, he said including the use of expedited removal. That involves authorities vetting all migrants they encounter using national security systems to ensure dangerous people are detained.
"As Secretary Mayorkas has said, there is a right way, a safe way and an unlawful way to enter the United States," said Nunez-Neto. "Those who arrive at the border without using a lawful pathway are presumed ineligible for asylum as part of the new rule that was issued yesterday."
State Department official Cheryl L. Fernandes, with the Bureau of Population, Refugees and Migration, says her agency is working on adding more lawful ways migrants can start the immigration process. An example she mentioned was their Regional Processing Center Initiative.
"Once fully operational, this initiative will make it easier for migrants to access lawful pathways from where they are and help them avoid putting their lives and life savings in the hand of criminal actors," said Fernandes.
To avoid overcrowding at the border and to add another option for asylum seekers, the State Department is building local asylums and national asylum systems in host countries.
"Our hope is this will help migrants integrate into communities where they're being hosted," said Fernandes.
As Title 42 expired at 10:59 p.m. CST Thursday, COVID protocols were also lifted.
Now, Immigration and Customs Enforcement (ICE) officials will be able to add thousands of beds in their detention facilities in the coming days to process people quicker.
With Title 8 re-established, anyone who crosses into the United States illegally will face tougher consequences, including a five-year bar on re-entry and potential criminal charges.
"We know smugglers will continue to use this transition to spread misinformation to migrants," said Nunez-Neto. "They will look for any opportunity to make a profit at the expense of vulnerable non-citizens."
Migrants struggling to keep their footing on the banks of the Rio Grande were met with the phrase "Quédense en México," which translates to: "Stay in Mexico." Soldiers with automatic rifles spoke those words over a loudspeaker, standing behind the 70 miles of newly built razor wire fencing.
Since the end of Title 42 on Thursday, noticeable changes are being reported on the Mexico side of the border.
Joshua Rubin, Founder of Witness at the Border, spent a few hours in Matamoros on Friday. The biggest change he witnessed was among the Mexican authorities.
"More Mexican authorities on the banks on the other side, more people there telling people to stay away from the banks," said Rubin. "So the Mexicans are taking a more active role in discouraging people to get away from the river."
Rubin is documenting his time in Matamoros during the transition of Title 42 back to Title 8.
He says he counted roughly 40 people waiting on the Mexico side of the Gateway International Bridge to present themselves to border officials—whether they had an appointment or not.
"I do get the feeling that people are confused, but I wouldn't blame that on smugglers. I would put that down to the fact that they didn't publish the rules until just yesterday," he explained.
As Rubin walked along the border in Matamoros, he watched people searching closely for openings along the river. But they couldn't find them as easily as they could a few days ago.
"As we walked along to the spots where people had been deciding to get into the water and swim over, there were people who looked like they were contemplating it but they weren't doing it," said Rubin.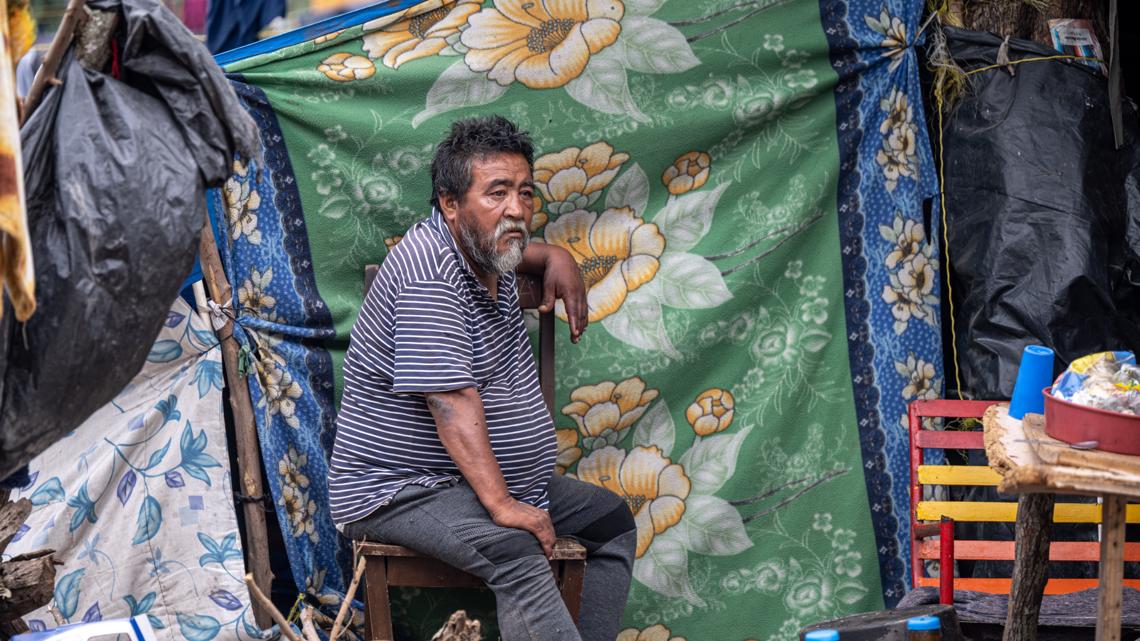 The area surrounding the bus station in downtown Brownsville is typically crowded with migrants who just crossed the border. On Friday, however, the curbs traditionally lined with people were relatively empty. International Boulevard, the road leading directly out of the Gateway International Bridge, wasn't lined with as many travelers carrying their blue bags.
On Friday evening, Cameron County Judge Eddie Treviño confirmed fewer migrants were crossing into the community following Title 42's end.
'We're starting over'
Facing the Gateway bridge on the U.S. side of the border is a sign that reads, "Welcome to the United States of America." Behind that sign is a park, where many people sit and wait for their ride—or where news reporters have come and gone over the last week to film live shots.
Around midday Friday, minutes after we finished an interview with Mr. Rubin, we noticed a group of people walking out of a processing center gate connected to the port of entry.
It was a large group of families from Brazil, Venezuela and Mexico who successfully made their appointment date to cross into the United States. They booked their date using the CBP One mobile app. It's the first step in the legal immigration process.
"We're starting over," said brothers Wilker and Wilmer Bracho, from Venezuela.
We asked the brothers how it feels to step on American soil for the first time.
"Happy, so happy," said Wilker. "It's been two months since we left our country and we've seen things no one should see. Thank God we are here to achieve the American Dream, to move forward, to live a better life."
"Thank God we made it and we're so grateful to be received kindly," Wilmer added.
The brothers say they booked their appointment when they arrived in Mexico City about a month ago.
"The app is quick now for people to make an appointment," said Wilmer. "A friend of mine got an appointment five days later, another five days after that. The app is working easily now compared to the problems it was having."
Niker Medina, also from Venezuela, said it took three months for him to get his appointment on the CBP One app.
"I wanted to cross the river, but this was safer," he said.
The same goes for Carlos Palacios, who told us waited two months in Matamoros for his appointment.
Homeland Security officials say they've expanded available appointments on CBP One to 1,000 per day. That's about four times more than what they offered before.
The next step for these families is their court hearing. Before each person in the group left the area, they snapped a quick photo in front of the welcome sign.
On a day where no one could guarantee what would happen, these families knew exactly what was coming.
"I love this (U.S.) flag more than anyone. I passed through eight countries to get to this flag," said Medina. "I love it with all my heart."