Chasing Maite's Dream: A&M-CC scholarship honors Uvalde fourth-grader's passion for learning
Maite's mother, as well as the first recipient of the scholarship named in her honor, met with 3News to share how the scholarship will help future Uvalde grads.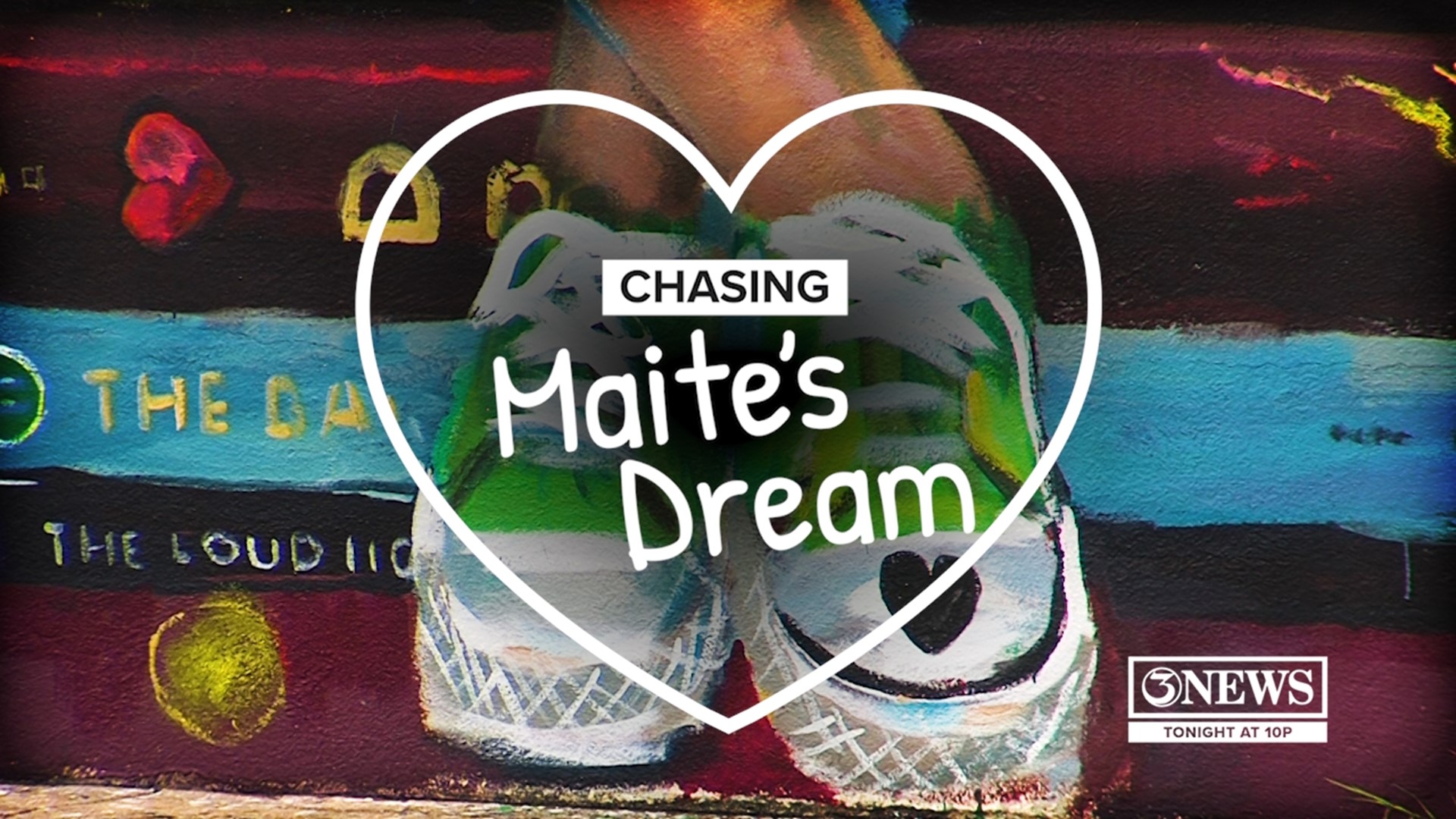 As you enter the community of Uvalde, handmade signs and painted windows reading "Uvalde Strong" line the city streets: A reminder that there is a great pain that is still felt here, but it is also met with resiliency and hope.
It was a sunny and bright afternoon the day we had the opportunity to meet with Ana Coronado in the community of Uvalde. She is the proud mother of 10-year-old Maite Yuleana Rodriguez.
Today, Maite would be 11 years old and in the fifth grade; likely sharing another fun fact she learned about an aquatic creature, sewing something for her family, or perhaps taking her mother's camera outside to experiment with photography -- a new hobby Ana says she had just started to pick up.
Maite's life tragically came to an end on May 24 at Robb Elementary School in Uvalde, as did the lives of 18 other children, and their two brave teachers. They all leave behind families, friends, classmates, co-workers, community members and people everywhere who continue to ask, "Why?" "How?"
They all had hopes and dreams.
Their stories, however, live on, so long as we continue to share them and show how, through their memory, that they are still making an impact.
Maite's mural
:
The sunny and bright afternoon in early May was made even brighter by the vibrant murals in town, each in honor of the victims. The muralists captured their passions and favorite things, one brushstroke at a time.
For Ana, she says it's a place of comfort, telling us that the artist, Ana Hernandez, portrayed her daughter's personality perfectly. From her love for marine biology, to her sewing machine, the handwriting in her notebook, and even her must-have order from Whataburger!
"Definitely the sliced jalapenos: 'Do not forget the sliced jalapenos,' is what she would tell me," recalled Ana with a smile as she continued admiring the mural done in her daughter's honor.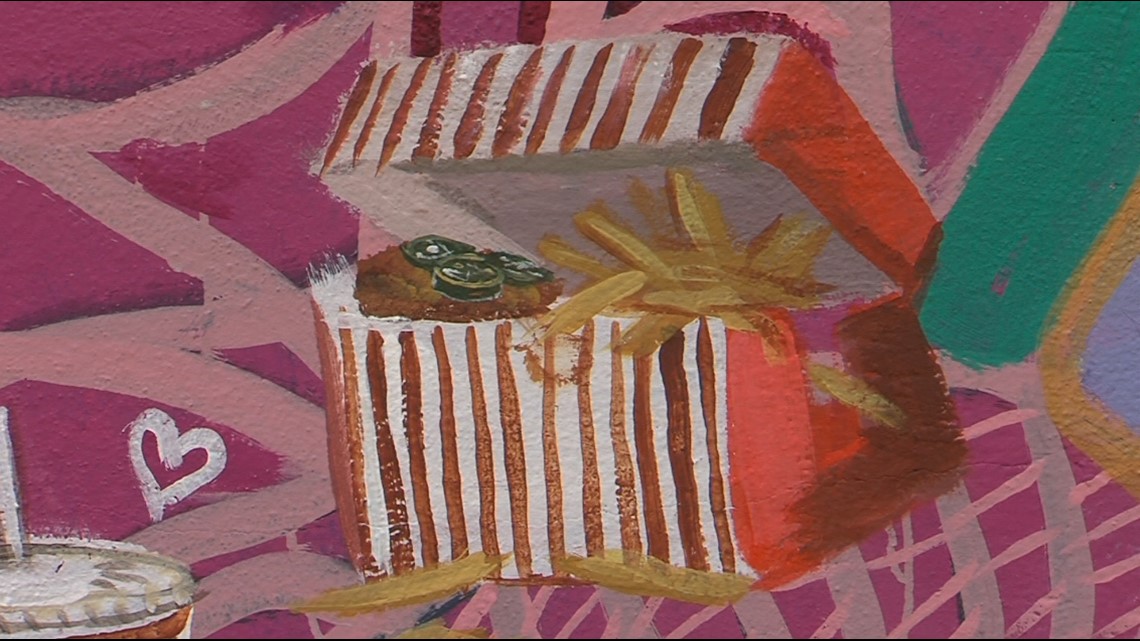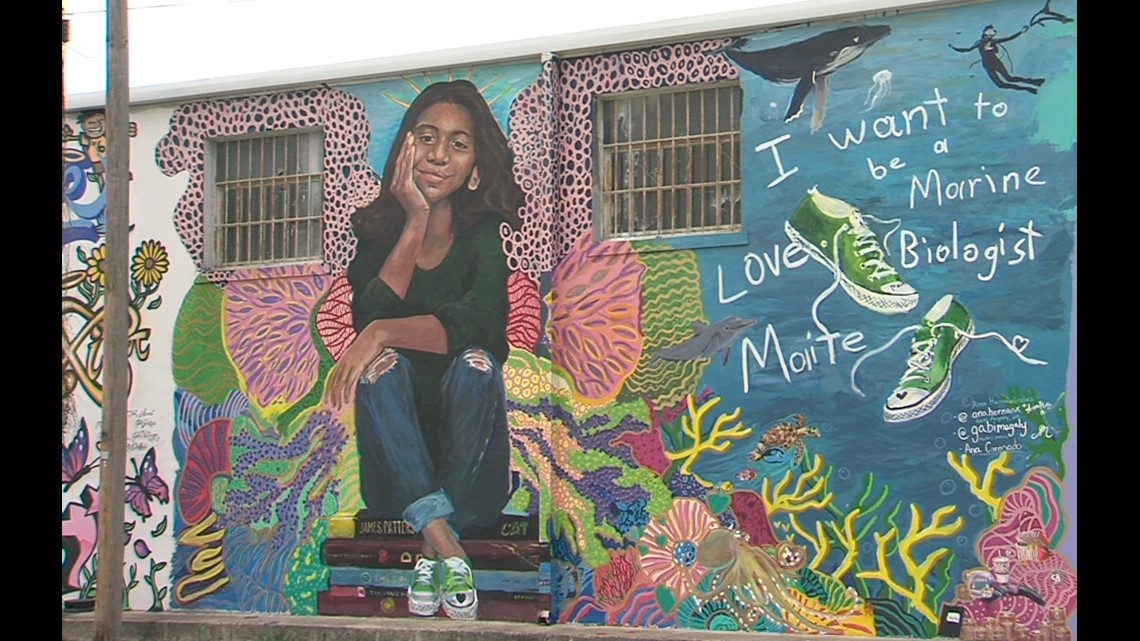 You'll find there is a huge emphasis on marine life: even a Kemp's Ridley Sea turtle that was named after her in Corpus Christi, as well as a whale from Canada, also named in her honor. There's a dolphin, an octopus, and three fish -- made to symbolize her mother, and two brothers.
Ana shared that Maite enjoyed visiting Corpus Christi with her family, but especially loved trips to the beach.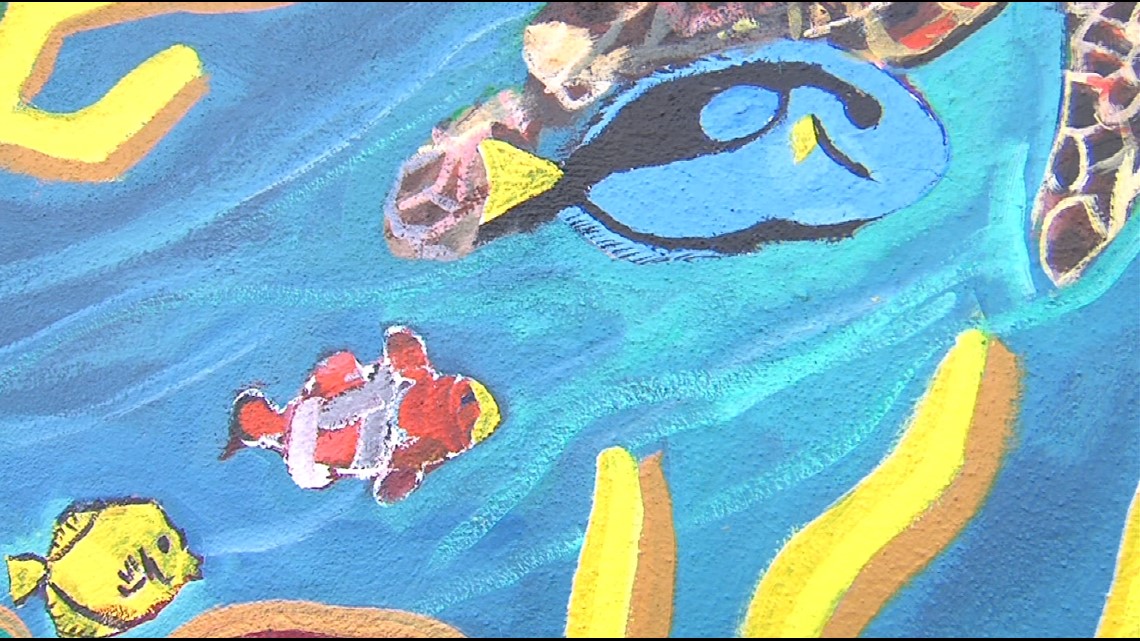 And at the top right corner, you'll find a scuba diver with an iconic emblem on their suit, which Corpus Christi residents, and especially TAMUCC alum will find familiar. It's Island University's logo: Texas A&M Corpus Christi.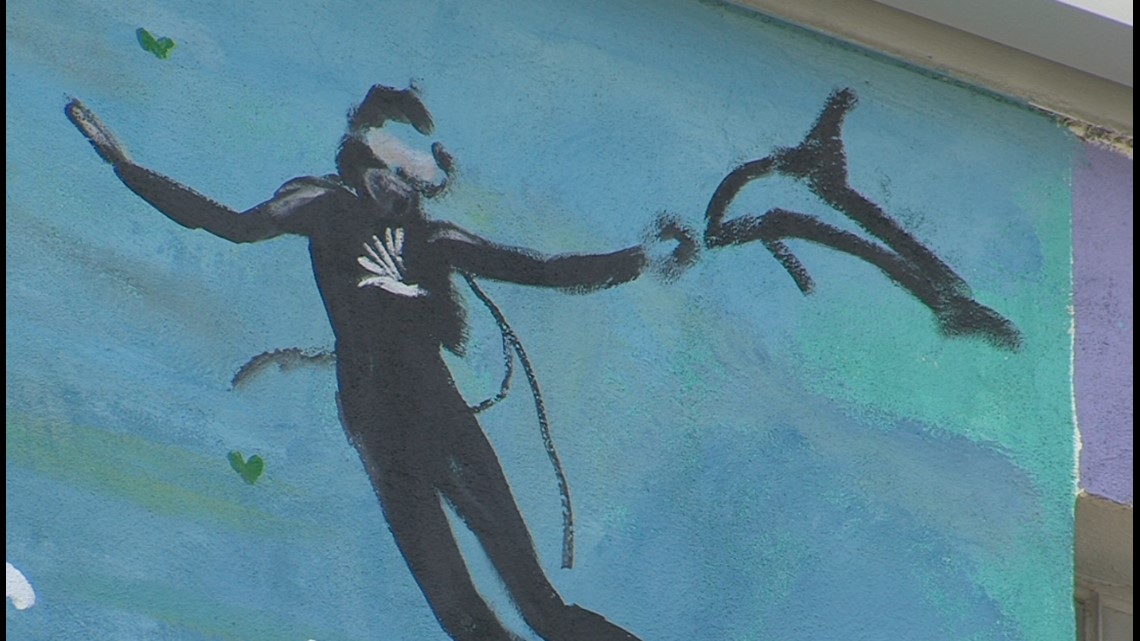 A 10 year old with a plan
:
It's possible that many 10 year olds know what they want to do when they grow up, but just how many have a plan as to how they'll make it happen?
She wanted to attend TAMUCC to become a marine biologist, a dream of hers since she was in kindergarten. To this day, Ana says she isn't sure where the aspiration stemmed from, exactly, but that she always did her best to encourage her daughter, who was constantly eager to look up a new fact about marine life and learn more about where she would one day be studying for it.
"We looked up classes and showed her and I thought she was going to get intimidated, but no. She was ready," Ana said. "For career day third grade, she was a marine biologist."
She wrote "I want to be a marine biologist" in her notebook, which is also illustrated in the mural.
Through a scholarship now in her memory, her story and eagerness for education lives on and will help students, also from Uvalde, with aspirations to attend TAMUCC as well.
When talks of the endowed scholarship first came about, Ana says she was immediately interested.
"I knew that would have been something that she wanted, and since she herself can't accept a scholarship, or even apply for a scholarship," she said. "Through this scholarship she still, in a way, is going to school. I try to think about it in that way, and helping students."
Driven like Maite
:
Students like Bella Muñoz. Bella just finished up her freshman year at TAMUCC, and graduated from Uvalde high school last summer.
She is focused: balancing an on-campus job with her studies. She is also the first recipient of the Maite Yuleana Rodriguez Memorial Endowed Scholarship for TAMUCC. It's an honor she said that came with a wave of emotions. She recalled the moment she first heard about the scholarship opportunity.
"It was amazing to see something like that in such a beautiful memory, but then you remember the tragedy that comes behind it. So, it's a lot of mixed emotions," said Bella. Still, she felt called to apply for it.
"I knew that this was something that's done in honor and it's to help keep her memory alive, and that's ultimately what I wanted to do."
When Bella began her college career she -- like Maite -- had her heart set on marine biology, an interest she had from a young age, but it was a summer-arts program back home in Uvalde that made her realize she was being called to serve in the classroom.
Today, she's working toward a major in elementary education, with a focus in STEM, but eventually wants to broaden that to include the arts as well. Her hope is to make an impact on children.
Bella says she feels the responsibility, not only to do well, but to also celebrate Maite's legacy and continue sharing her story. She hopes in that way, she can bring pride and a source of comfort to Maite's family, who she holds dear to her heart.
"My biggest thing is to provide any sort of comfort I can. There's no words you can say to make them feel better, but hopefully knowing that Maite's legacy is strong, and she touched the hearts of so many people, including mine," said Bella.
"This scholarship, and her life in general, was just something so special and so beautiful and needs to be celebrated."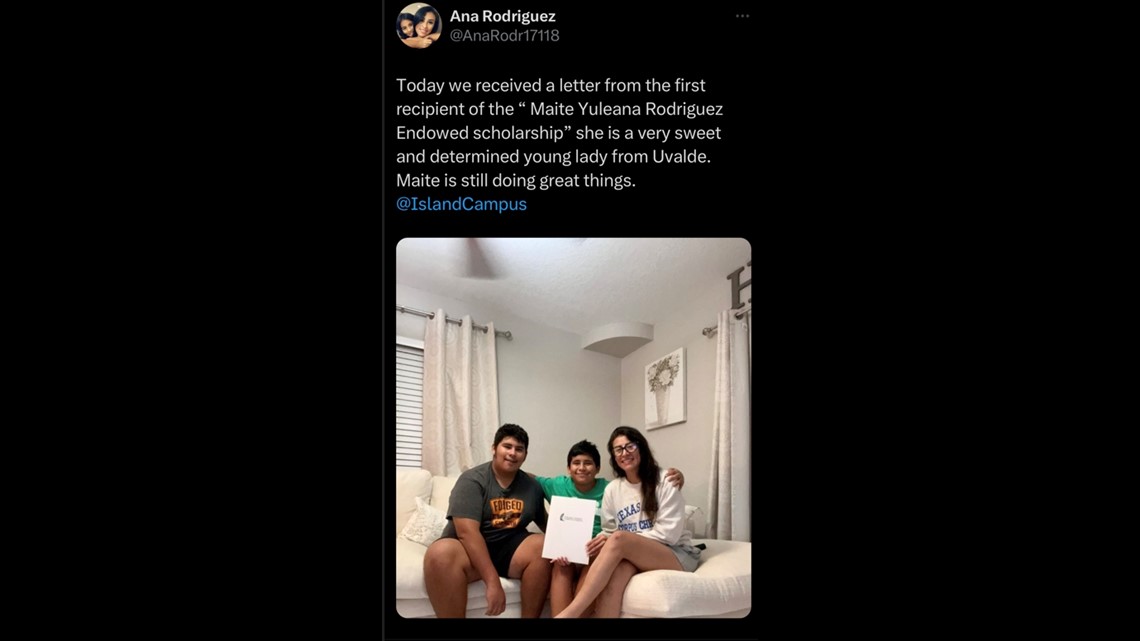 Prior to that May day that our team met with Ana in Uvalde, Ana and Bella had only spoken by phone. As Ana showed us the mural, a special visitor dropped by.
Bella and her mother also came to the mural. Ana smiled and gave Bella a big hug.
"How are you? So good to meet you, I talked to you over the phone, I'm so glad to put a face to the name!"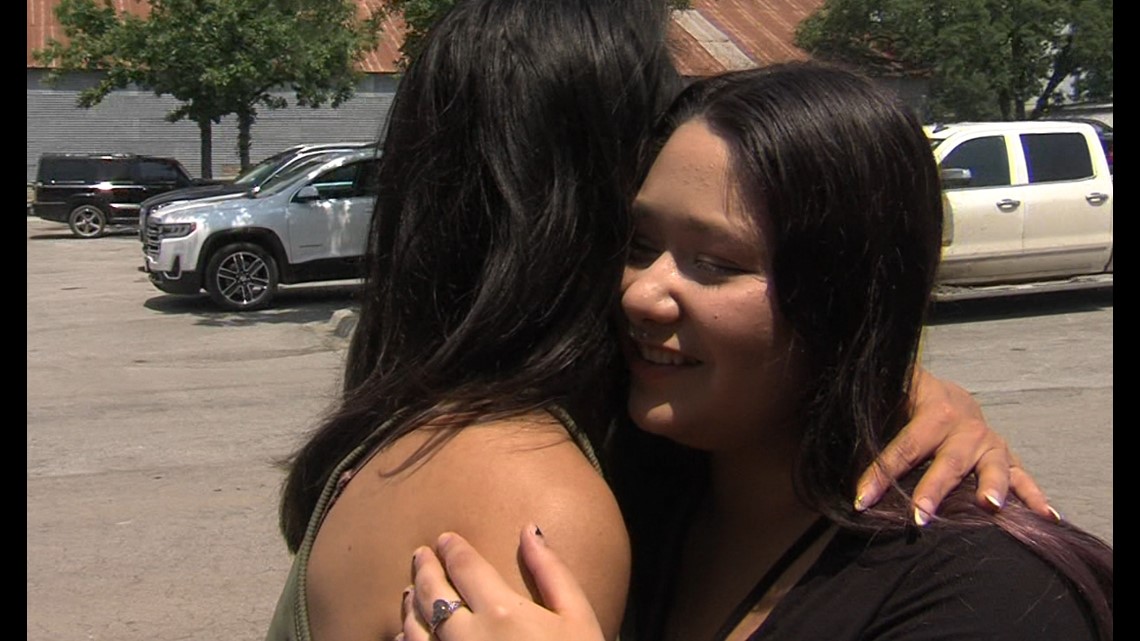 Bonded for life
:
The two women are bonded by the special, sweet, and curious little girl that Maite Rodriguez was, and her passion for learning.
As Ana and Bella caught up in front of the colorful mural, they talked about what it means to continue keeping Maite's dreams and passion for education alive.
"Through her she's able to help students like you because, I think it hurts me, to not be able to get that opportunity," Ana told Bella. "I think that she's working through me and she's helping students like you that deserve it and you have obviously worked hard to get to where you are.
"I want to thank you for continuing her legacy. Because her legacy continues on through you, and I'm so happy that she can be a part of helping her even if it's a little bit, Bella and I'm so glad. I know you're gonna do great things in whatever it is you choose to do."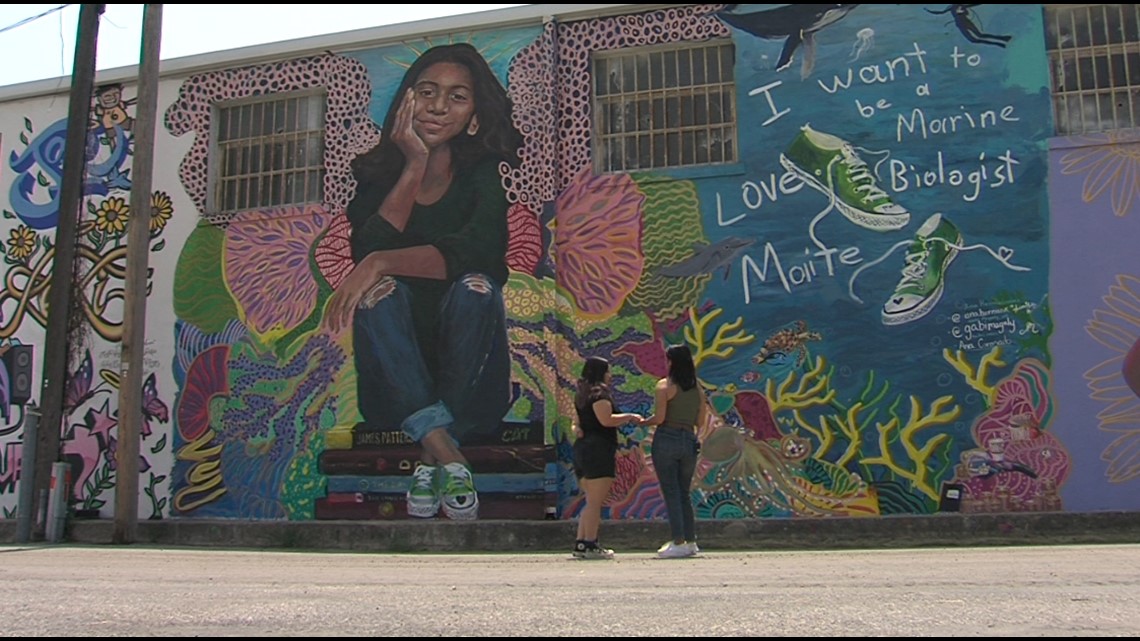 How to donate to Maite's scholarship
The Maite Yuleana Rodriguez scholarship was established on May 28, 2022 and is for students from Uvalde, Texas who plan on attending Texas A&M Corpus Christi.
To learn more about eligibility requirements and how to apply, click here.
For those interested in helping donate to the scholarship itself, there are a few ways you can do this:
By credit card online at: https://www.tamucc.edu/gift/ Please indicate the name of the scholarship in the "Special Instructions" text box: Maite Yuleana Rodriguez Memorial Quasi-Endowed Scholarship in Marine Biology

Make check payable to: Texas A&M University-Corpus Christi: Please indicate the name of the scholarship in the memo line: Maite Yuleana Rodriguez Memorial Quasi-Endowed Scholarship in Marine Biology
Office of Institutional Advancement
Texas A&M University-Corpus Christi
6300 Ocean Drive, Unit 5741
Corpus Christi Texas, 78412
If donors wish to make a gift by credit card over the phone or have further questions about the scholarship, please contact the following:

Executive Director of Development: Kimberly Becerra

Office: (361) 825-2639

Email: Kimberly.Becerra@tamucc.edu
Another way to contribute to Maite's legacy is through the 'Just Keep Livin' foundation, which was founded by Camila and Matthew McConaughey. The name of the scholarship on their website is titled, "The Uvalde Heart Endowed Scholarship" between the Just Keep Livin foundation and Texas A&M-Corpus Christi Foundation. You can get to it directly, by clicking here.