Coastal Bend reacts to video of former Hooks player beating fiancee
The same video that got former Corpus Christi Hooks player Danry Vasquez in trouble back in 2016 has been made public, and it's gone viral.
He did his time -- a year's probation -- after pleading guilty to assault family violence two years ago.
Now the same video that got former Corpus Christi Hooks player Danry Vasquez in trouble has been made public, and it's gone viral.
Warning: The video below may be too graphic for some viewers.
After the video's release, Vasquez was fired from the Lancaster Barnstormers, a minor league baseball team in Pennsylvania that he had been playing for as outfielder. Manager Ross Peeples said via a Facebook post: "There is no choice but to sever the relationship. Neither I, nor the Barnstormers' organization as a whole, can condone or associate with that behavior."
The incident happened in 2016 in a stairwell at Whataburger Field, and the footage was not released until this week. It shows the now 24-year-old Venezuela resident beating a young woman, striking her at least a half-dozen times as they made their way down the stairs.
Major League Baseball suspended Vasquez shortly after he was arrested. He reached a plea deal with prosecutors for a misdemeanor offense.
"What is difficult, I think, for people to understand about this case is that it falls into the misdemeanor category under Texas law," said Matt Manning, Nueces County assistant district attorney. "Texas law prescribes that where there's not serious bodily injury and there's not choking and there's not other circumstances including a weapon, it falls into a misdemeanor."
While Vasquez was not able to attend the 24-week BIP, or Batterers Intervention Program, he did complete a similar program.
"Instead we had to require that he do courses elsewhere, but those courses were all intended at making sure that the assaultive conduct was remedied, which was our primary and paramount concern," Manning said.
Manning said the law, when it comes to family violence, is very specific, as is the range of punishment.
"Our focus is to remedy the conduct, and here if he were a person who had resided in Nueces County and first-time offender with no criminal history, this is a policy that we have enacted, that we have given to people from all levels of life," Manning said.
Making prosecution even more difficult was the fact that the victim in the case refused to file charges or testify against Vasquez.
Nueces County District Attorney Mark Gonzalez released a statement Wednesday via Facebook.
Victims of Domestic Abuse
:
Sadly, the type of abuse that was caught on video is nothing new.
All too many women live in a constant state of fear, but as always, one Coastal Bend organization is there to help the victims of domestic abuse -- it's now known as the Purple Door, and was formerly the Women's Shelter of Corpus Christi.
When Purple Door Executive Director Francis Wilson saw the video, she was shocked but not surprised to see Vasquez helping his girlfriend right after hitting her. Wilson said most abusers are not violent all of the time, but use violence as a means of control over the other person.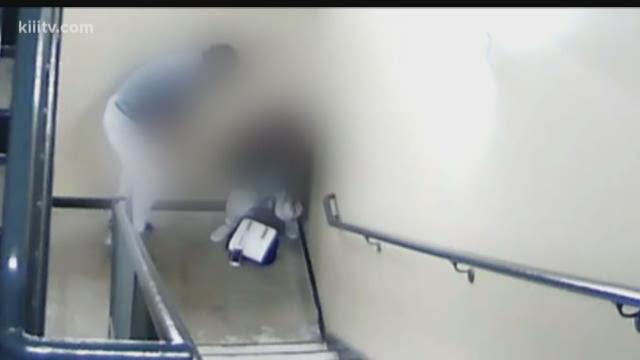 Vasquez's lawyer said his fiancee supported a prosecutor's offer to dismiss the case if he completed a Batterers Intervention Program. Wilson said oftentimes, victims will drop charges in fear of their partner, or in hopes of reconciling.
So is there anything a victim can do in the moment of abuse? Wilson said leave the scene, if possible, but victims can be most at risk for further violence during that time.
"When I was watching it, I saw him go up the stairs and open the door and go out, I thought, 'Oh run,' you know? 'Run' is what I'm thinking in my mind, but only she knows her situation," Wilson said. "She knows it better than anybody else."
Wilson said in the moment, it can be hard for victims to make a decision about where to go or how to escape their situation. She said the Purple Door provides services for survivors of family violence and sexual assault, but they also offer battering intervention programs for abusers.
Even though we are starting to see more videos of domestic abuse in the professional sports world, Wilson said it is a problem in all communities and it needs to stop.
Vasquez' Attorney Responds
:
The attorney of former Hooks player Danry Vasquez spoke to 3News Wednesday about the viral video of the player abusing his fiancee.
Since the video of Danry Vasquez has gone viral Tuesday his attorney Les Cassidy tells 3News that the national attention the case has received from the viral video is not what the victim, Vasquez's fiancee at the time wanted to happen.
The victim told the defense attorney's office she did not want to prosecute the case, she did not cooperate with them in the prosecution and requested that the case be dismissed.
"She wanted him to get counseling, but she didn't want there to be an impact on his career, from criminal law standpoint that was the motivation," Cassidy said.
According to Cassidy, even though the program has made Vazquez a mature person the release of the video is impacting his client tremendously.
"The consequences of this have not been taken away they are still on him, he is seeking employment today," Cassidy said. "Very embarrassed and ashamed viral now, getting calls all over the country about it. It's terrible he makes the point that he honored his agreement, he did what he had to do as his punishment, but this doesn't seem to be ever going away."
The diversion program Vasquez was required to complete included counseling, therapy, behavior intervention programs, batter intervention programs, and anger management.
Cassidy said that at this point he does not believe that the victim and Vasquez are still together.