CORPUS CHRISTI, Texas — CLIMATOLOGY: Congrats! You just lived through Corpus Christi's hottest September on record! Our average temperature was 86°F. And nothing says "happy Fall y'all" quite like three 100°F days, am I right?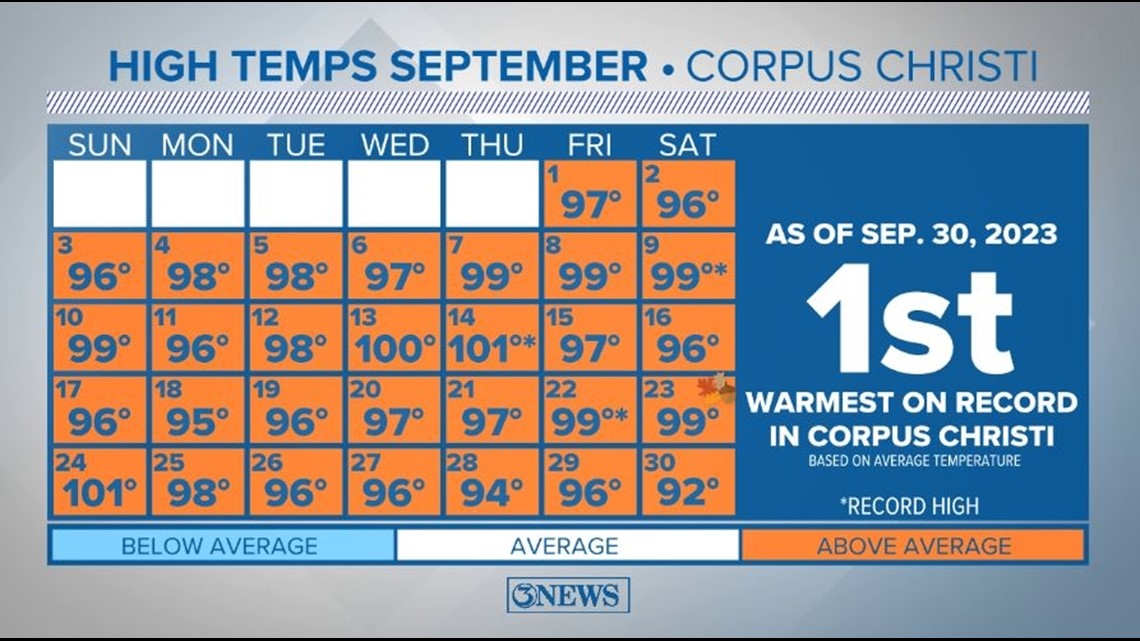 Today we added three-tenths of an inch of rain to our September rainfall. That's roughly a third of the total rainfall we received this month. Typically, September is our wettest month of the year.
In October, we see a little over three inches of rain on average. With good rain chances daily, it's possible that some locations receive that much in the first week of the month.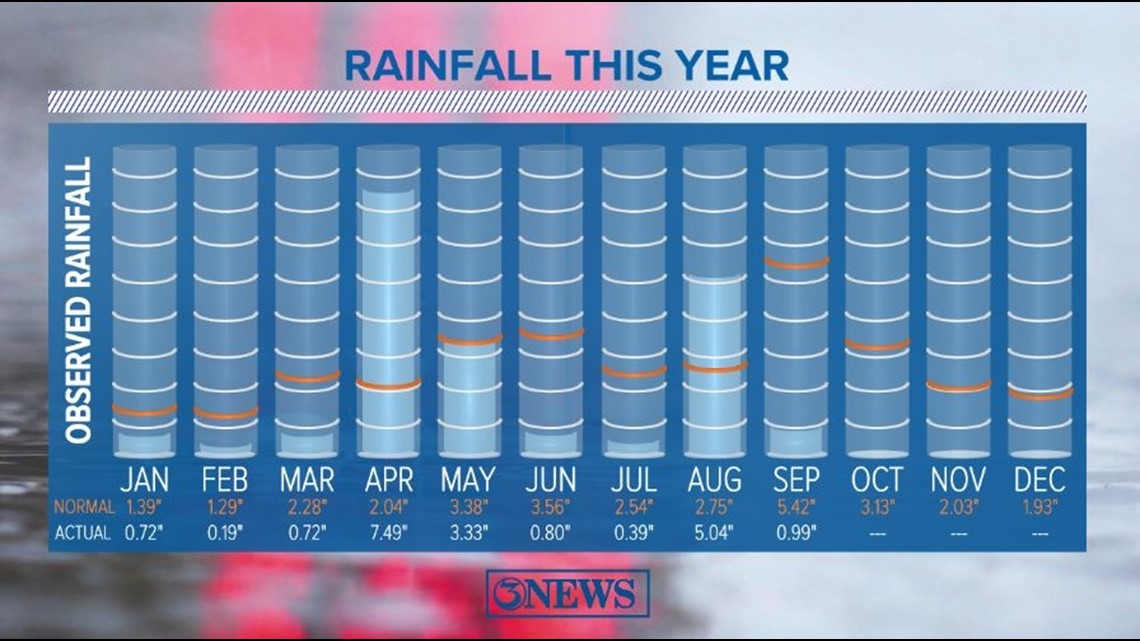 SATURDAY NIGHT: Things quiet down on the radar for a few hours tonight. Heading into tomorrow morning, activity picks back up along the coast and spreads inland. Temperatures stay in the upper 70s under mostly cloudy skies.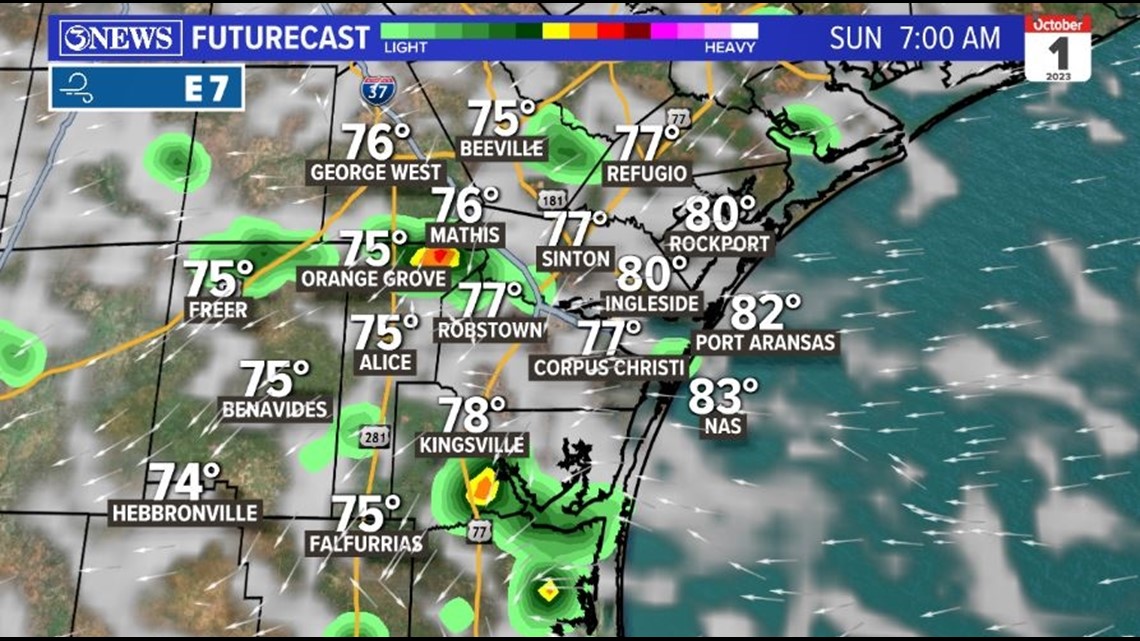 SUNDAY: Rain showers will continue to stream in from the Gulf on easterly winds through the day tomorrow. Radar coverage increases through the morning and into the early afternoon. Storms will fizzle out into the evening with the loss of daytime heat.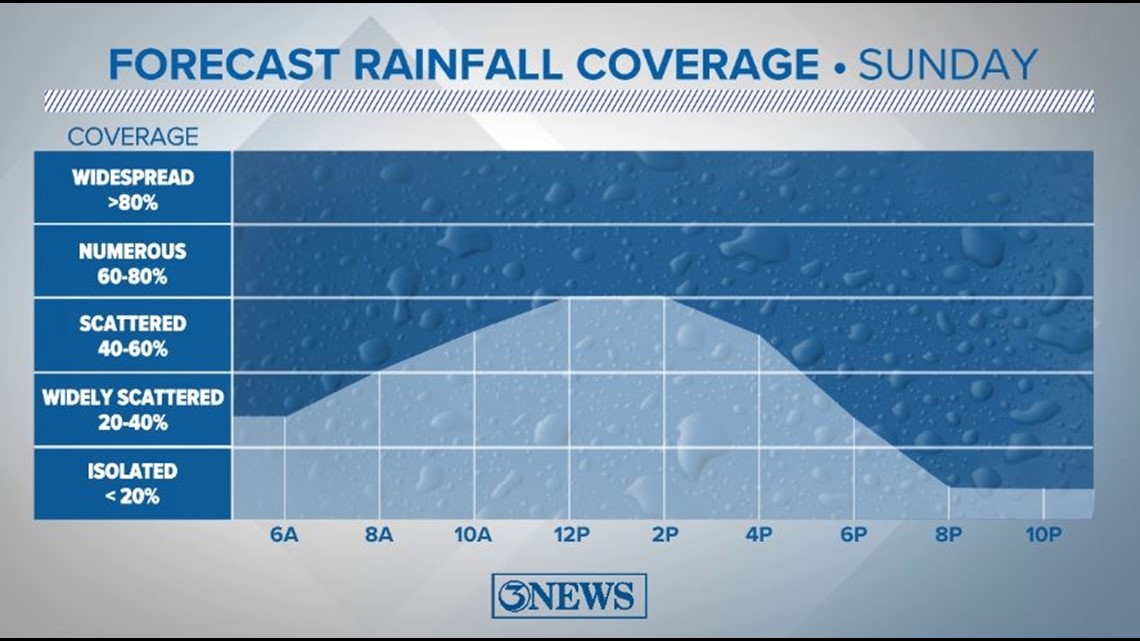 It's a very similar forecast to Saturday: scattered rain, mostly cloudy, highs in the lower 90s. Some locations may manage to stay in the upper 80s if there's enough rain and cloud cover.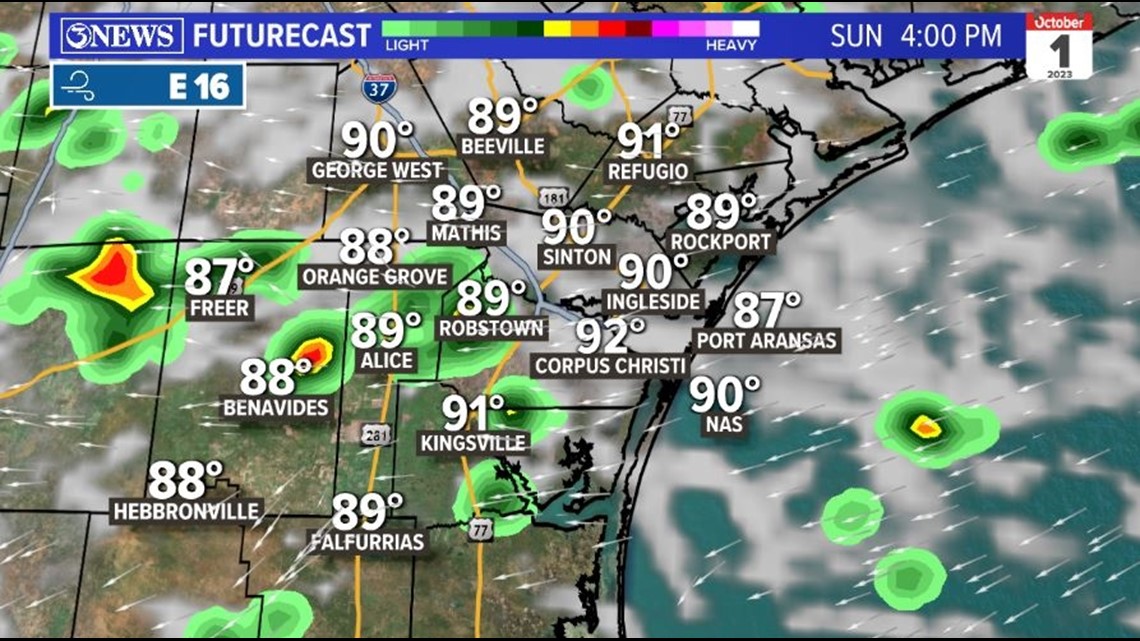 I'm sure there's someone planning to go to the beach tomorrow despite the rain chances, so here's the beach forecast. Bays are choppy thanks to breezy onshore winds. There is a high rip current risk due to increased wave heights and longer wave periods.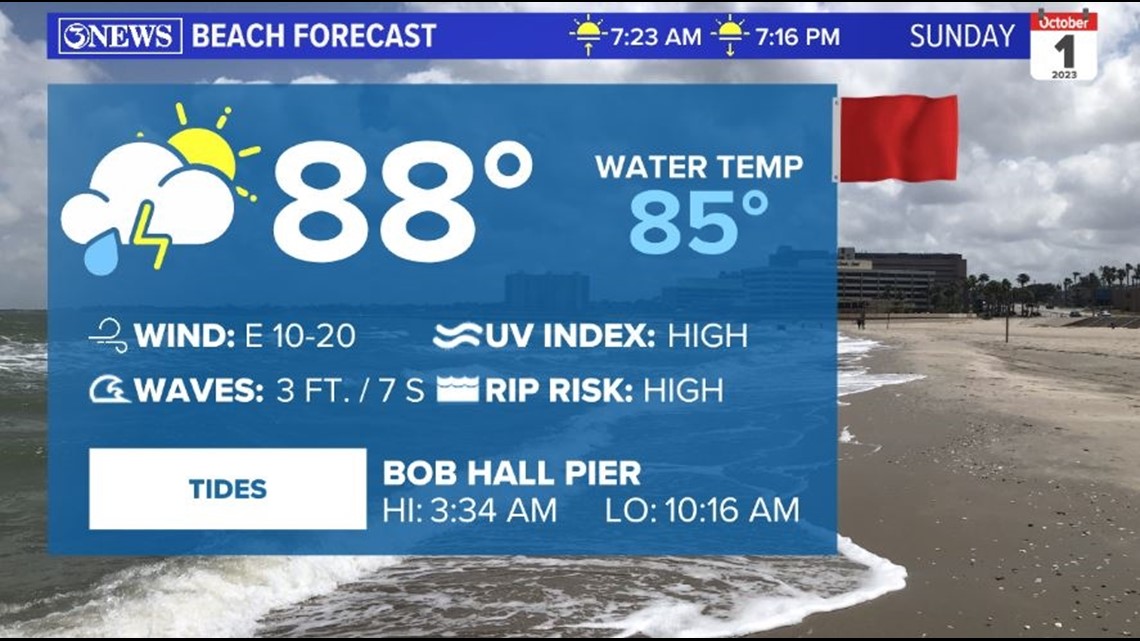 LOOKING AHEAD: High pressure over the Gulf of Mexico will send tons of moisture our way this week. That moisture will fuel daily scattered shower chances.
Even with all this moisture, our heat index won't be too crazy. While we had similar amounts of moisture contributing to brutal heat indices this summer, now we actually have the upper atmosphere ingredients to create cloud cover and trigger rain chances.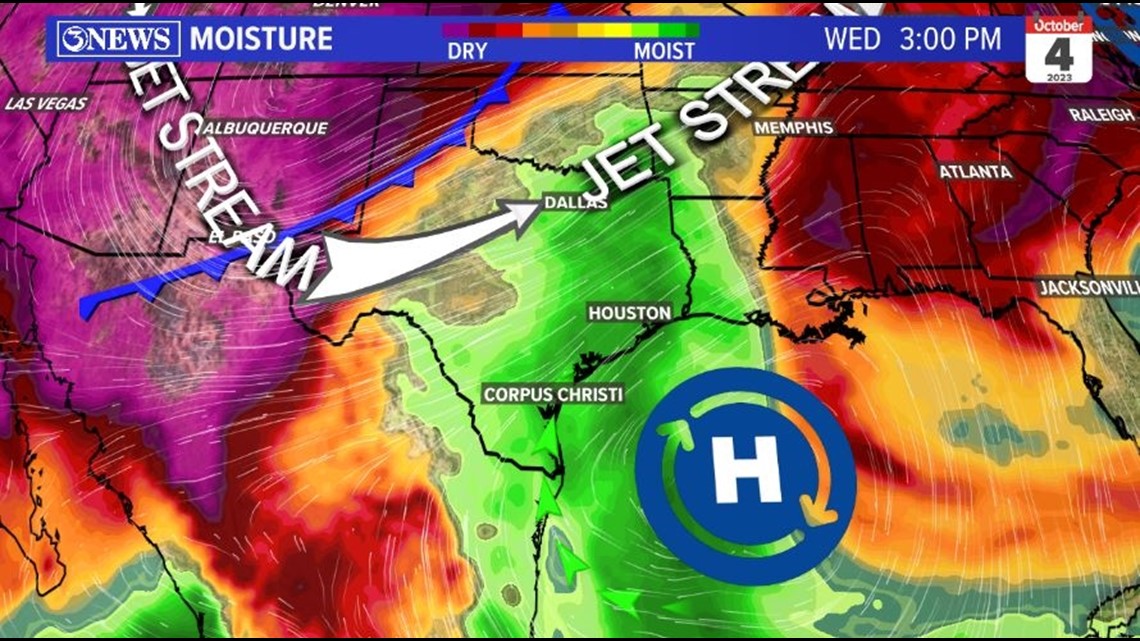 Each day this week will see scattered coverage on the radar. Rain chances increase heading into Thursday with the arrival of a cold front.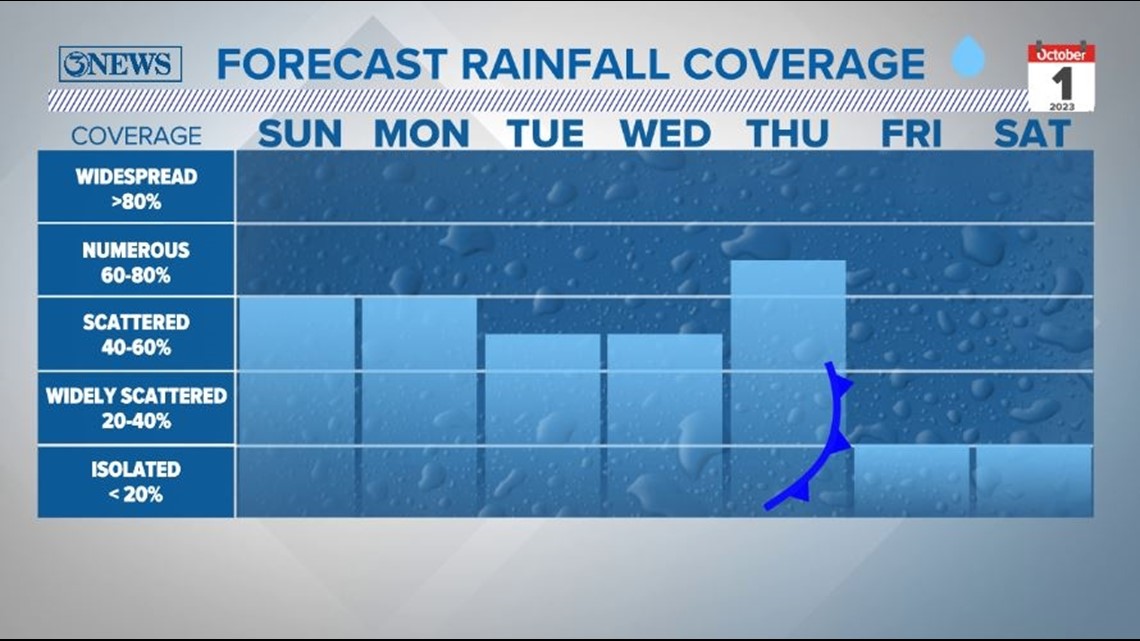 From now through Wednesday, most folks should see at least a quarter inch of rain, likely more. Higher totals will be found towards the coast.
Even more rain is expected heading into Thursday. By the end of the week, it's probable that most locations will have received between 2-4 inches, with the highest totals still towards the coast.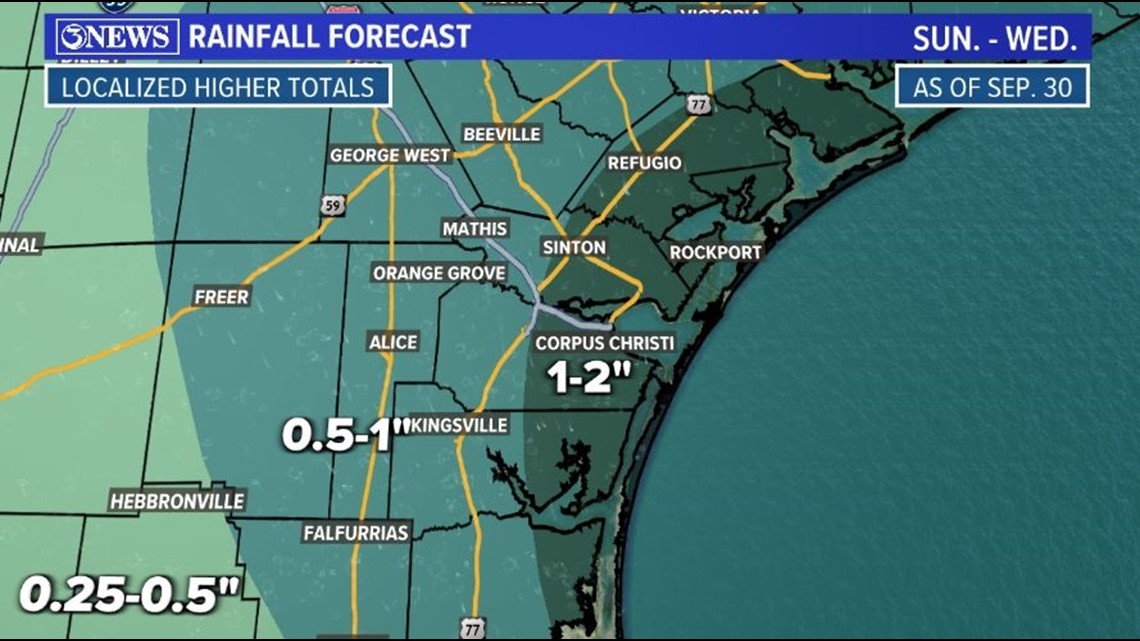 COLD FRONT: Get excited! This looks to be our first good cold front of the season. It's not quite yet going to induce pumpkin spice weather, but it's a start. As of Saturday evening, I'm expecting the front to move in later in the day Thursday. That could shift earlier Thursday or later into Friday morning - we'll keep you up to date.
Highs on Thursday will already be mitigated from the rain and clouds, but by the weekend we're expecting high temperatures in the mid-80s! It's also looking more and more likely that we see our first 60s (lows, not highs sorry!) since last spring.
The front also looks like it slows down a little after it passes through the Coastal Bend. What that means for us is that cloud cover and isolated rain chances will stick with us a day or two past the front's passage.