Hurricane season is here. The time to plan is now.
Preparation for a big storm is essential if you live on the Gulf Coast. Here's what experts suggest you have ready to go in case of a storm.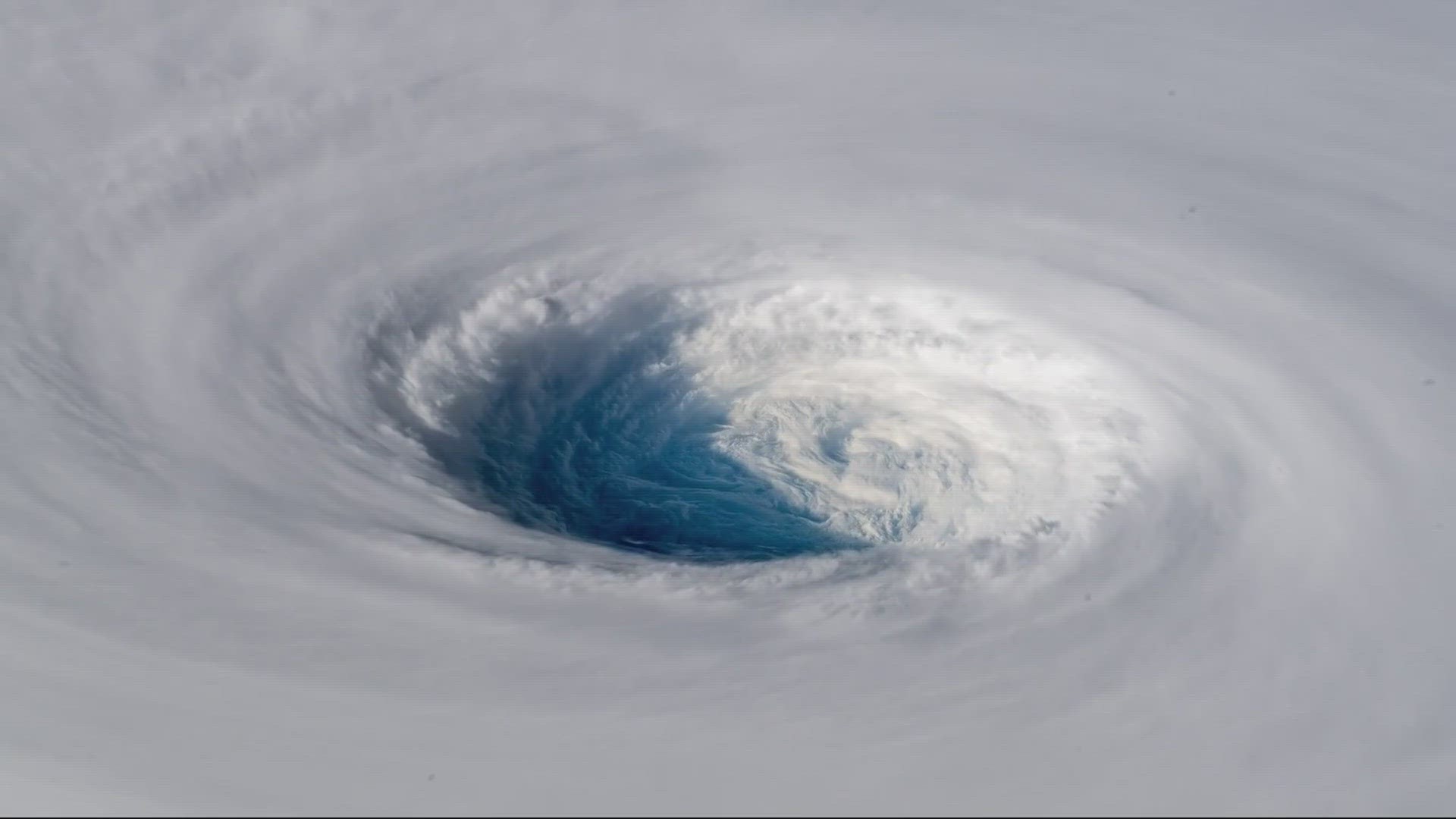 June 1 is the start of meteorological summer, and also the first day of hurricane season.
"A normal season might sound good in comparison to some of the hurricane seasons in the past few years," he said. "But there's nothing good about a near-normal hurricane season in terms of activity."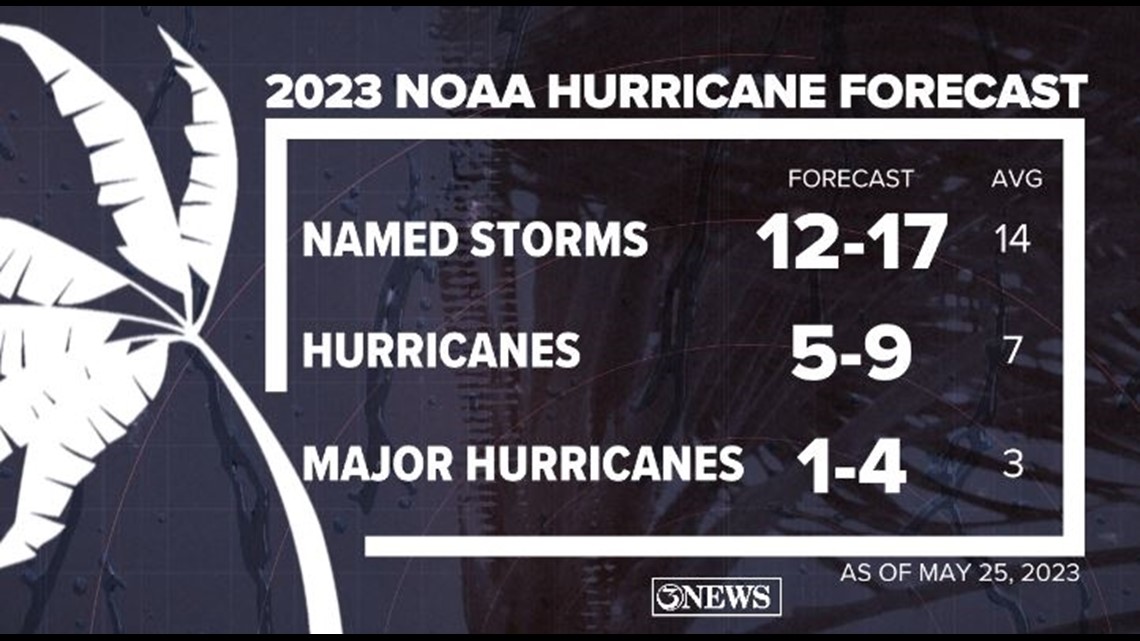 Have a plan
:
Evacuation routes for the Coastal Bend


When a storm comes toward the coast, some may feel the best thing to do is get out of the path. Local leaders may set mandatory evacuations as well, so it is important to have a plan.
Texas Land Commissioner Dawn Buckingham said to be sure all of your family members know where to meet, who is riding with who, and how you are going to get where you are going.
Making sure your car's tank is full of gas is important, as evacuation routes can get crowded and you may end up idling for an extended period of time. For that reason, it is also important to have food and water for the trip.
It is also important to know the area's evacuation routes. For Corpus Christi, you should know what "evacuation zone" you are in. The city updated their evacuation zone map in 2020.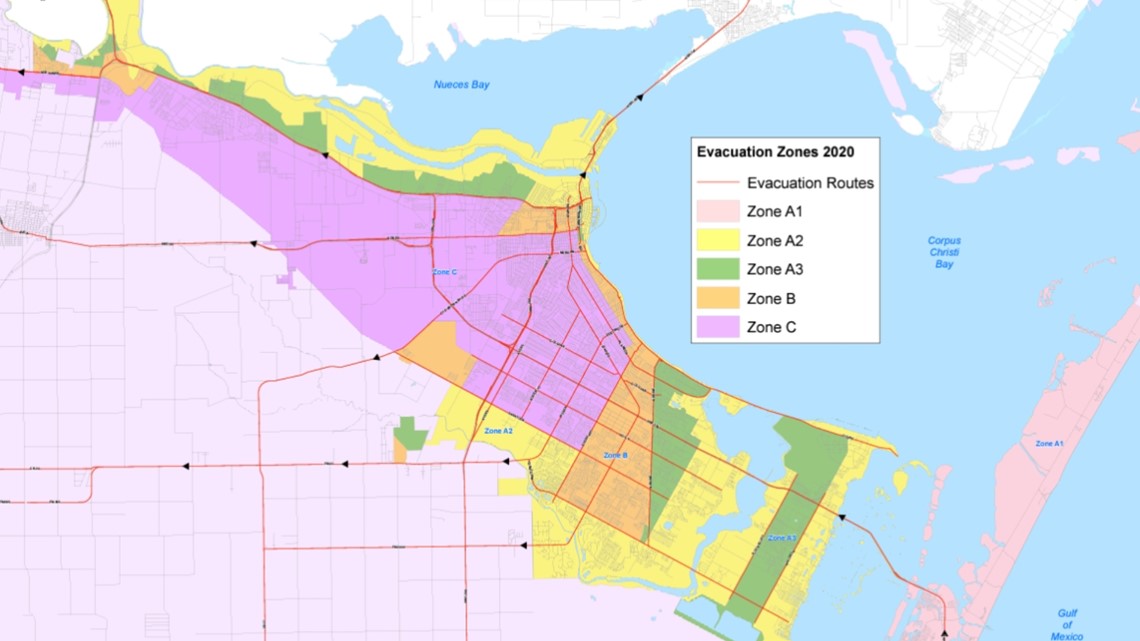 The zone you are in will determine what evacuation route to take. This is to try and prevent traffic jams while people are trying to leave.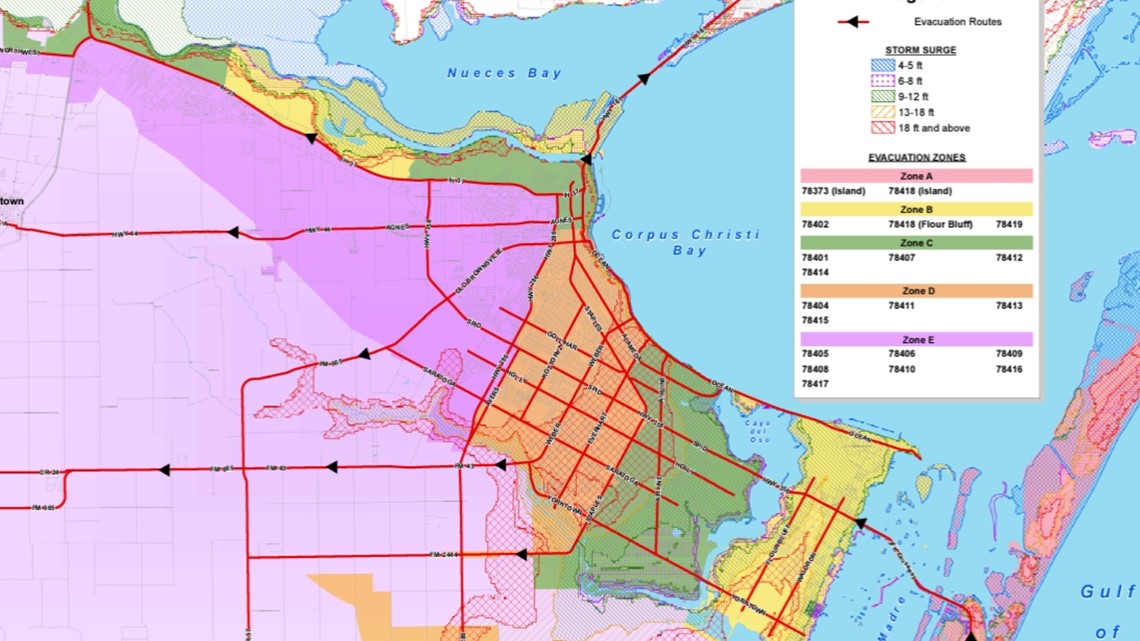 TxDOT also has this map for evacuations through I37. Evacuees should consider the travel path of the hurricane and their destination in choosing evacuation routes. Listen to local authorities and emergency broadcasts about weather and highway conditions.
Members of the community are encouraged to sign up for emergency alerts through ReverseAlert. You can do that here.
Survival Kit
:
Here's what you should pack in your hurricane kit


If you are planning to evacuate, officials with the Corpus Christi Fire Department said to be sure to take at least the items marked with an asterisk (*).

1) Food/Water*

2) Bottled water (1 gallon per person per day) for 14 days*

3) Manual can opener*

4) Non-perishable foods*:
Canned meat, fish, fruit and vegetables
Bread in moisture-proof packaging
Cookies, candy, dried fruit
Canned soups & milk
Powdered or single serve drinks
Cereal bars
Package condiments
Peanut butter and jelly
Instant coffee and tea
Flashlight (1 per person)*
Portable battery powered lanterns
Glass enclosed candles (not for use in shelters)
Battery powered radio or TV
Battery operated alarm clock
Extra batteries, including hearing aids*
Ice chest and ice
First Aid Kit, including aspirin, antibiotic cream, and antacids*
Mosquito repellent
Sun Screen (45 SPF recommended)
Waterproof matches/butane lighter (not for use in shelters)
Money*
Plain bleach or water purification tablets*
Disposable plates, glasses, and utensils*
Maps of the area with landmarks on it*
Sterno
portable camp stove or grill
disposable eating utensils, plates and cups
napkins and paper towels
aluminum foil
oven mitts
prescriptions (1 month supply)
photo copies of prescriptions
toilet paper
entertainment: books, magazines, card games, etc.
soap and detergent
toiletries
bedding: pillows, sleeping bags
changes of clothing
rain ponchos and work gloves
extra glasses or contact lenses (and don't forget the solutions needed for the contact lenses)
Disposable diapers*
formula, food and medication
clothing and blankets
insurance papers: home/renters, automobile
proof of occupancy of residence (utility bills)
photo identification
photo copies of prescriptions (medications and eyeglasses/contacts)
medical history information
waterproof container for document storage
back-up disks of your home computer files
camera and film to document damage to home/belongings

10) Pet supplies (remember - shelters do NOT allow pets - plan to board them with a veterinarian or local humane society)
dry and canned food for two weeks
water (1/2 gallon per day per pet)
litter box supplies
traveling cage
tools: hammer, wrenches, screw drivers, nails, saw
trash bags (lots of them)
cleaning supplies
plastic drop cloth
mosquito netting
ABC rated fire extinguisher
masking or duct tape
outdoor-rated extension cords
spray paint to identify your home if necessary
one of your home phones (many people lost theirs during Hurricane Andrew, even though their phone service still worked)
Be sure to watch the 3NEWS Hurricane Special on June 4 at 6 p.m.