CORPUS CHRISTI, Texas — UPDATE: 10 p.m.
About 28,000 people across South Texas remain without power.
That number includes about 600 people in the surrounding Coastal Bend who are currently in the dark.
AEP Texas crews and added personnel have restored electricity to more than 81 percent of all affected customers in the impacted areas of the Corpus Christi, Laredo and Rio Grande Valley Districts.
The largest remaining groups of customer outages are located in the Rio Grande Valley. Restoration in the Corpus Christi District is nearing completion. Power has been restored to those impacted in the Laredo District.
Hundreds of resources are focused on restoration efforts in the Rio Grande Valley. Many crews are working through flooded conditions in much of the remaining impacted areas. Additional personnel will be joining the restoration effort in the Rio Grande Valley once work is complete in the Corpus Christi District.
For the safety of AEP Texas crews and mutual assistance crews, customers are asked not to approach workers as they are practicing enhanced COVID-19 safety guidelines.
We ask everyone to stay away from downed power lines. Report it by calling (866) 223-8508.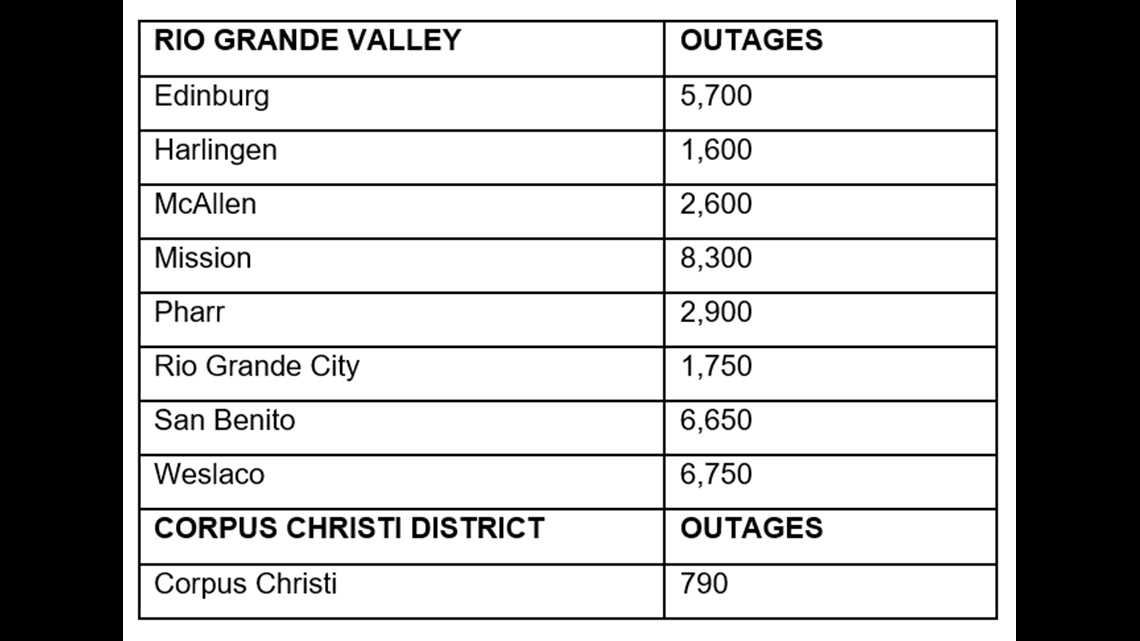 There are 1,000 outages in Corpus Christi. 200 of those outages in midtown, 900 on the south side and Flour Bluff, and 10 customers in Northwest Corpus Christi.
UPDATE 6:00 PM
Power continues to be an issue for many residents. 50,600 Texas residents are still without power.
Omar Lopez a representative with AEP says power for most residents in the South side and North West of Corpus Christi will have their power restored by 10:00 PM tomorrow.
AEP crews are working late tonight to continue restoring power.
AEP Texas restored electricity to 74 percent of all customers left without power after Hurricane Hanna made landfall last Saturday. Crews continue to encounter severe flooding, high waters and other hazards that may slow the restoration effort in some areas.
Various staging areas with replacement construction material have been activated as part of the restoration process; and 2,350 resources are being dedicated to the restoration effort.
Outages and Estimated Times of Restoration (ETRs)
As of 5 p.m. Monday the number of outages in the Corpus Christi, Rio Grande Valley and Laredo areas totaled approximately 50,600, down from 200,000 Sunday morning. Crews will continue working until they restore electricity to all customers who can receive power.
Some of the largest concentrations of outages include:
Corpus Christi Southside– 1,300; ETR: Tuesday, July 28, 10 p.m.
Corpus Christi Northwest – 150; ETR: Tuesday, July 28, 10 p.m.
Corpus Christi Midtown – 1,300; ETR: Wednesday, July 29, 10 p.m.
It has been 36 hours since Hurricane Hanna made landfall causing flooding and power losses in the Coastal Bend, while wreaking much more devastating havoc on the Rio Grande Valley.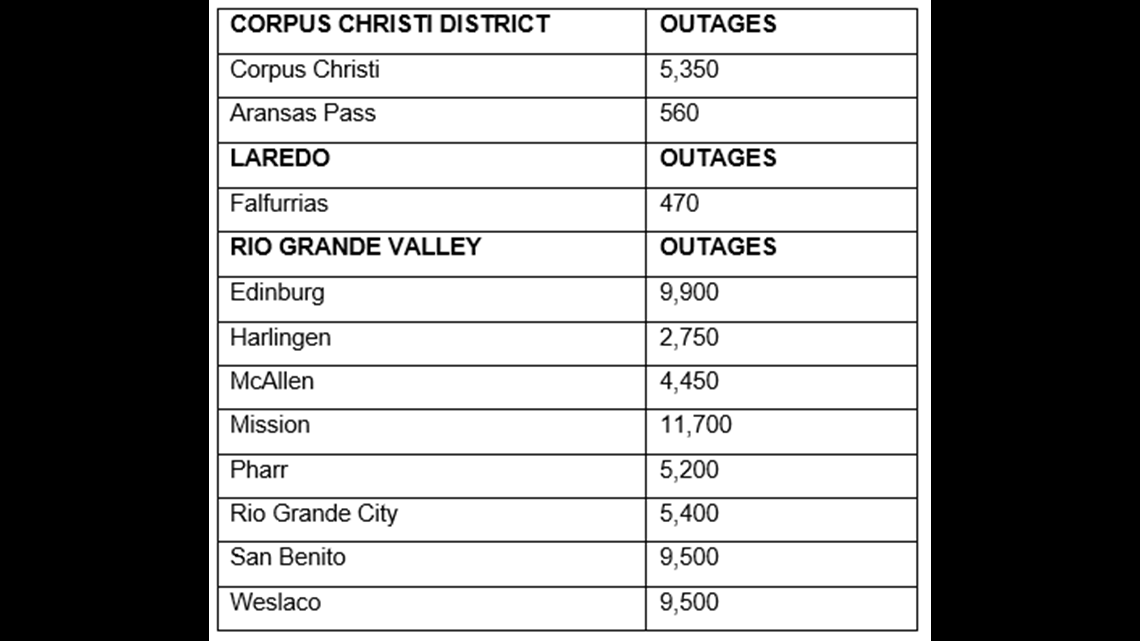 At the peak on early Sunday morning, over 200,000 were left waiting for their power to return.
Now, AEP is reporting 67 percent of those people now have power while another 65,400 are still left waiting.
The company says it is dedicating 2,350 resources to restore power in our area and the Rio Grande Valley. Those resources traveling from other parts of Texas, Louisiana and Oklahoma.
"Severe flooding and high waters in some areas limit access to substations and other equipment. We thank customers in advance for their patience as we work to restore service to our customers as quickly and as safely as possible," the company stated in a press release.
More than 2,200 people remain without power in Flour Bluff, only 22 people on Padre Island and around 5,900 in Corpus Christi.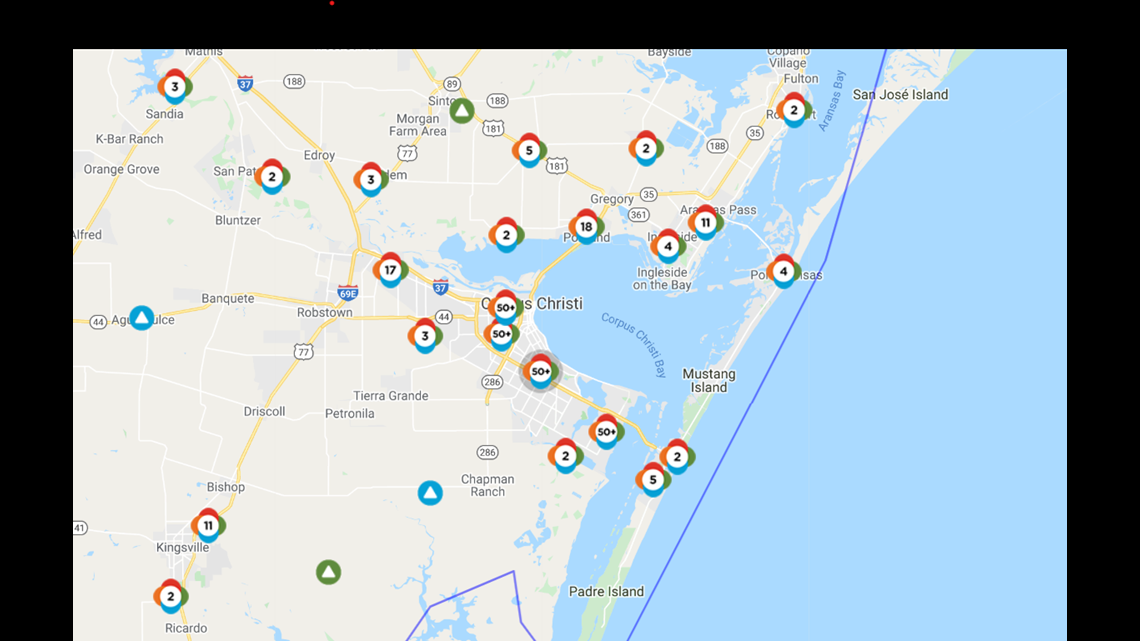 AEP service crews began removing 1,000 safety hazards caused by Hurricane Hanna.
According to AEP, "significant flooding and standing water throughout the Rio Grande Valley and in some parts of Corpus Christi and surrounding areas are slowing the assessment of damage to the electric system."
High water in certain areas limit access.

Rio Grande Valley District:
Pharr – 18,000

McAllen – 8,800

Mission – 12,300

San Benito – 13,700

Weslaco – 12,800

Edinburg – 11,200
AEP reports flooding in the Rio Grande Valley, Corpus Christi and surrounding areas is expected to slow their progress in assessing "actual extent of the Hurricane Hanna to the AEP electric system."
High water in areas limits access to nearby neighborhoods. AEP says in some cases flooding did not impact neighborhoods without power.
Crews are removing hazards to restore power even if some measures may be temporary. First priority of power restoration is for critical services and city services.
As of 12:00 PM there are 158,600 outages.
UPDATE 9:45 a.m.: Restoration process continues
According to AEP as of 9:45 a.m. there is a total of 188,000 power outages, less than there was early this morning.
AEP has begun assessing damage in the Rio Grande Valley, Falfurrias and Corpus Christi surrounding areas.
Crews have begun restoring power, but some efforts may be temporary until they are able to perform a thorough damage assessment.
UPDATE: 8:05 a.m.: Restoration process after the storm
According to AEP, after the storm passes, and it is safe to do so, AEP Texas crews begin hazard/damage assessment in the field and begin repairs to the electric system. If necessary, additional personnel and materials are brought in to assist in restoring power as quickly and as safely as possible.
Restoration priorities are:
Clear all electrical hazards

Assess damaged facilities

Work to restore power to vital community facilities and services (critical load customers), including

Nursing homes

Water pumping plants and stations

Disposal plants and lift stations

Community shelters

Clinics and doctors' offices

City headquarters, fire and police facilities

Food centers and storage facilities

Fuel pumping stations

Others that may be added as necessary

Restore electric service to all remaining users as quickly as possible
The AEP map currently reveals 46,853 customer power outages in the Coastal Bend area. According to a map from AEP, 38,884 customers are without power in Corpus Christi alone. 3News spoke with officials from AEP, and they say their crews will be able to start repairing powerlines that may have been hard to reach because of high winds.
For a look at your area, check the AEP outage map. Power is expected to be restored Sunday at 1:00 p.m. in some areas, but as always double-check with the map.
There are more than 34,000 customer power outages throughout Nueces County according to an AEP outage map. And there are around 1,300 customer outages in Kleberg County and 2,400 in San Patricio County.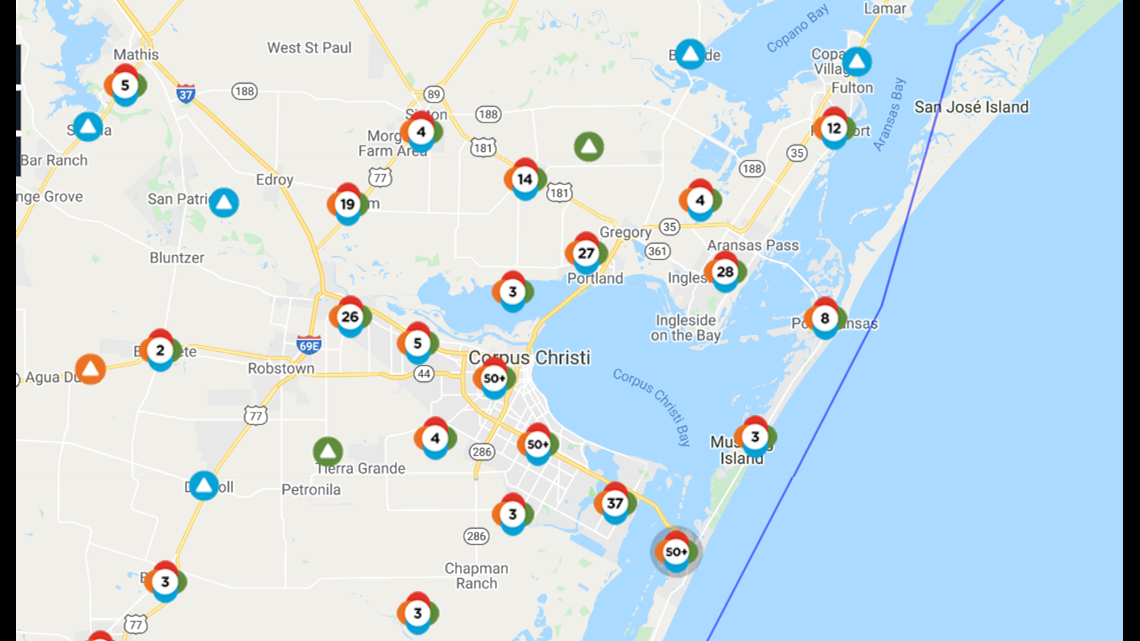 According to Nueces Electric Cooperative, almost 2,700 residents in the Kingsville, Ricardo, Riviera, and Sarita areas have experienced power outages.
The system of South Texas Electric Cooperative says they will address the area damage as soon as it is safe enough to do so.
Nueces Electric Cooperative says, "crews are working outages in parts of the NEC system where it's safe to do so."
According to a map from AEP, several neighborhoods across the city of Corpus Christi and surrounding areas are already experiencing power outages as Hurricane Hanna makes its way towards land.
The power outages are affecting nearly 42,294 customers with more than 1,115 different outage cases across the Corpus Christi, Calallen, Chapman Ranch, Rockport-Fulton, Robstown, Alice, Kingsville, and numerous other areas due to the current weather.
Nueces County ESD #2 reported at approximately 12:12 p.m. that there is a power pole down on Rose Street in Flour Bluff.
Areas in Corpus Christi are experiencing power outages including many traffic signals and streetlights. According to officials, city crews are responding as power is restored to the areas.
Drivers should approach the intersections with caution by slowing down and treating intersections as 4-way stops until power is restored to the traffic lights, city officials say.
For a look at your area, check the AEP outage map. Power is expected to be restored Saturday at 1:00 p.m. in some areas, but as always double-check with the map.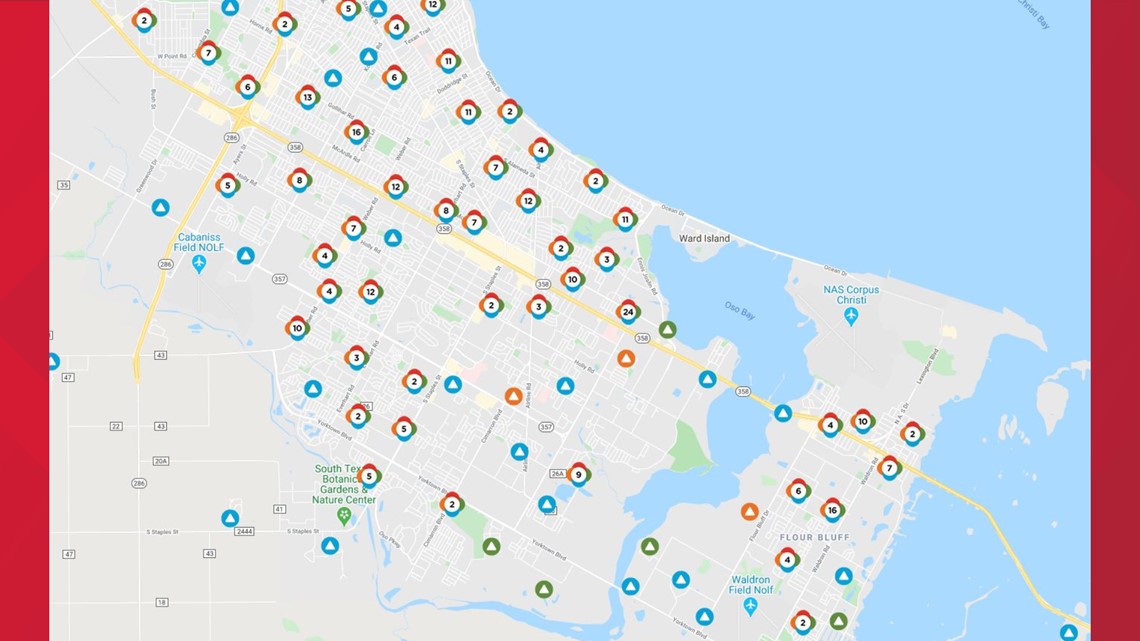 More from 3News on KIIITV.com: