CORPUS CHRISTI, Texas — Well, it's about time!
With a music scene as diverse as its taquerias and vast as its potholes, Corpus Christi is credited for being the birthplace of a great many musical successes: Selena y los Dinos, Jeremy Jordan, Kevin Abstract (BROCKHAMPTON) and Danny Lohner (Nine Inch Nails), just to name a few.
Is it any wonder that the Texas Music Office has finally caught on and designated Corpus Christi as its 44th "Music Friendly City?"
Visit Corpus Christi's America Segura joined us on Domingo Live to announce how the city will get a chance to announce and celebrate its new title at the upcoming block party-style event "MusicWalk."
"MusicWalk," a cheeky musical takeover of the Art Museum of South Texas' monthly "ArtWalk" event, will function in a similar way to its namesake. Attendees are invited to explore downtown Corpus Christi as they as they peruse the musical stylings of over 60 local musicians across 22 outdoor stages and eight different venues.
Music isn't the only draw of the massive party, though. "MusicWalk" also promises dozens of food trucks, live mural paintings, a classic car show, pickleball courts and over 100 local vendors and pop-up shops.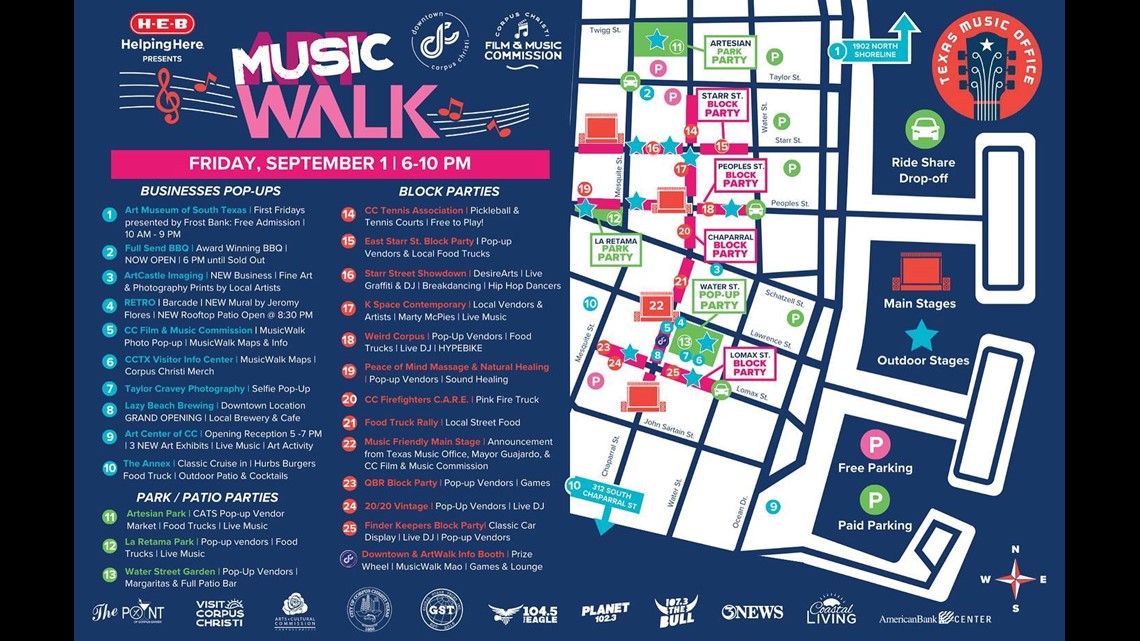 The party will begin with an announcement from the Texas Music Office, Corpus Christi Mayor Paulette Guajardo and the Corpus Christi Film & Music Commission, during which Corpus Christi will receive official recognition as a "Music Friendly City." The announcement is expected to be made at "Music Walk's" Music Friendly Main Stage at the corner of Chaparral Street and Lawrence Street.
"MusicWalk" will take place Sept. 1 from 6-10 p.m. throughout Downtown Corpus Christi down Chaparral Street and along Peoples Street, Starr Street and Lomax Street. Free and paid parking will be available to the public, as well as designated rideshare drop-off locations.